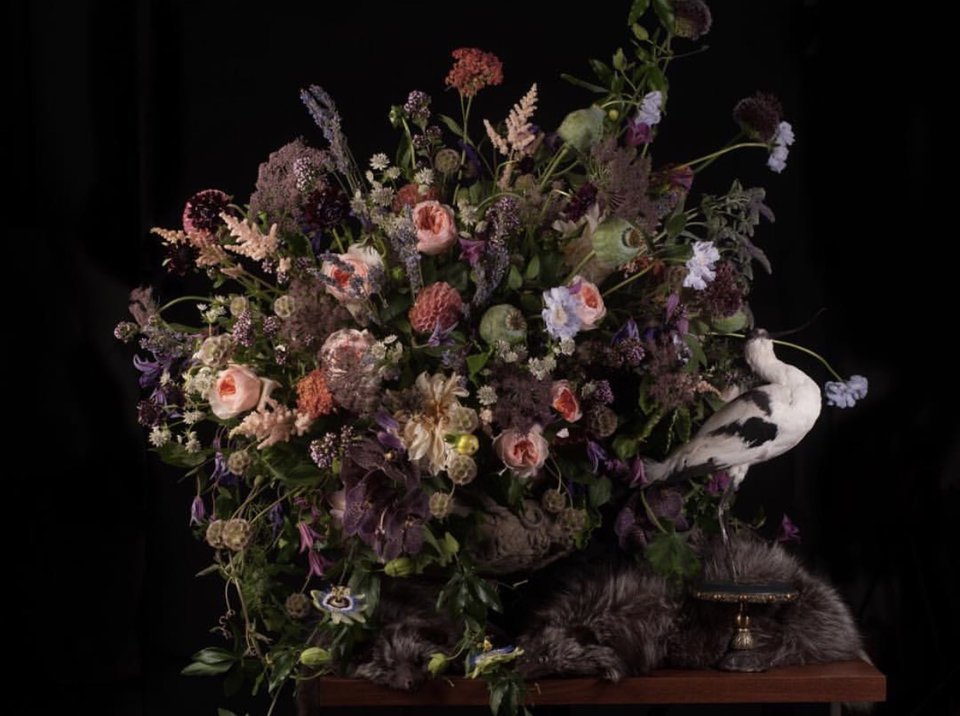 Asrai Garden's Elizabeth Cronin Talks Flowers, Taxidermy and Business
Asrai Garden is more than a flower shop. Elizabeth Cronin made sure of that. With a mix of taxidermy, precious stones, tarot cards, and local scents, walking into Asrai Garden is to experience a whole new world—whimsical and wondrous. Candles, essential oils, and perfumes in elixir bottles, set among home decor and handmade jewelry, peacefully coexist with plants and flowers brought together in arrangements that look like they were made in a different era in time. Designed in a Gothic-Romantic style, the space has an energy too significant to disregard. Tranquility and inspiration hang in the air, while peonies, garden roses, and eclectic oddities look on. Cronin, who started the business in her twenties, talks about her early days, her passion for flowers and how her unique aesthetic skyrocketed her to 20K+ Instagram followers. Oh, and why it's important to work your ass off and believe anything is possible.
When you were a kid what did you want to be when you grew up?
Elizabeth Cronin: I wanted to be a veterinarian or zoologist.
Take us to today.Where did you come from, and how did you decide to start Asrai Garden?
Elizabeth Cronin: I'm from Chicago, born and raised. I left for one year to go to school and then I dropped out of college and my environmental science program and worked a bunch of random jobs doing retail display design for a few years. I ended up working at a flower shop when I was 21 and was running the owner's two shops by 22. I did not love the situation I was in, but I was in love, over the moon, and obsessed with flowers. I decided I wanted to do them and a shop my own way—in a way I hadn't seen before.
What's the story behind the name, Asrai Garden?
Elizabeth Cronin: Can I opt out of this one? It makes me cringe. Let's just say it was the 90's and leave it at that!
Starting with flowers, how did you end up creating a makers community around them?
Elizabeth Cronin: From the beginning, I wanted a space filled simply with what made me happy, what inspired me. It just grew from there. I always had talented people around me—I wanted to support them and help introduce them to a larger audience.
What is your favorite aspect of running your own business?
Elizabeth Cronin: I dictate my surroundings. It's imperative for a girl like me. I could not exist day to day in an office setting, with no fresh air, not surrounded by plants and life and joy.
What inspires and motivates you?
Elizabeth Cronin: Nature, nature, nature. I freak out about every little bit of it! I can spend hours collecting and looking at rocks, pine cones, seed pods. I am also inspired by other people that are finding a way to be in the middle of their own passion! Others who will work as long and as hard as it takes to build their own reality.
You're a social media celebrity! How do you use social media to get where you are today?
Elizabeth Cronin: Ha! It's only Instagram. I don't even know how to use or login to the rest. I just push the button that sends it all to the proper places. It took me over a year to post a photo of myself or talk about anything personal on Instagram. I did it once, and everyone went wild, so I kept doing that —integrating what was happening with and in the shop with sneak peeks into the rest of my life.
What have been some of the biggest mistakes or challenges you faced in business, and what have you learned from them?
Elizabeth Cronin: I am a terrible business owner. I have made every mistake you possibly can. Luckily, people like my aesthetic, curation, and taste, and that saw me through while I fumbled with the rest. Luckily, along the way I learned to surround myself with people I wanted to learn from and grow with! That has really changed everything for me.
What are you most proud of professionally and why?
Elizabeth Cronin: I seem to have created a space that gives lots of folks feelings. People say it has magic and describe it as their happy place. I have people tell me that it is a place that helps them when they are going through a hard time, where they feel welcome. That is literally the best I can hope for.
Share a good piece of advice based on your own life experience to people who want to follow their own dreams.
Elizabeth Cronin: Be willing to work your ass off and anything is possible.
What do you find at the end of the rainbow?
Elizabeth Cronin: Gosh, I hope it's a pot of gold. I am tired and want to rest a bit.