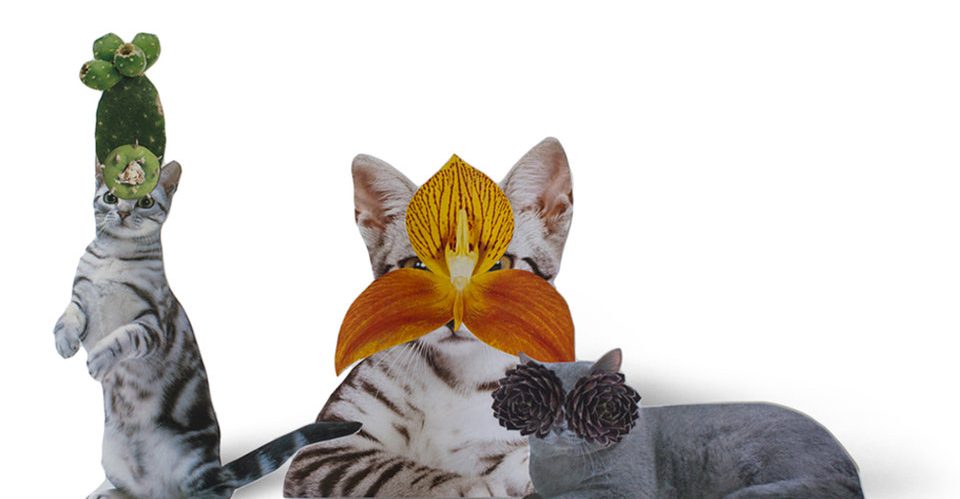 Drop Everything Right Meow: Here's Stephen Eichhorn's Cats + Plants
Cats, cats, cats. And plants. Stephen Eichhorn's beautifully surreal collages feature cats with flower crowns, cats sneaking behind leaves, cats leaping up towards houseplants, and cats so elegantly adorned in botanicals that make one feel warm and fuzzy inside. They balance potted plants and cacti on their heads —an elaborate kind of headdress— or have flower petals for eyelashes. In some instances  they are so well camouflaged in the decor within the picture plane, one can't tell they're even there.
Nothing feline is too far out there for this Chicago-based artist's work, who started his "Cats and Plants" series as a side project. Searching for source material and inspiration, Eichhorn would stumble upon various vintage cat books. Or Japanese cactus care guidebooks. His findings left him intrigued. Soon, he noticed that cats and plants had been photographed in very similar ways: carefully placed against simple, monochromatic backgrounds or around minimalistic furniture. His curiosity and humorous approach would lead him to bring the two together in collage, creating imagery that is hilarious and beautiful, yet strange and unusual—a kind of still life that is not so still at all.
That was almost a decade ago. Quickly escalating, the cats and flowers collages would take a life of their own, provoking endless, outlandish combinations: cacti would pave the way for designs with more flowery plants, and images of shells and minerals would come into the mix. Soon, though cutting and layering of vintage magazine and newspaper clippings (all kinds of found material is fair game, but never iconic publications like National Geographic or Life magazine, per the artist's studio rules) Eichhorn would assemble brand new forms. Just recently, the "Cats and Plants" collage series became an artist book, featuring more than 200 images of collaged cats and plants (what else)—a celebration of flaura and fauna brought together in mysterious ways.
Changing perspectives about both, the artist gives cats and plants architectural elements—an ode to his sculptural background. White fur Persians, pale-colored Siamese, tiger-like Maine Coons, grey velvet British Shorthairs —furry kittens of all shapes and sizes— are camouflaged under, above, and in between plants and fully bloomed flowers. Some lay lethargically ignoring the world around them and others, elegantly pose wearing pharaoh-resembling cacti crowns that are triple their size. The viewer takes turns becoming either the subject and the object of the gaze (you know that feeling you get when you're being stared at? Even when you make no eye contact,  even outside your field of vision you can still feel their beady eyes on you;) the artist captures the cats' majestic beauty in such unusual ways—mesmerizing, royal-like portraits highlighting their mystic essence—giving them other-worldly qualities of mythological felines.
"Cats and Plants" effortlessly pays homage to one of the oldest subjects in art history and in contemporary internet culture, both at the same time. And it has all it takes to make the viewer look beyond green leaves and wonderfully camouflaged animals, and turn their gaze inward. Eichhorn's work might be kitsch, but it's self aware. It's bizarre, eccentric, adorable, and a little supernatural. Collages of cats and plants —what's not to love?
*  Stephen Eichhorn's debut book, "Cats and Plants" is published by Zioxia —find it here.
** "Cats and Plants" book release party hosted by Land and Sea Dept. is Friday, Jul 28 —RSVP here.