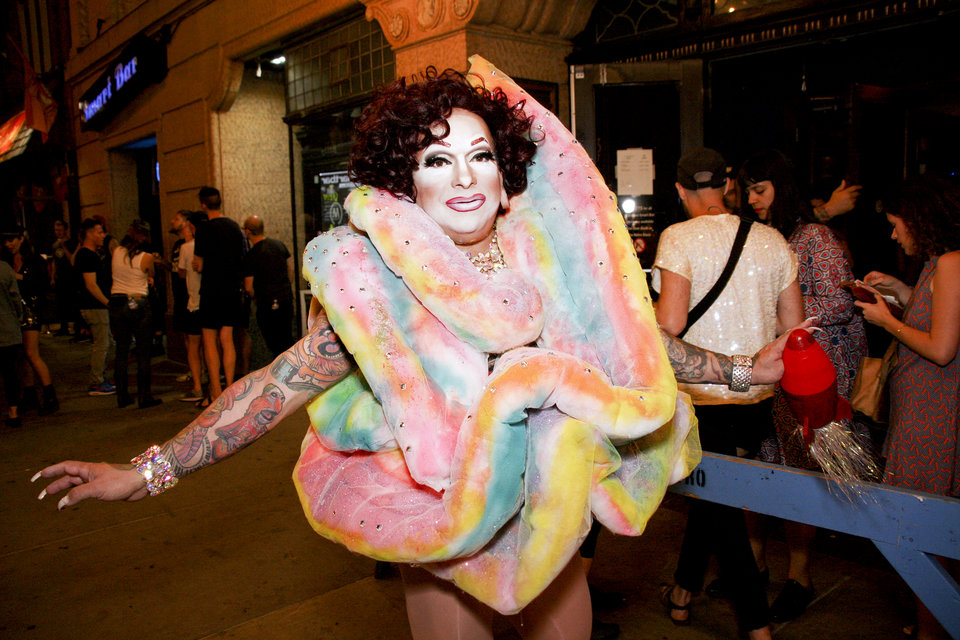 Jojo Baby: Life in Drag is Whimsical and Wondrous
Down the rabbit-hole leads to a loft at the Flat Iron Building, unwrapping the beautiful and whimsical life story of the king (or queen) of Wicker Park, Jojo Baby—Chicago's queerest doll maker and one, if not the best-known, drag queen of the late-night, underground club scene. Though he lives in a gigantic dollhouse, filled with art and dolls and magic, his life is nothing like the hair-raising, spine-chilling films of horror and paranormal activity. Instead, he combines his ceramics, painting, anatomy, and fashion skills to sculpt porcelain dolls. He then dresses and blows life into each one in the form of a little, heart-shaped drawing on the left side of its chest. He also does hair, makeup, and costumes—putting a dash of drag into the mix. He believes in the beauty of everything.
Jojo Baby is son of a Greek immigrant father and a Native American mother from the Black Hills of South Dakota, who was a bunny at the 1960s Chicago Playboy Club. Inspired by her and watching her transformations, he learned how to sew, how to style hair, and how to turn everything into sheer beauty. When he decided not to attend Quigley Preparatory Seminary, after considering the priesthood—"they said I was too theatrical and I should go into show business," he laughed—Jojo turned to beauty school, to experiment with different forms of art and his sexuality. The latter estranged him from his father and, at age 14, pushed him out of the house and into the underground club scene. With a homemade Medusa headdress, he made his debut in the world of three-foot platform shoes, flamboyant costumes, and outlandish make-up. "I moved in with a bunch of other club-kids," he says, "it was funny, we made more money than all of our parents combined."
Puppets had always been a creative outlet but the turning point in Jojo's creative life was when he met Greer Langton, the transgender doll-maker who created Big Bird for the 1985 Sesame Street movie "Follow That Bird." She would become his mentor until her death. "She taught me how to do armature, which is the skeletal system inside the dolls," he explains. "Now I can't make a puppet because I just think that I could be giving it this internal structure, and let it live for a longer time."
Jojo was never ready to kiss her goodbye. After Langton's passing, he went dumpster diving behind her house, where her family had thrown all of her art and personal items. He salvaged everything he could and created his masterpiece: a doll in her memory. He used human or animal teeth and real hair, a "full chakra system," oversized genitalia, and some "good" voodoo. Jojo, a wholehearted believer in dreams, magic, and the afterlife, explained, "There's all kinds of voodoo: black, white, and then…there is grey. I don't want to make voodoo zombie,s but I do want my dolls to have a presence," he added. Confident that his mentor watches him from above, he continues to master the art, creating and collecting dolls, hoping to soon open his "tree-house in the city," (as he likes to call his studio) as a doll museum.
Jojo's life isn't always straight out of a fairy tale—not considering that he's young, queer, and chooses a different approach to life. "Takes all kinds of people to make the world go round," he said with a smile. He knows how to take all of the shame, humiliation, and name-calling directed at him and turn it into beauty. "I have every nasty thing anyone's ever called me tattooed on me," he explained. "Whenever someone calls me a faggot, I lift up my shirt and I'm like: 'And?' There's more in me that that. People want to put us in a box." He recalled the day he did Dennis Rodman's leopard hair: "They used to call me Dennis Rodman's girlfriend. Now I'm Lady Gaga. But you know what? I'd rather be a freak than a normy." Confident in his own,colorful skin, Jojo dresses up in many personas, "putting on the Goddess," as he likes to call it, and his larger-than-life presence can only be outsized by his enormous heart.
Jojo Baby has three heroes: Muppets creator Jim Henson, pop idol Boy George, and horror filmmaker Clive Barker. He has been lucky to meet two of the three. He may have missed his chance to meet Jim Henson before he died, but he'd meet Boy George several times, never ceasing to find ways and costume ideas to impress him. But it was the third hero who would change the game.
"At a time when I thought I was dying of cancer and HIV, Clive Barker, came up to me with the idea of a documentary based on my life," Jojo said. "People said "Jojo Baby" (the movie) was good because it was honest. To me it's sad. It shows my true pain." "Clive Barker Presents Jojo Baby," a documentary directed by Dana Buning and Mark Danforth, was released in 2013. In the same year he was diagnosed with cancer and HIV, his mother died, his lover of five years left him, and his business partner at the hair salon ditched him. It was the power of art, comedy classes, and pet-love (for his pair of three-legged rescue Chihuahuas named Sir Leftalot and Venus de Milo) that kept him going. He changed his legal name—born Joseph Arguellas— to his stage name, so he wouldn't forget what his mother used to call him. He picked up his pieces and dusted himself off.
Jojo can be many things: an outlandish, cartoon-like character taken out of a dream; celebrity hairstylist with a vision, an out-of-the-box artist living among a cast of erected-penises and strange-looking dolls, and that's just to name a few. He says he's more comfortable in drag, but he seems delightfully unaware that past the make-up, the glitter, the carefully-crafted headdresses, and the hand-sewn, flamboyant costumes, you can still see the boy in him. For someone with a big, open heart, bubbling laughter, and a personality as colorful as his Muppet-tattooed body, that's one thing made easy.
Find Jojo Baby on YouTube collaborating with Ben Hollis on "JoJo on the GoGo," and "The JoJo ShowShow."