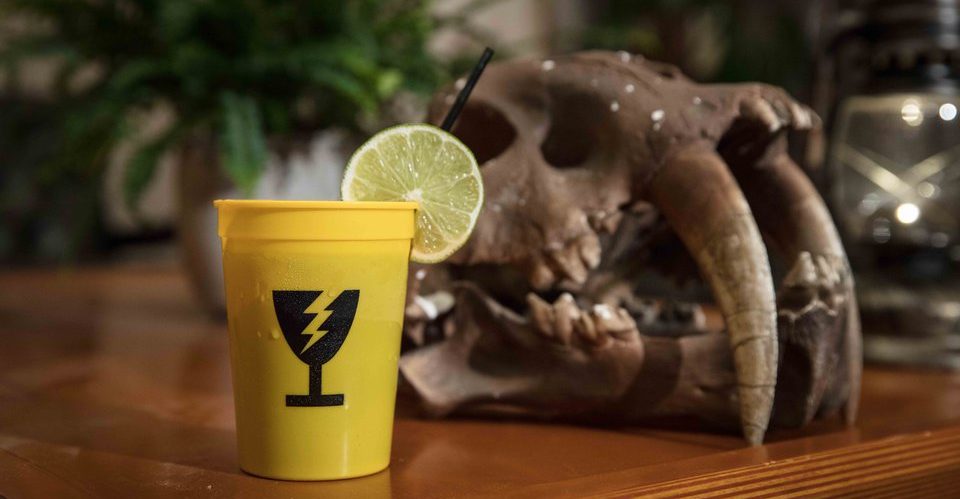 The Backroom: Natural History Meets Craft Cocktails
From animal skulls and fossilized brains, to plants and mushrooms, to minerals and meteorites, there are over 30 million specimens and artifacts in the Field Museum's diverse collection. And now, until this weekend, you can also find some of them on display in a kind of Wunderkammer of cases, glass jars, and wooden drawers at the Chicago Athletic Association Hotel. Yeah, that's right.
The Field Museum,  Land and Sea Dept., and Johalla Projects knows what you're thinking: What better way to celebrate a new museum exhibition than with a cocktail in hand? For this reason,  they brought together a bar-meets-museum experience in junction with  the museum's "Specimens: Unlocking the Secrets of Life" show.
The pop-up will move the  museum artifacts out of their usual habitat and into the space formerly known as the Chicago Athletic Association pool ("The Tank") —plants, bones, and a giant taxidermied beaver that sits behind the bar, but also jarred and preserved species. Taking the experience a step further, the museum brought expert scientists out of their labs and into a series of informal get-togethers —of course over drinks. The more-than-happy hour interactive programming ranges from mushrooms, to glowing rocks, to dinosaur fossils, to butterflies pinning, with the last one on fish skeletons and anatomy—taking place this Saturday, March 25 followed by the pop-up's closing party.
The all means that this weekend is your last chance to take your botany/zoology/geology inclined friend—the one who won't stop talking about what a wonder the natural world is—and let them geek out as you sip state-of-the-art craft cocktails by the masterful hands of Paul McGee (of Lost Lake Tiki.) Of course, they're made out of deliciously smelling botanical ingredients—think flowers, juniper, roots, and organic bitter blends.
Exploring the wonder of the natural world never tasted so good!