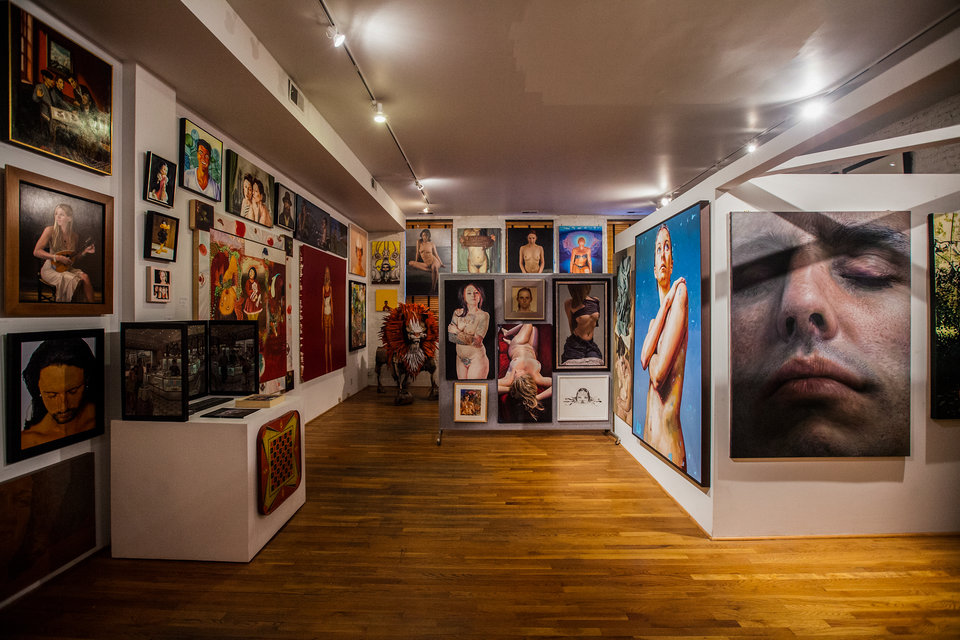 How to Start Collecting: 6 Tips by Howard Tullman
Spending a day at the Howard A. and Judith Tullman collection is quite an adventure. Emerging, mid-career, and established artists peacefully coexist under one roof in a renovated warehouse that is packed floor-to-ceiling with paintings and sculptures, hand picked and installed by Howard Tullman, the collector, himself. The hallways, the office, the kitchen, even the bathrooms of the West Loop loft are a vision that one needs time to take in. This is one of the largest and most diverse collections of contemporary realist art in America and the legendary Chicago entrepreneur admits to love each and every piece for entirely different reasons.
Tullman has an eye for figurative realism. He first developed a fondness for realist drawings which then led to his strong collection of photorealism work, he explains as he walks a handful of art devotees around the loft—in this case, to call this the grand tour would be an understatement. After 45 years of acquisitions, the collection currently includes over 1,300 works, most created by living artists. Big names in the collection include Chicago icons like Ed Paschke, Roger Brown, Roy De Forest, Bernardo Torrens, Jim Nutt, and Gladys Nilsson and showcases an eclectic ensemble of painting, photography, and taxidermy sculpture—from life-size installations to vintage Pez dispensers and Superman lunch boxes, it's all about cultural commentary.
Bringing beauty to the city, Tullman, hangs original pieces from his personal collection onto the walls of Tribeca Flashpoint Media Arts Academy, which he founded, in the nonprofit, technology startup hub, 1871, where he serves as CEO, but his efforts to make the world a prettier place won't stop there. From taking over the 80-feet hallway leading up to the doors of 1871 (think bright colored cow heads, the splitting of the atom and a Chicago-style hot dog,) he extended his interest in the community mural-making process in more public spaces, namely local artist Jeff Zimmermann's mural along The 606, that actually includes Tullman's face in it.
As an art collector, serial entrepreneur, venture capitalist, educator, writer, lecturer, and humanitarian among other titles, Tullman has approached prodigious status in local, national, and international circles alike, blurring the lines between technology, business, entrepreneurship, and contemporary art. He's started more than 12 companies, one of his first being a magic performance business at the age of 10, he's held senior executive positions at a variety of established institutions, he is a member of Mayor Rahm Emanuel's Chicago NEXT and Cultural Affairs Councils and he's intrigued by creating something from nothing. For one of the most accomplished, best-connected people in the country, he is humble and driven with a poignant sense of humor; he's the kind of person you don't want to stop talking. "There are a lot of breasts in here," he says, as if one wouldn't notice that a big chunk of the work features nudes themselves. "It's the kind of art my wife wouldn't want to keep in the house," he smiles, adding that they have very different tastes in art but they always make it work. She jokingly calls the loft "The Breast Home," he says and the tour crowd bursts into laughter.
With more than 40 years experience as an art collector, Tullman knows firsthand that to own a home full of art, one has to start somewhere.
HERE ARE HIS 6 PIECES OF ADVICE FOR STARTING COLLECTORS.
Buy only what excites you. Liking something is not enough. You will be living with these things for decades. Buy things you can't live without.
Buy art being made by your contemporaries. Dead artists aren't worth the investment and famous living artists aren't worth the money.
Buy original work not prints. Drawings are OK, but paint is best. If you can't afford it, wait until you can, rather than buying something cheap that you shouldn't buy at all.
Buy through a few galleries that you like to deal with and who aren't pressuring you to buy. Concentrating your purchases makes sense for both business and personal reasons. Also it is painful and very difficult to negotiate purchase prices directly with the artists. The galleries are a good buffer.
It's rarely a smart plan to buy a large number of one artist's work instead of a sample of several artists' work—even if you really love one artist.
Make sure that the artists you are collecting are good (ideally even trained,) technical artists first before they are experimenters and Avant Garde. Any slob can throw paint on paper or canvas and call it a work of art—this doesn't make them artists or professionals.
1;}