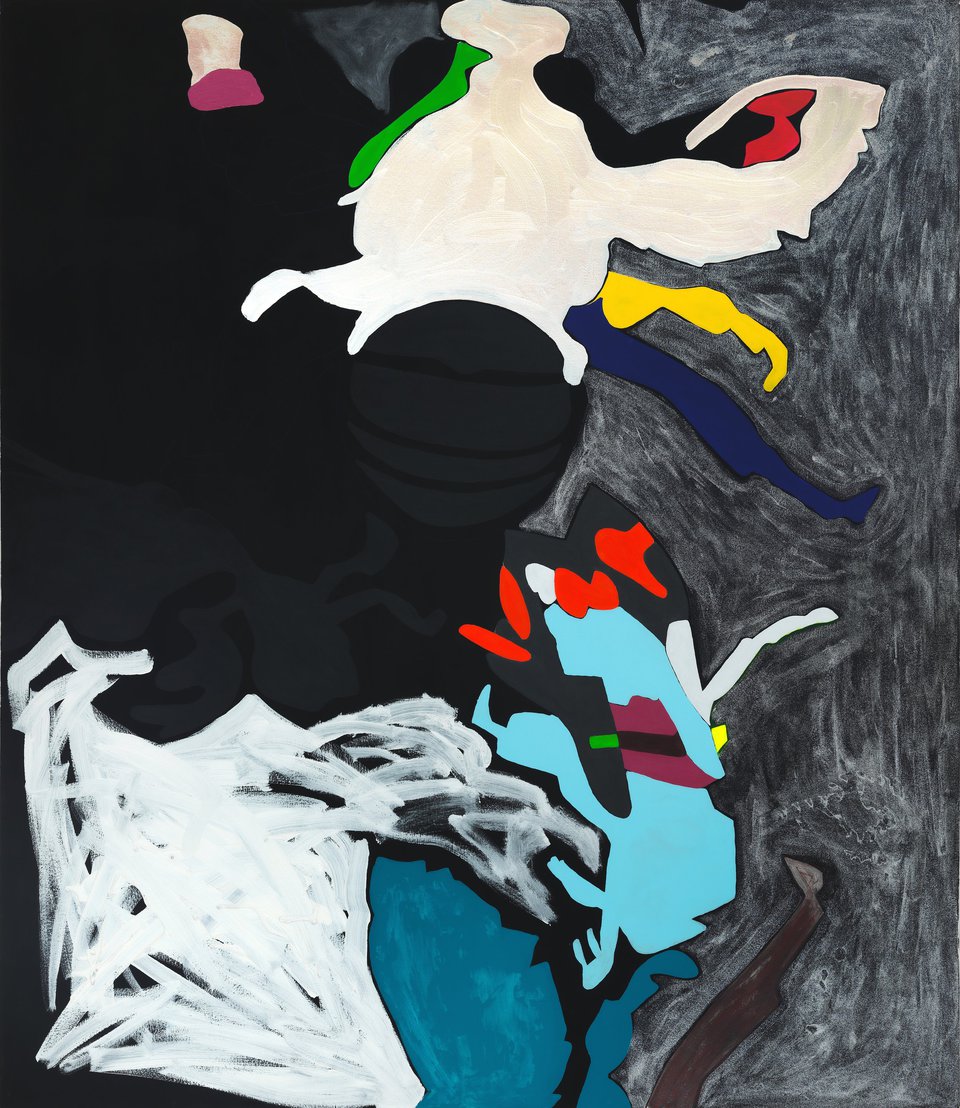 Candida Alvarez's Big, Bold Paintings Make a Splash
In an intensely colorful setting of life-size canvases, Candida Alvarez unwraps 30 years of creativity at a massive and comprehensive exhibition, housed in the Chicago Cultural Center. "Here," is the Brooklyn-born, Puerto Rican-American artist's first career survey featuring approximately 60 mixed-media paintings since the 1970s to now. The works are infused with political and pop-cultural references, and titled elaborately: Listening to Haruki Murakami while Looking at a Sunset, Somewhere between a Butterfly and a Bee, Chill, DaDaDahlia, Rainbows on my Studio Floor, and Mary in the Sky with Diamonds, are only a tiny sample.
In one corner, are paintings of an adorable white terrier wearing a bow tie, and a ballerina in a turquoise dress, donning bright red, pointe shoes. Elsewhere, gridded, geometric patterns bring together the colors of the rainbow. At another room, abstract color-waves of oil paint create backdrops of wildly overgrown plant leaves, or accentuate more  playful elements, like fabric flowers. Black glitter, polycrylic, and plastic butterflies cover the canvas of  "Speechless;" acrylic and pencil dance in shining yellow, lay across "Arroz Amargo."
Taking the form of   acrylic, collage, enamel, oil, pencil, and watercolor, clearly designated narratives and bold abstractions are signature. This unusual combination brings the works in conversation with one another, highlighting form and technique that exceeds the application of bright colors and thick paint. Alvarez uses diverse canvases such as vellum and fabric, even cotton and dinner napkins.  The use of each one is intentional, chosen with meaning and possessing strong autobiographical elements. By depicting  memories of personal experiences, she provides an insight into her world, one that's split between three cultures––her birthplace Puerto Rico, Ireland, and Chicago––that have powerfully influenced her. "Here" doesn't feel so close anymore.
A chameleon of sorts, mindfully existing in so many different mediums and formats, it's no wonder Alvarez's work, got picked up by fashion powerhouse, Comme des Garçons, for its autumn/winter menswear collection this year. In an interesting twist of events, abstract paintings patterns became haute couture —"new camouflage" on label— and in collaboration with avant-garde fashion designer, Rei Kawakubo, find their way into Paris Fashion Week.  
Whatever form it might take, Alvarez's work demands an open mind. Stretching across long expanses of wall and high-ceiling galleries at the Chicago Cultural Center gives the viewer an opportunity to wander freely, in no particular direction. It requires they take their time and space to process an immersive exhibition that has the power to challenge, engage, and transform them. Fostering the relationship between viewer and artwork,  Alvarez's challenges onlookers  to immerse themselves completely —to allow themselves to daydream. And it is between abstraction and representation, that the viewer finds a grey area: that of reflection. Or just as English philosopher, John Locke, stated more than 300 years ago: "The understanding, like the eye, whilst it makes us see and perceive all other things, takes no notice of itself; and it requires art and pains to set it at a distance and make it its own object. "