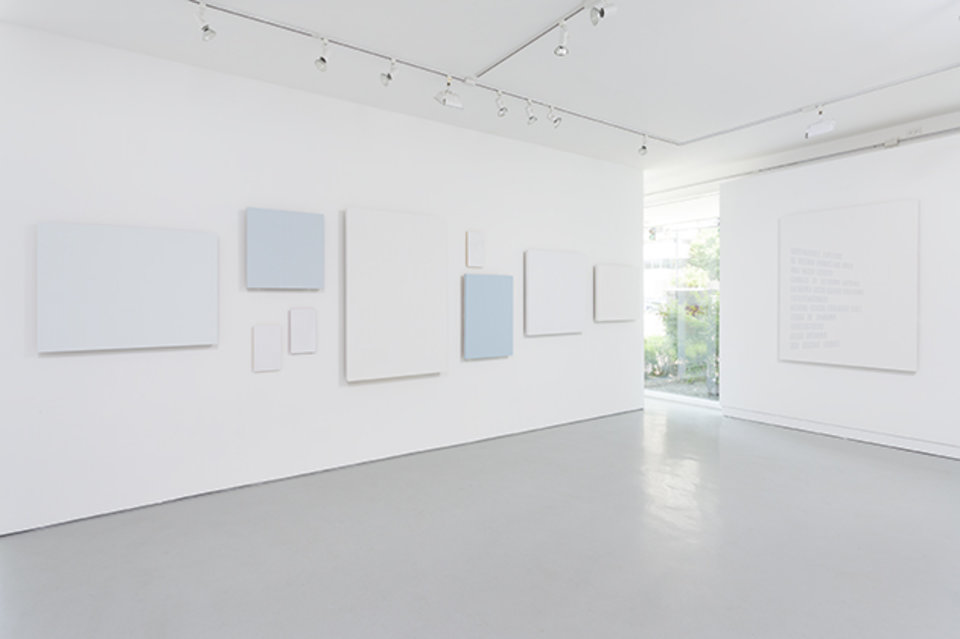 "THERE'S NO LIFE LIKE LOW LIFE" Joel Ross Says
At first glance, entering the Monique Meloche gallery space feels peaceful. Pale-colored, monochromatic installations—most of them plain white or light blue—hanging on the walls are reminiscent of futuristic designed landscape. Multiple, single-color panels, big and small, whose shadows are barely visible, reduce painting to its most essential nature. One expects a "pure" experience, but in reality, it's just the calm before the storm. A closer look at what first appears to be an essentially blank, white canvas, brings the viewer into Joel Ross's world, one of minimalist text paintings, where white fonts on white backgrounds make for barely visible messages, ironic statements and sarcastic comments.
But Ross isn't snide. He forces the viewer to make the connections instead. Poignant sayings and frank observations accomplish their mission of taking the audience off guard. "STOP FUCKING AROUND AND DO WHAT YOU WERE PUT ON THIS EARTH TO DO," one painting reads in all caps. "ANYTHING I'M TEMPTED TO SAY HERE WOULD BE BETTER SAID ELSEWHERE," reads another. Questions arise and doubts come to the surface that one would swear weren't there before. The best part? The artist has no intention to shove his philosophy down your throat. Or does he? One thing is for certain: the exhibition provokes an inner dialogue that makes it hard to move away from. Not before reclaiming yourself, at least.
Through a 20-year cross-medium career—photography, sculpture, installation, works on paper, and others— Ross has been strongly fascinated with language. It's potential and limitations have challenged him to take narratives to a different level, one that strives for viewer participation. It's this interactivity that helps set his work into motion. Whether it appears as part of an exhibition contained in the gallery walls or as a site specific installation—two very different undertakings that manage to evoke the same sensibilities. Sculptures of roadside signs and large-scale, photographs like billboards transform urban and rural landscapes with statements such as "PLEASE CHASE ME," "I'D RATHER BE DOING RUGS," "THERE'S NO LIFE LIKE LOW LIFE," or "THE DEVIL MADE ME DO IT." His public art installations reimagine contemporary Americana and explore the culture that surrounds it. Ross's work speaks like an intervention. It seeks a reaction—any reaction. His text-based works are equally interactive, provocative, and frank. The viewer moves from a deeply personal to an open public space, trying to piece together a story out of personal, historical, and social contexts. It is through this intimate connection that one realizes the exhibition has gained timelessness.
Walking out of a whirlwind of an exhibition, one cannot help but notice a LED-light sign installed on the outside wall of the gallery. "Torture sounds incredible" it reads in a big, bright red font. Visible from pretty much anywhere near the gallery it won't let anyone find their peace. Not without considering what kind of torture is the artist referring to, in what ways it is incredible or how it would possibly affect them. This is Ross's idea of hello or goodbye —a greeting, yet another thought planted in the viewer's head. He clearly knows that one way or another everyone's trapped within their own worlds, heads, and emotions. And we are all just looking for signs.