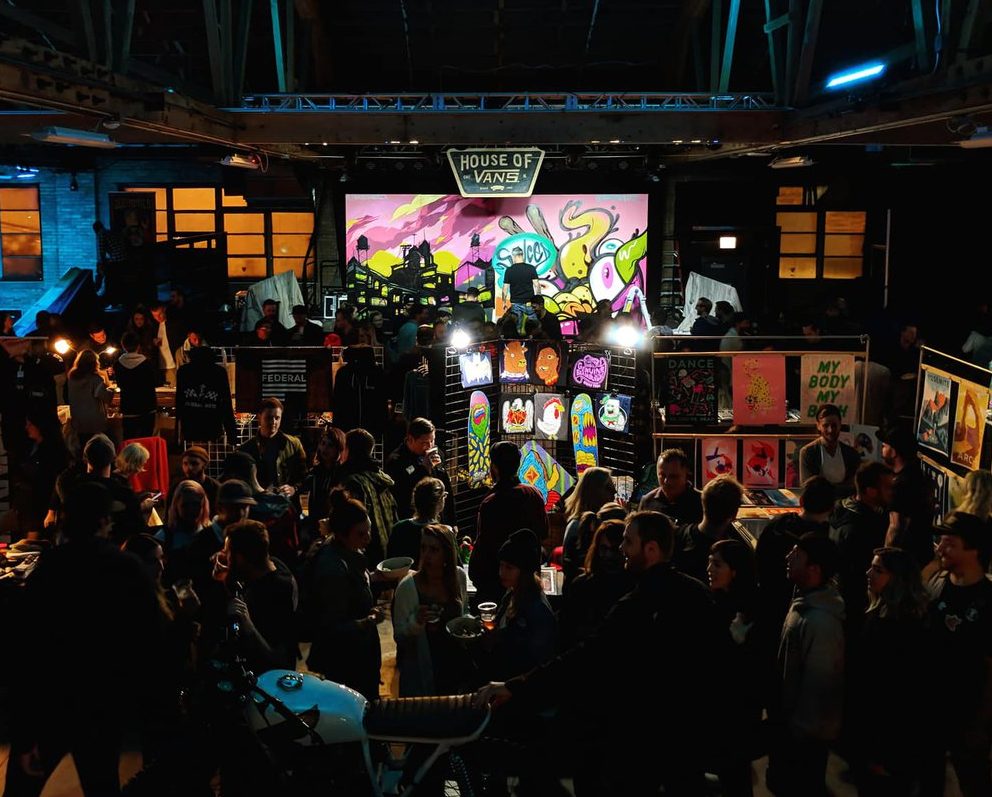 The Sauciest Night Market in Chicago Takes House of Vans
I f you've ever been at Sauced Night Market you know it only means two things. First, you're going to walk away with something totally adorable and most likely delicious. Second, you're going to have fun. Popping up during the late hours all-around the city—think Logan Square arcade bar Emporium, Pilsen's landmark venue, Thalia Hall (it was designed as an opera house in 1892), and Avondale's cafe, bar and music venue, Sleeping Village, to name a few—Sauced takes over the House of Vans on a mission: to showcase Chicago's creative community and have fun while they're at it. Bringing together a wide assortment of artists, designers, makers and small business owners, the after-hours event self-described as "a roving night market dedicated to emerging chefs, artists and that guy from high school who's a DJ now," provides the perfect excuse to shop small—in case you needed one.
As they fill the space with new and vintage fashions, one-of-a-kind jewelry and accessories, hand-crafted home goods, plants, small-batch treats and other beautiful things that are unique and mostly handmade, Sauced makes sure there's going to be enough good food, booze and music to make you giddy just thinking about when they'll be popping up next. Skateboarding, DJ sets, interactive experiences and art installations, and even live painting give shopping in the dark a whole new meaning. As the lines between art, design, and craft blur, Sauced creates a relaxed shopping experience—and by that we mean, feel free to shop with a beer in hand.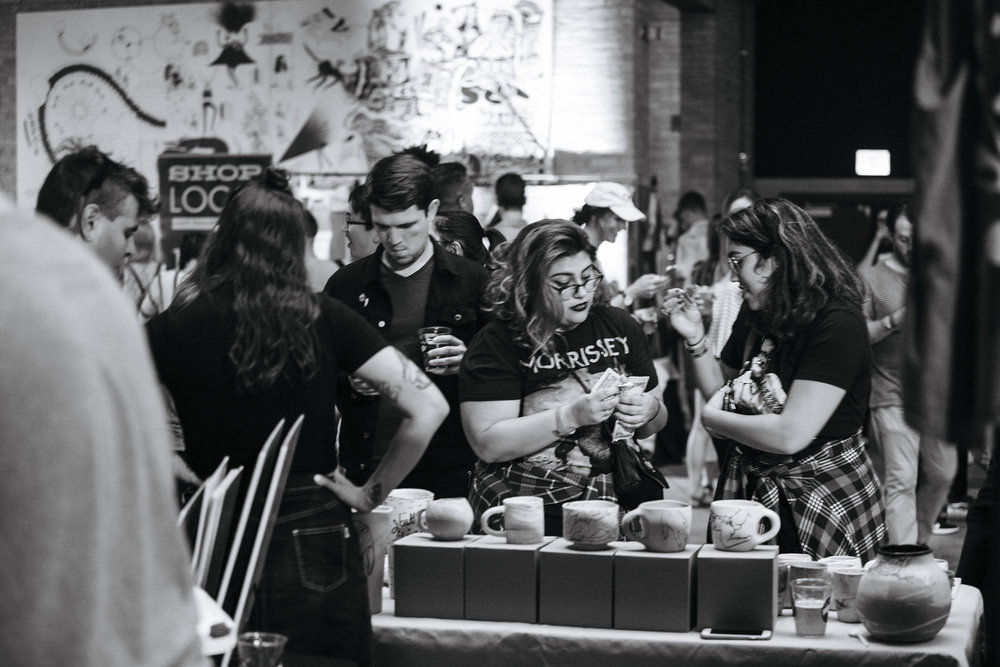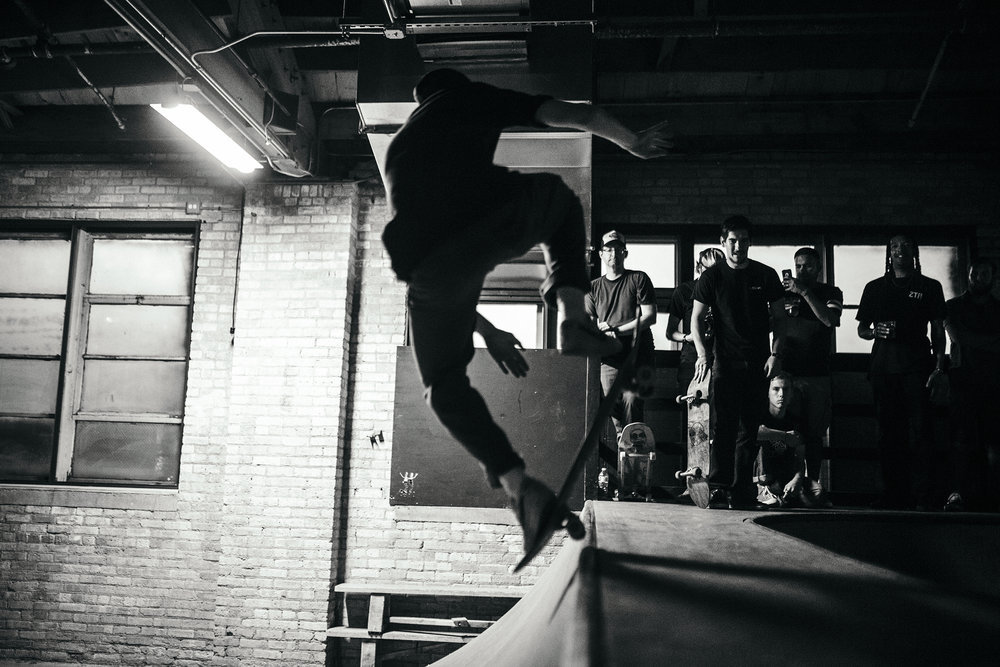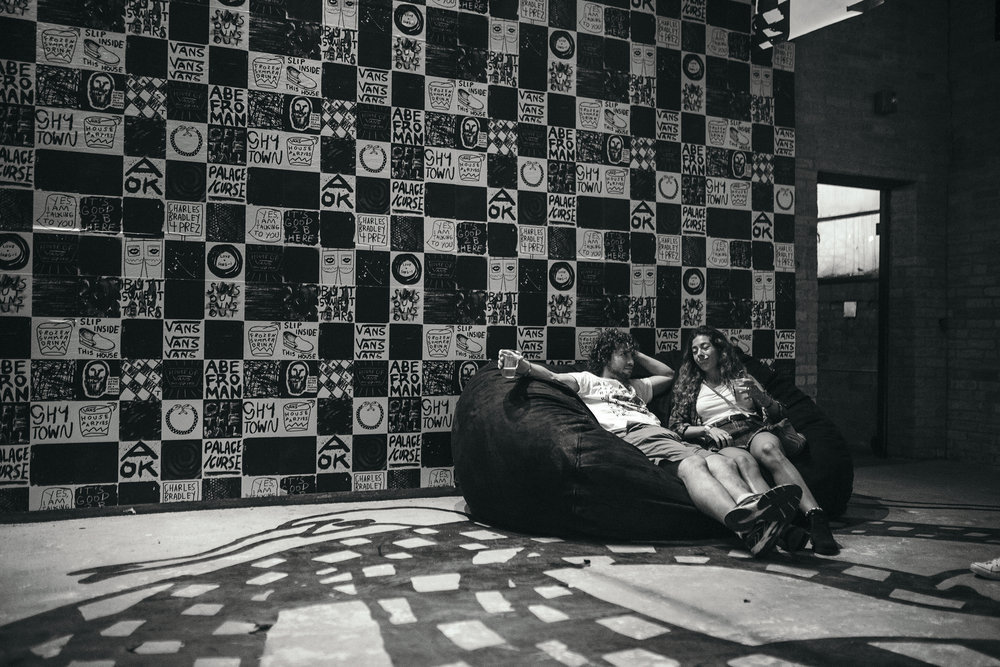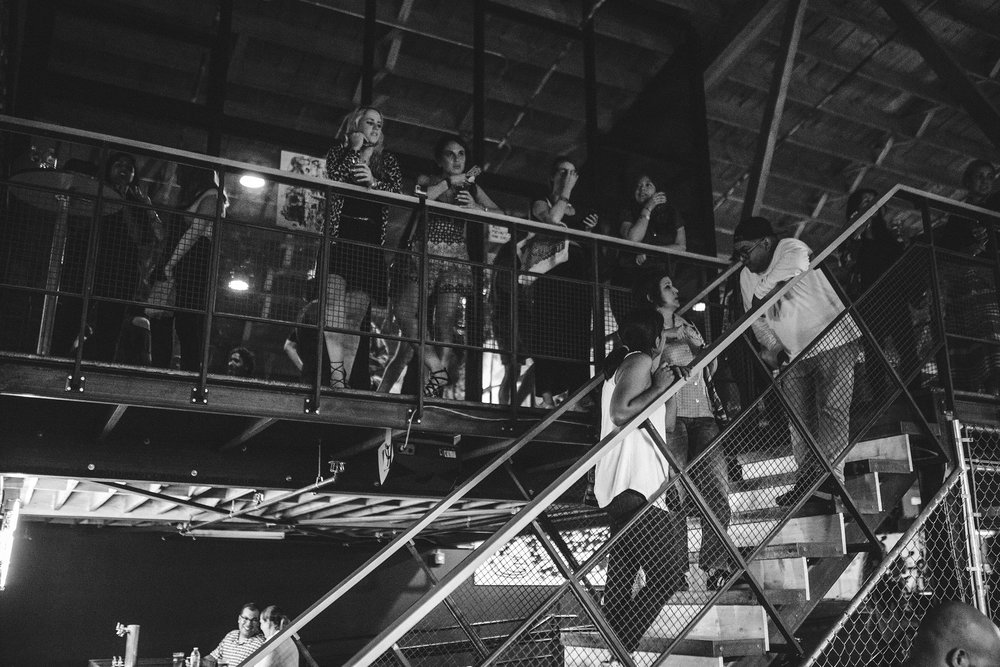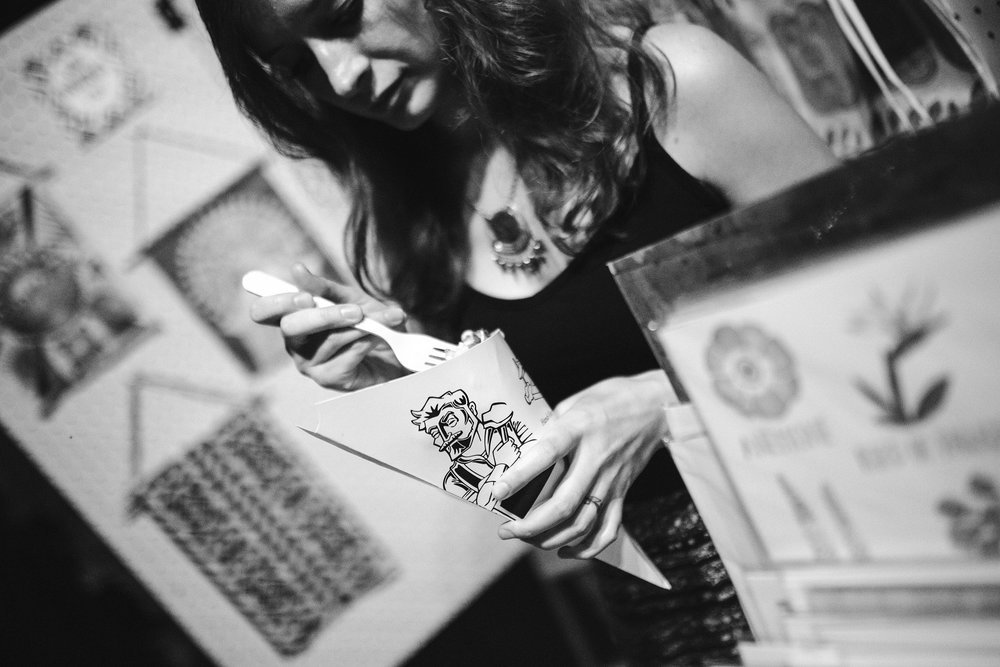 Sauced Night Market at House of Vans, Photos by Jim Vondruska
NOT YOUR ORDINARY CREATIVE STUDIO
Marc Howell and Luke Paisley teamed up to open a creative studio and they're not sorry about it. Sorry, operating in Chicago and London, started with the team making posters for art fairs around the Midwest in an effort to sharpen their design and illustration skills. Since then, they've worked with the Humboldt Football Club, the MPLS St Paul magazine and even have a mural on the Wintrust Mural building overlooking the Chicago skyway. Plus, they have a shop selling screenprints and apparel. "Sorry is what we say to the landscape of in-vogue visual trends, overreaching client demands, and anything and everything that compromises the quality of our work," they explain. "It is our way of saying sorry, this time we're doing our thing." Which basically means that they're only really saying: sorry not sorry.
Sorry Creative/Graphics Studio + Prints & Apparel
NOT YOUR ORDINARY SARTORIAL THROWBACK
Krispyfringe Vintage has been a staple in Chicago and the dotcom for almost 10 years now, bringing together an unexpected mix of vintage and housewares on their Etsy, Depop, and Poshmark shops. There, you will find the 1960's navy blue and white polka dot dress of your dreams next to a 1990's puffer vest, next to a 1980's piccolino beaded jacket with shoulder pads. But also a 1960's salt and pepper shaker set in the shape of spotted dogs, a 1980's Haeger serving bowl and a 1980's green ceramic horn next to a 1980's decorative ceramic foot. Which is to say, you never know what to expect when they pop up around the city. And there's only one way to find out.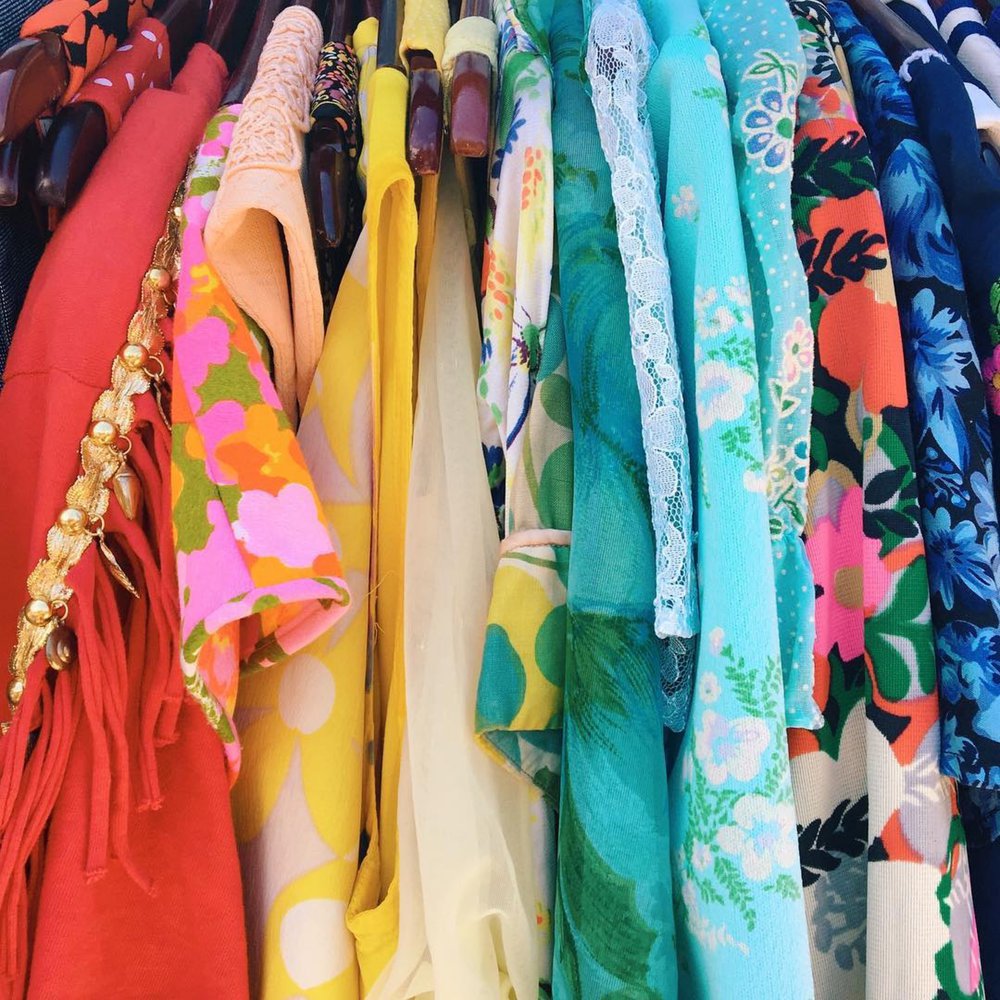 Krispyfringe Vintage
NOT YOUR ORDINARY CANDLE-LIT DATE NIGHT
Barrel Aged Bourbon, Gin and Rosemary and Blackberry Bramble are not—and we cannot stress that enough—for drinking! In the case of the Chicago Candle Co. they are scents of vegan soy wax hand-poured in recycled bottles by Sara and Fernando Velarde. The team behind the homegrown candle company also thought making a candle series called The Wine Collection might be a good idea. Spoiler alert: they were right and now we can all enjoy Chateau Blanc Chardonnay, Napa Valley Cabernet and Sevilla Sangria (again, not for drinking) alongside our actual wine—a reliable friend that's there to comfort you in the toughest of times and to help you celebrate the most exciting ones. Their unique blends are made out of 100% all-natural, clean-burning wax and if you're into DIY you can take one of their classes to learn all about candle making and wine bottle cutting. Needless to say, the event is BYOB.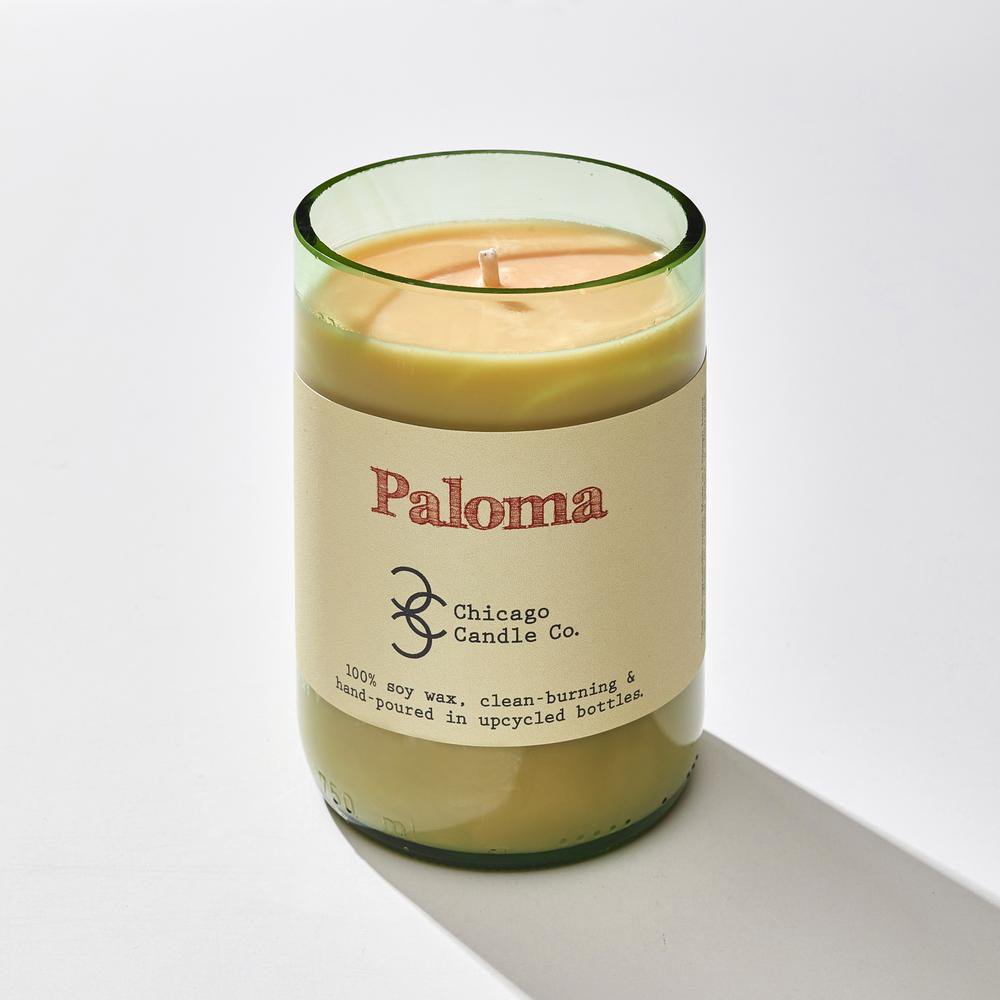 Chicago Candle Co.
NOT YOUR ORDINARY PLANT SHOP
Have you ever stopped to think which plants best fit your lifestyle? Your personal space or vibe? Enter: Plant Shop Chicago. Ozzy Gamez (favorite plant: Monsteras) and Juan Quezada (favorite plant: Sansevierias), the team behind the Albany Park space that's overflowing with plants and greenery, is on a mission to educate their customers through a series of classes and workshops, before, during or after they find their perfect match of a plant whether it be a fern, an orchid, an African Violet, or a Venus Fly Trap. Specializing in tropicals, cacti, succulents, and hard-to-find houseplants that range from low-care to high-maintenance, trust us when we say there's something for everyone. At Plant Shop Chicago becoming a plant mom or pop is made easy—and it doesn't need to break the bank either.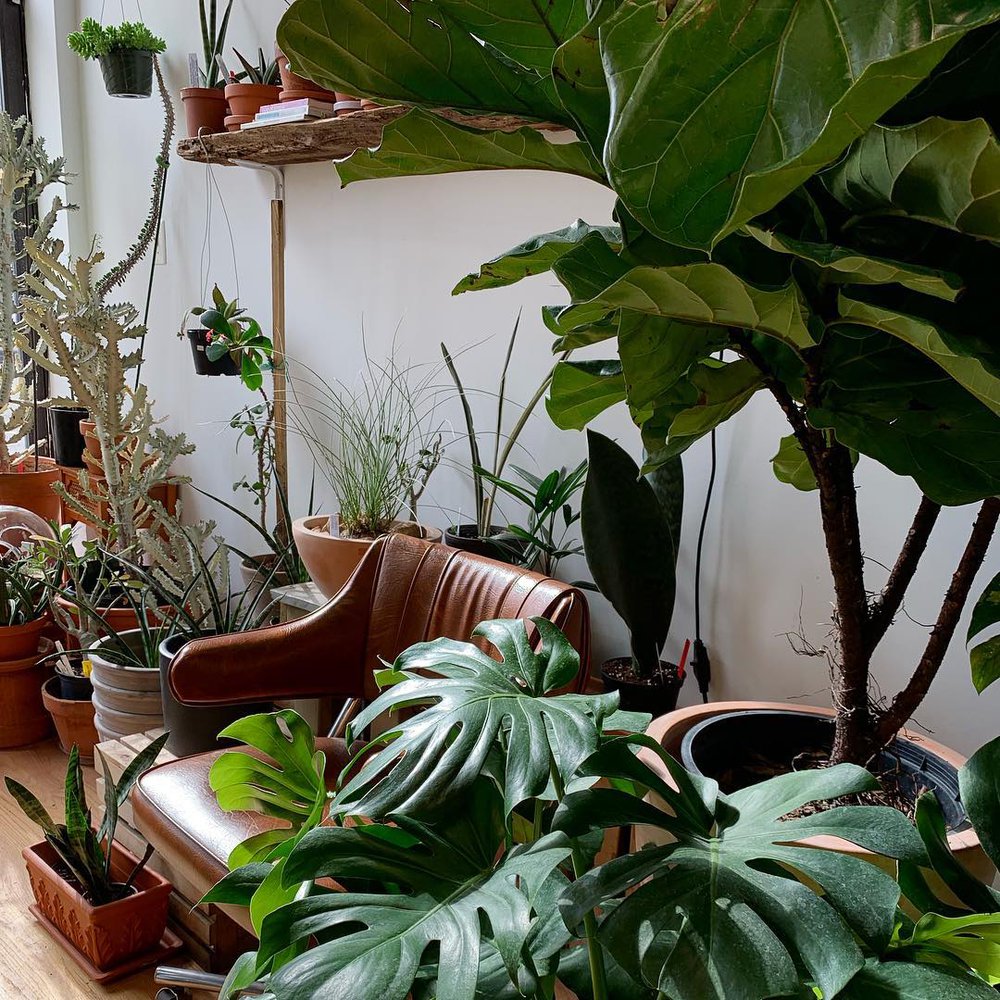 Plant Shop Chicago
NOT YOUR ORDINARY BEARD FOOD
The Beard Corp makes beard products for all your manscaping needs, no matter if you're a rider, a hipster, a programmer, an actual lumberjack or just a dude who lives his best hippie surfer life. In other words, if you can pull off any sort of facial hair you're gonna be needing some props. Think beard and mustache balms to condition the skin, oils to enhance shine and lock in moisture, that wooden comb that's small enough to fit in your jeans back pocket and minimizes split ends but is also good for overall damage control, an old cigar box filled with all the above that could actually make for a great gift, "and other bearded man gear," as they like to call it. Ride, shoot, live life, they urge you, and they'll take care of the rest—and by that we mean your beard.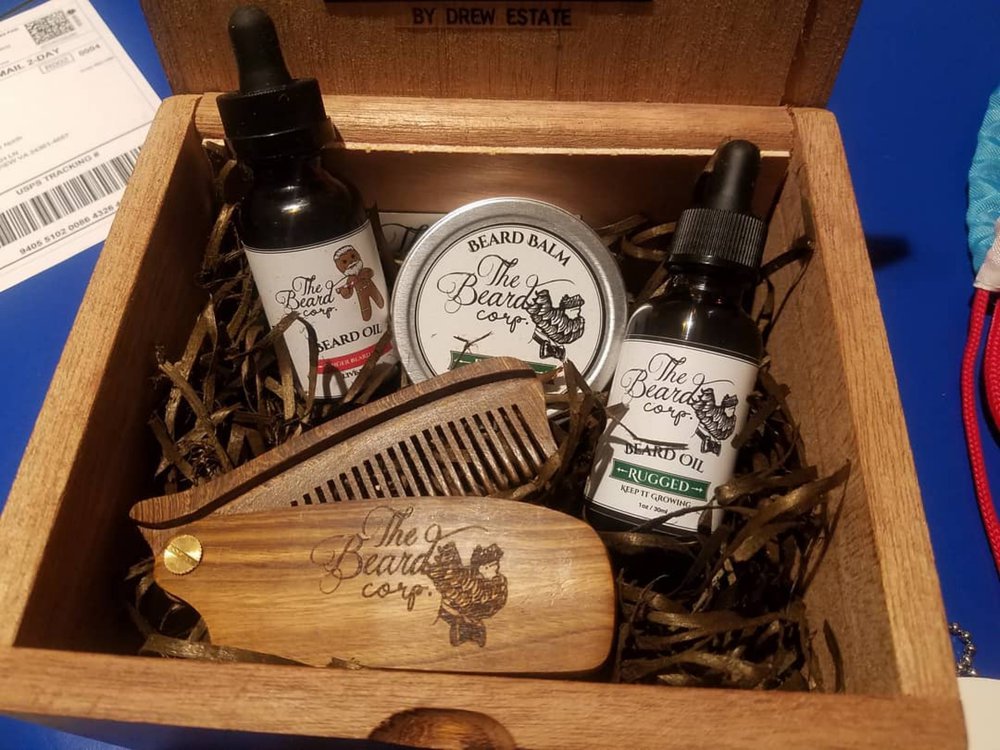 The Beard Corp
NOT YOUR ORDINARY OCCULT JEWELRY
The Paper Stranger is the brainchild of Christie Joy, a cat enthusiast, a bone collector and a black thumbed plant lover who sometimes makes jewelry, as she describes herself. Said jewelry—and her Instagram feed—reflect all those attributes. Her pieces—moonstone rings in the shape of fly wings or sparrow claws, chicken feet earrings, serpent necklaces and cuffs that wrap tightly around the body, drop pendants and spikes—all inspired by the ephemeral, channel an undeniable whimsicality. As if that's not enough, they're displayed on handmade ceramic sculptures in the shape of a human head. Deliberately left "unfinished," they double as planters. And it is when filled up with soil and greenery, that the natural world of plants collides with the organic materials, colors and textures of the jewelry themselves, adding to the overall mystic vibe.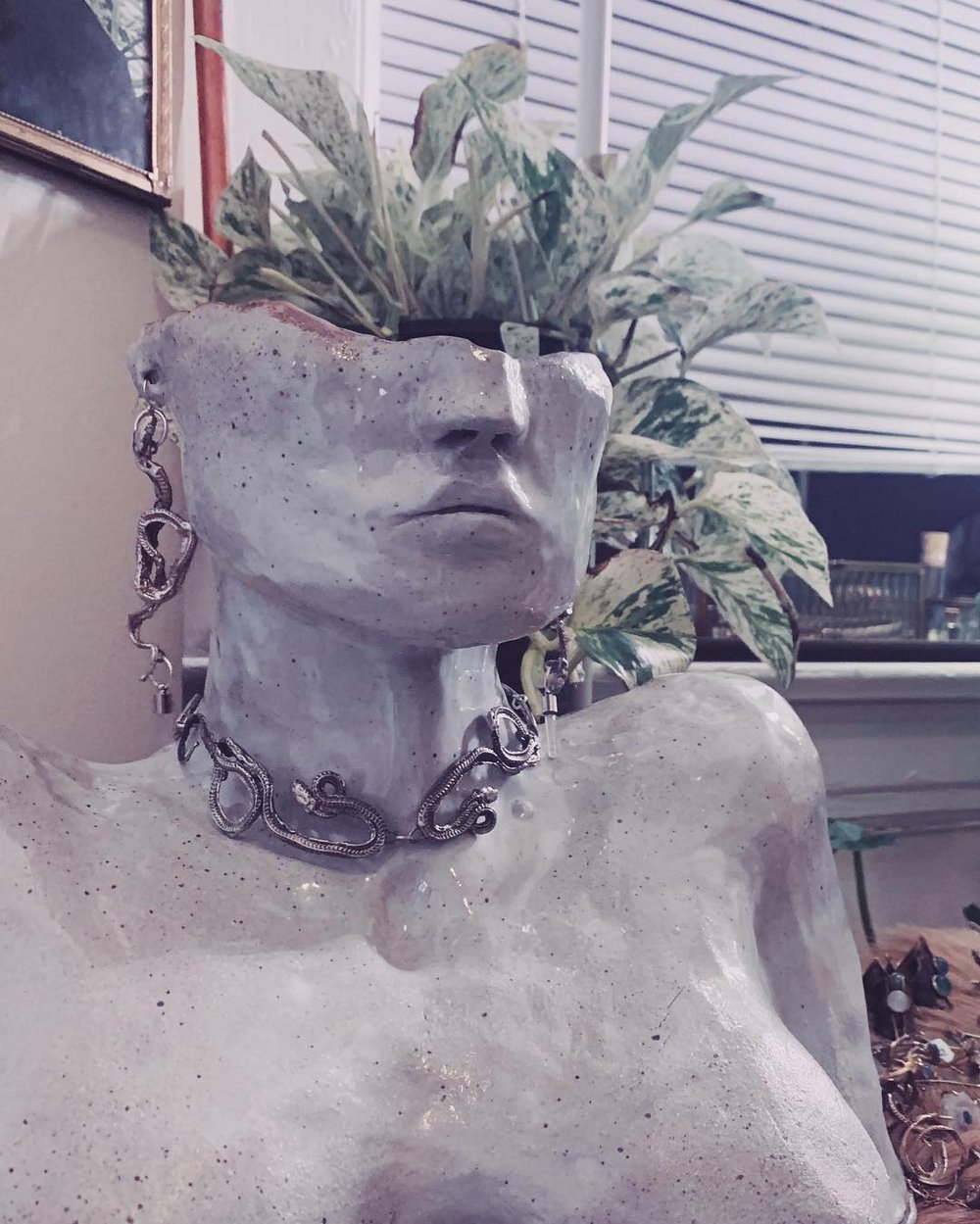 The Paper Stranger
NOT YOUR ORDINARY CERAMIC HOUSEWARE
"Twinette Poterie is named after my grandmother, Antoinette," says Emilie Bouvet-Boisclairt, explaining that it encompasses her French Canadian roots, and her home province of farm land and open skies. "As a child, I wandered along overgrown 'fossés' picking bouquets of wildflowers amongst the bees; collecting raspberries and not stepping in cow dung are some of my clearest memories. In my work, I see colors from those days and a philosophy of practical usability." The small batch pottery includes tableware, drinkware, kitchenware, planters and jewelry, all handmade and hand painted. But it is the creatures of the Tropics Collection—sea and coastal inspired functional sculpture—that especially stand out as if they have a personality of their own. Think zooplankton, whales and pufferfish, baby sharks and corals that resemble otherworldly mythical creatures turned into vases, mugs and macrame hanging planters. If the Twinette Poterie ceramic collections are not the definition of whimsical, we don't know what is.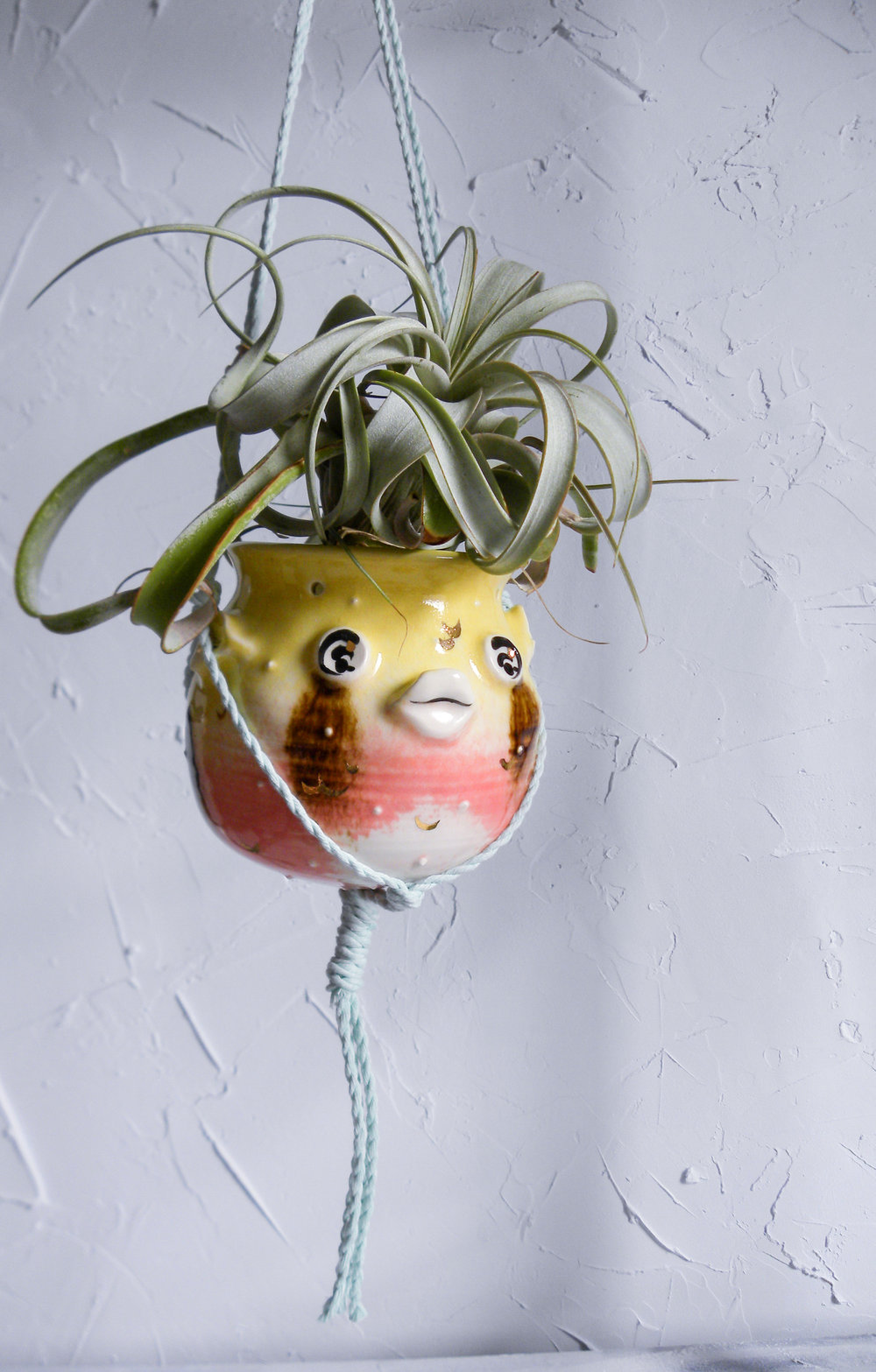 Twinette Poterie
NOT YOUR ORDINARY FOOD DIARY
When husband and wife team Julie Morelli and Andy Schwegler, decided to combine their typography, photography, illustration, and printmaking skills to create Chicago-based graphic design studio, Letterform, little did they know that their love for food would prevail. Nourishing Notes is a celebration of food, as they call it. From stationery to home goods, all their products are designed especially for the food obsessed. There's kitchen towels and placemats, tote bags, notebooks and even travel postcards. Yes, you heard that right. Don't try telling us you never felt the urge to document your best food experiences while traveling! We know we've been there more often than we like to admit, so now, like us, you should be glad there's someone out there to help you log your perfect foodie vacation—or help you brag about how great every meal you've eaten was when you return home.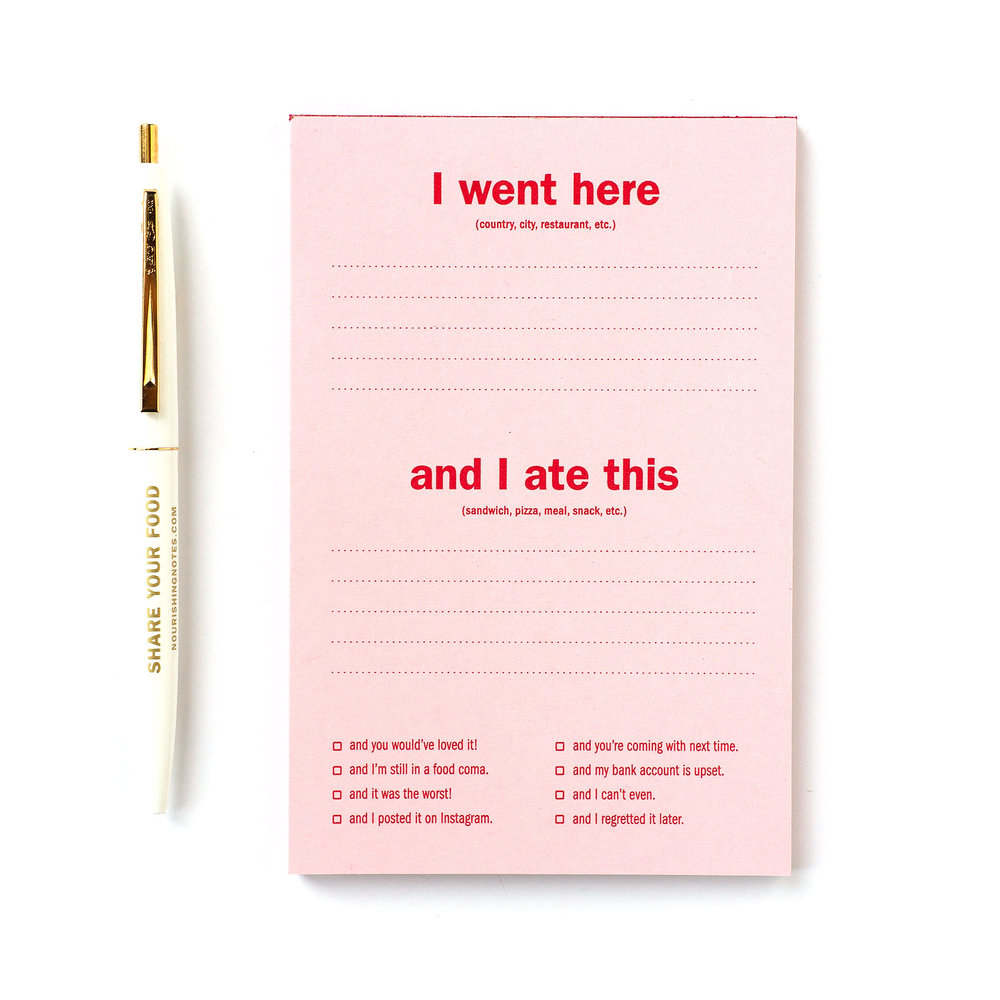 Nourishing Notes
NOT YOUR ORDINARY COCKTAIL BITTERS
Aged & Infused is the closest you can get to channeling your inner mixologist—or dare we say, distiller. How you might ask? Let's take a step back. It all started when Jessie Crawford wanted to give her boyfriend, John Feller, a gift with a personal touch. As she was experimenting with whiskey and bourbon and different infusions, she found a combo she liked. And now this is a gift to all! Making alcohol infusion a piece of cake, Aged & Infused, sets you up with a jar that includes everything you need—real ingredients, sans the overly-sweet syrups and artificial flavors, that is. With elaborate combinations such as the Island Time, made with pineapple, cinnamon and cayenne pepper, the Garden Party, featuring strawberry and dehydrated hibiscus flower or the Navel Gazer, that much like an Old-Fashioned, gives notes of orange, cinnamon and clove, there's a kit for everyone—whether a gin, whiskey or vodka lover—as long as you have the patience to let your infusion sit and soak up all the flavor for a week before you pour it over ice.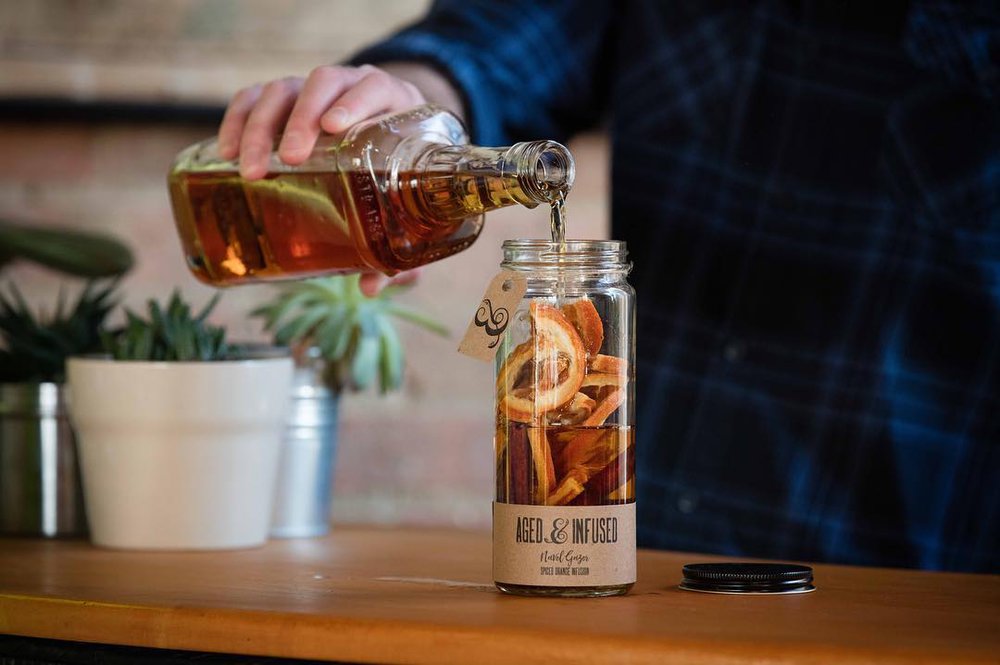 Aged & Infused
NOT YOUR ORDINARY KITCHEN TOWELS
With patterns inspired by the colors and textures of nature, Andria Green's textiles will bring a smile to your face. Think super-realistic looking fruit and vegetation imagery—bright pink strawberries, ripe peaches and lemon vines, monstera leaves and sunflowers—hand dyed and hand printed onto all sorts of home goods: tea towels, hot pads, tablecloths, zipper pouches and pretty much anything your heart desires—she takes custom orders, too. "Each pillow or tea towel begins with a drawing, and is then carved into a block by hand, and printed using water based inks, and eco-friendly processes," says the artist explaining that she designs products created to bring happiness to your living space. And what better way to brighten your life and up your hostess game than by adding a floral note to your home decor as Chicago transitions (at a turtle's pace) into summer?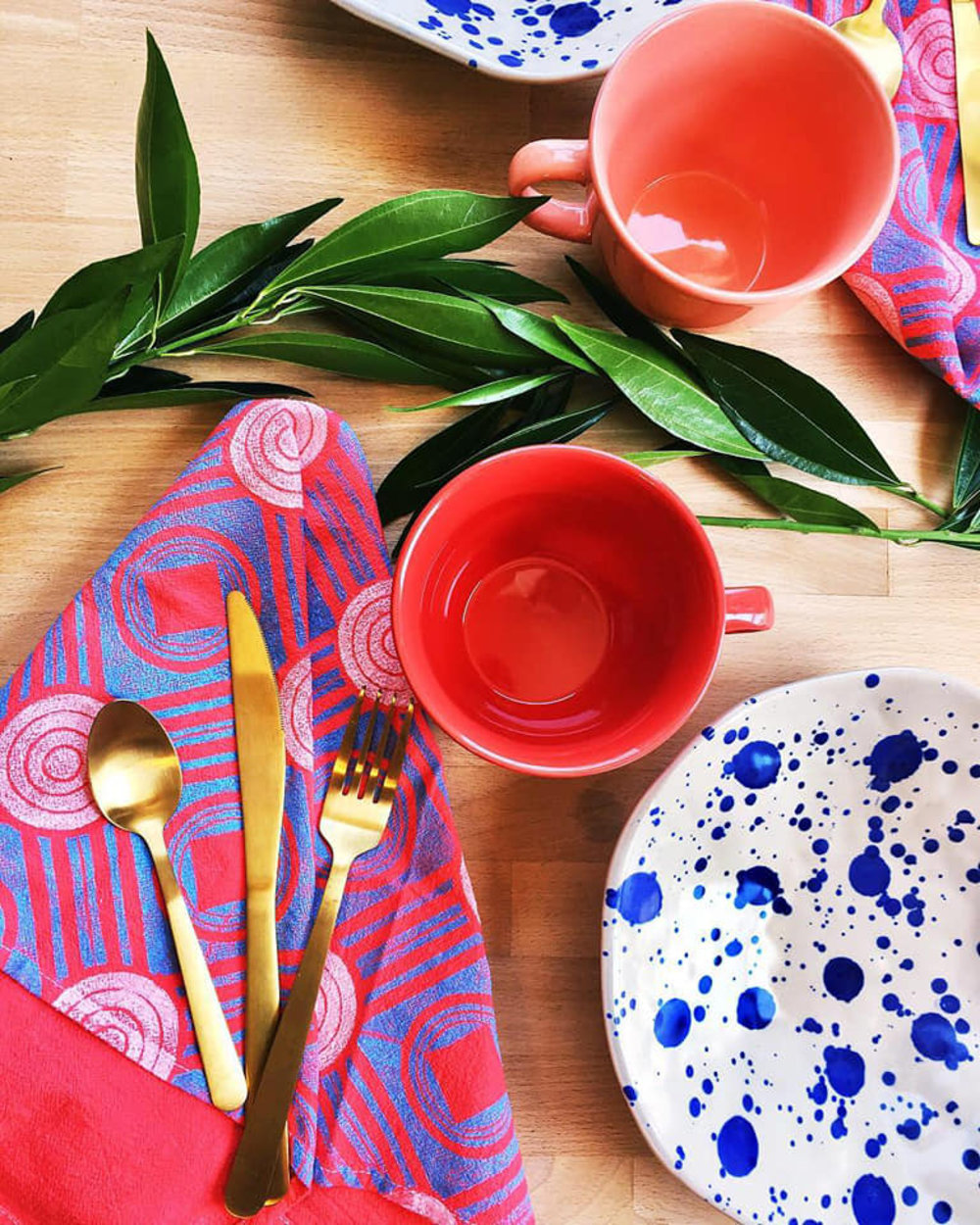 Andria Green