Behold the Power of the Beard
B eard culture is very serious business. Even more so when the country's foremost facial hair aficionados—the crème de la crème if you wish—gather round to compete for the title of the best beard and mustache in the U.S. We're talking about the National Beard and Moustache Championships. Celebrating creative expression at its most extravagant, the participatory experience is organized by the Remington styling tools company's Beard Boss team and Beard Team USA, a national beard club that represents the country in competitions around the world and raises awareness and funds for worthy causes. This year is no different.
The annual event appropriately takes place this coming weekend—Movember or No-Shave November 8th and 9th—with a portion of ticket sales directly benefiting local charities from the venue city. Namely, animal shelter organization PAWS, Oscar Mike in support of injured Veterans and Together We Cope that bridges the gap for south suburban families in temporary crisis.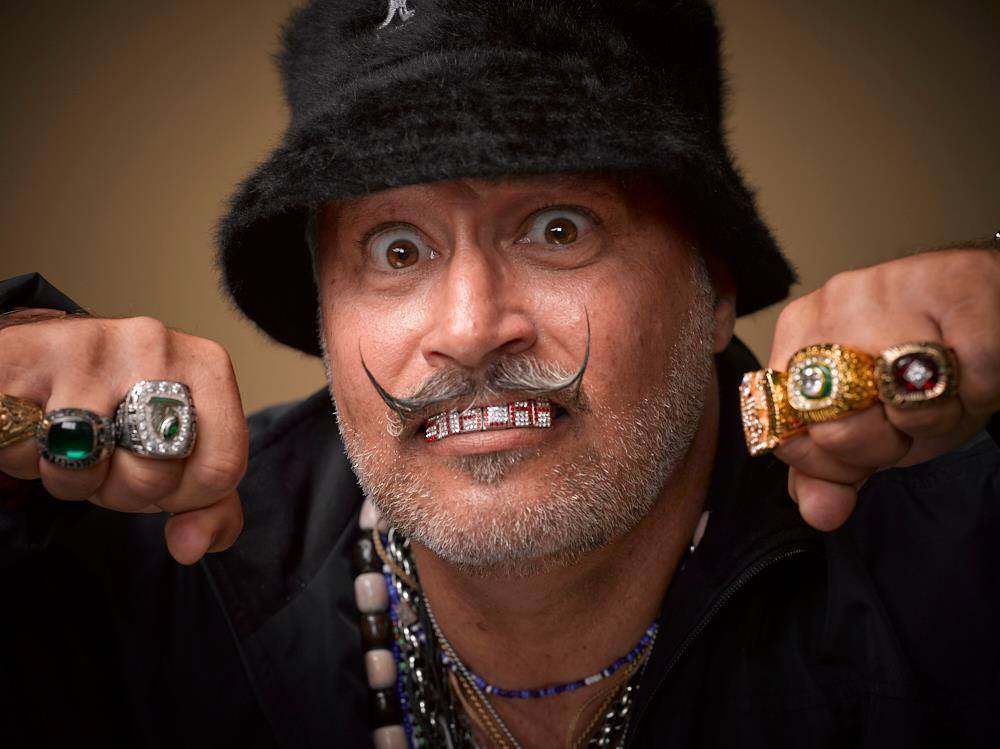 National Beard and Moustache Championships Contestants by Greg Anderson
Most everyone knows that beards are to brews what peanut butter is to jelly. Hence it comes as no surprise that it's all going down at the 350 Brewery's Insanity Factory in Tinley Park, IL—an easy 30-minute drive from Chicago. Did you just jump at the opportunity of a spontaneous day trip filled with delicious craft beer and a battle over the wildest beard in the country? We thought so!
As beard growers get ready to go head to head to find out who has the biggest, longest, or most elaborately styled beard, we dived into the 50+ official categories. Mustaches, partial beards (think: sideburns and goatees), full beards and craft that includes both natural and artificial but realistic looking facial hair, are all a part of the mix but there's no right way to describe them—you'll have to see it to believe it.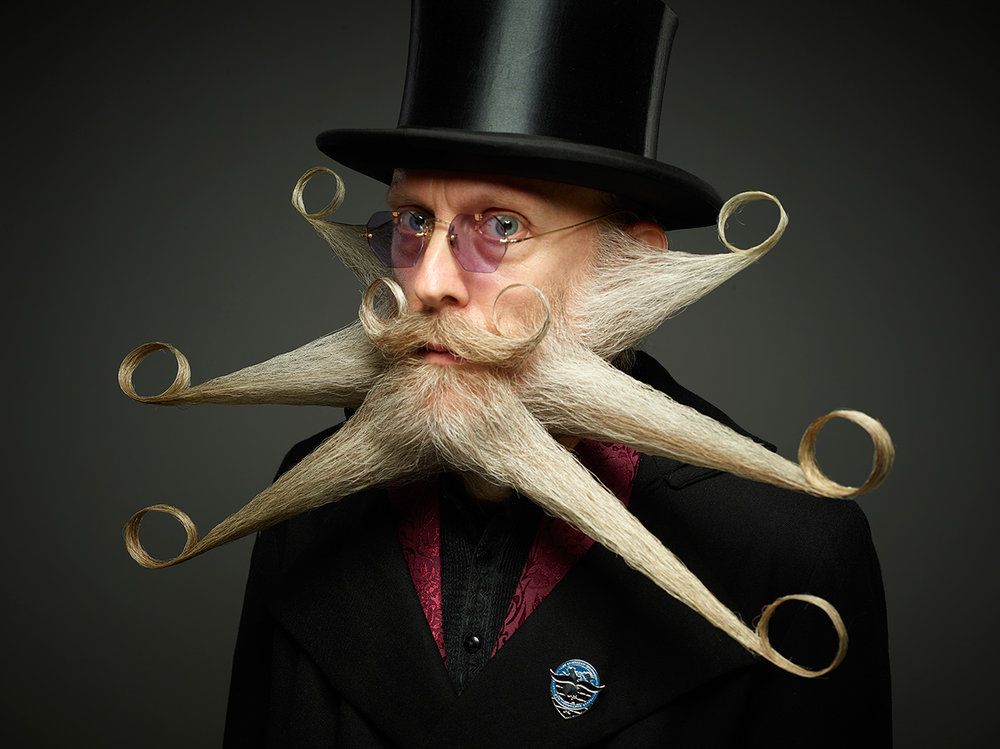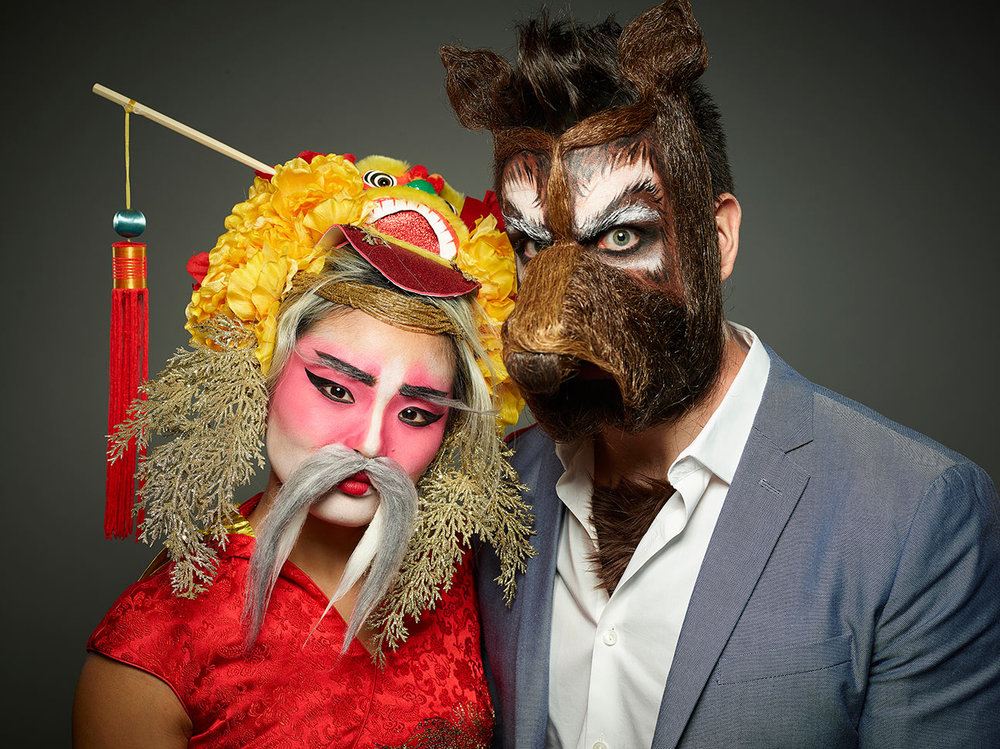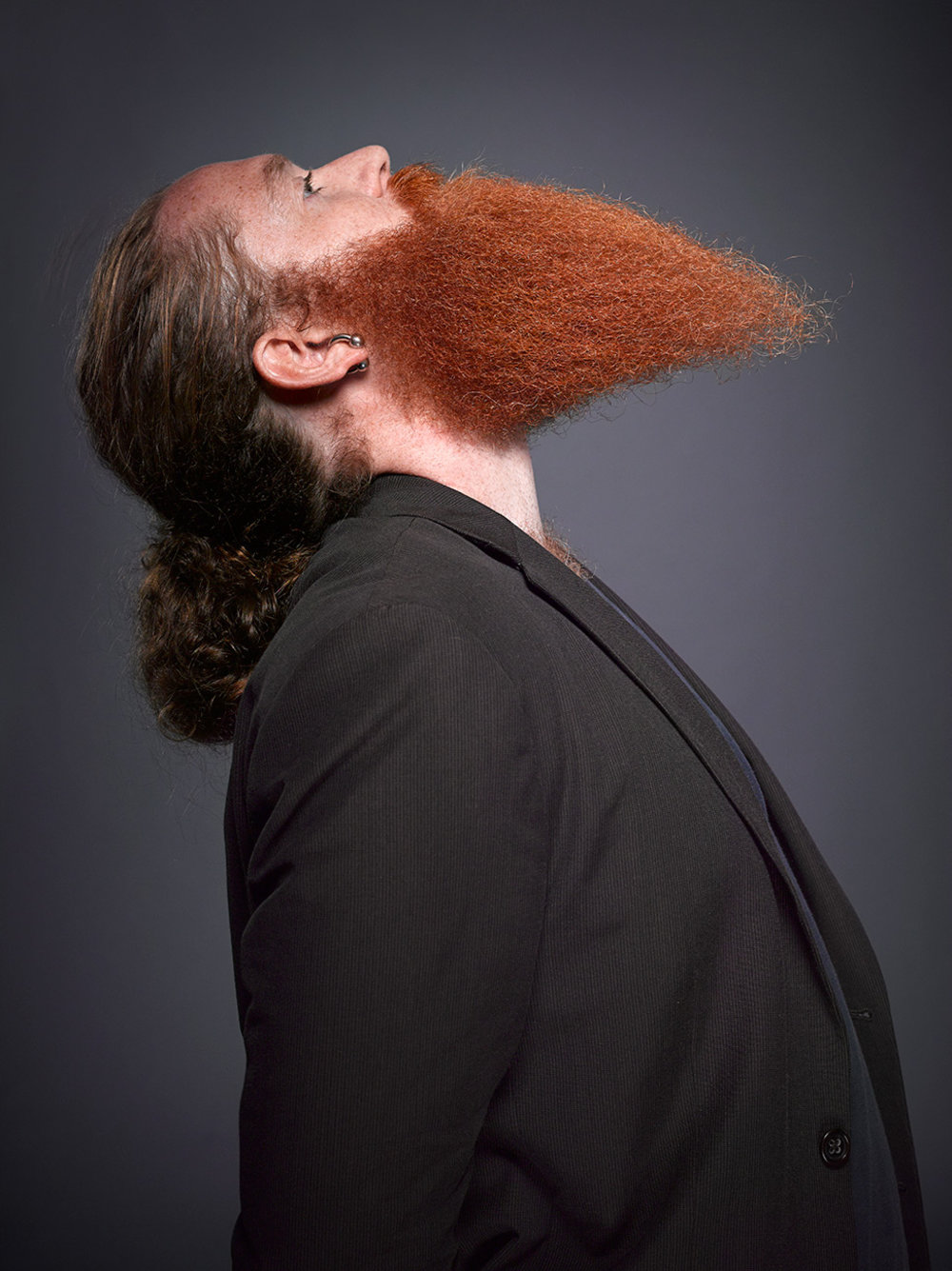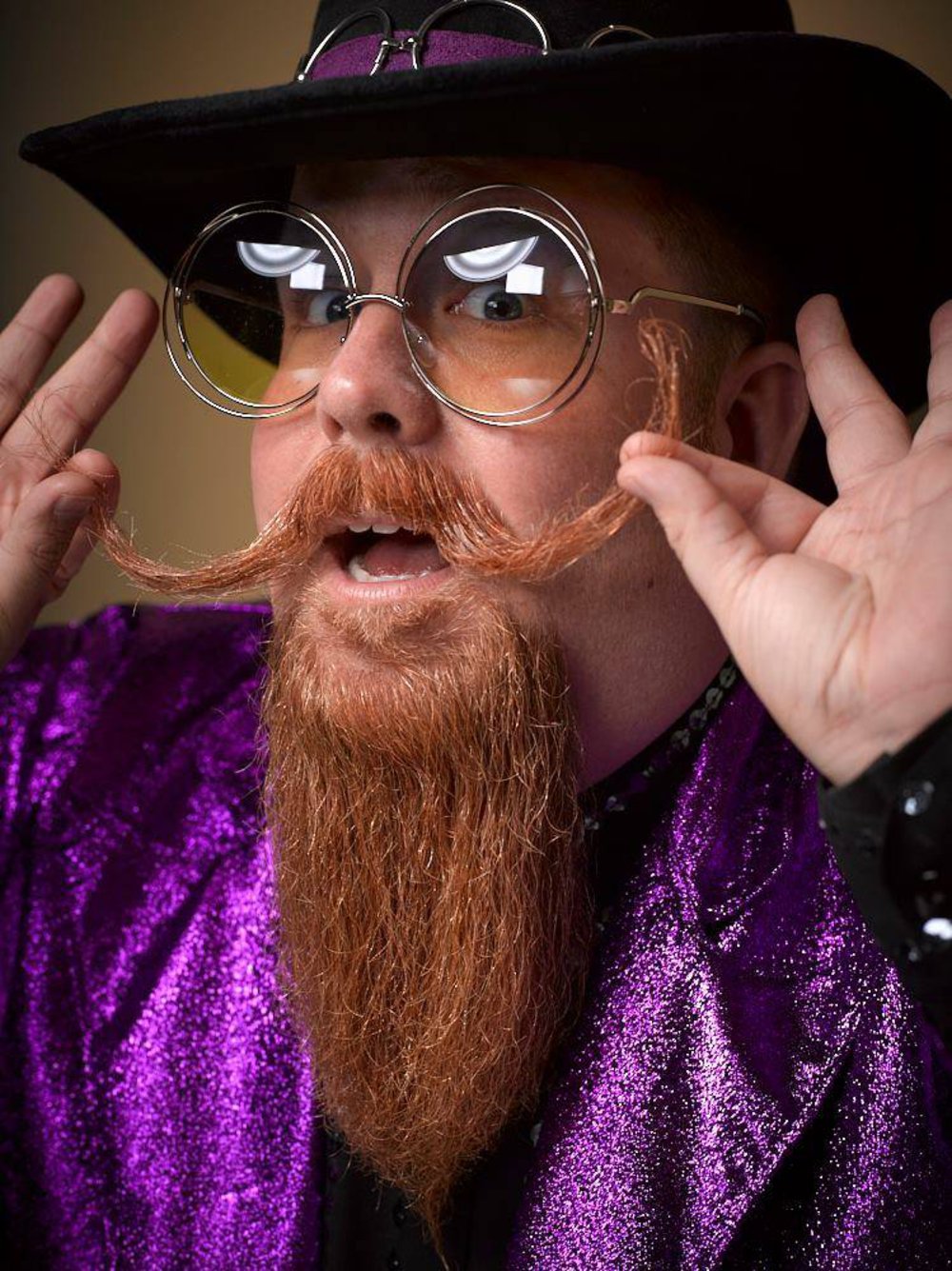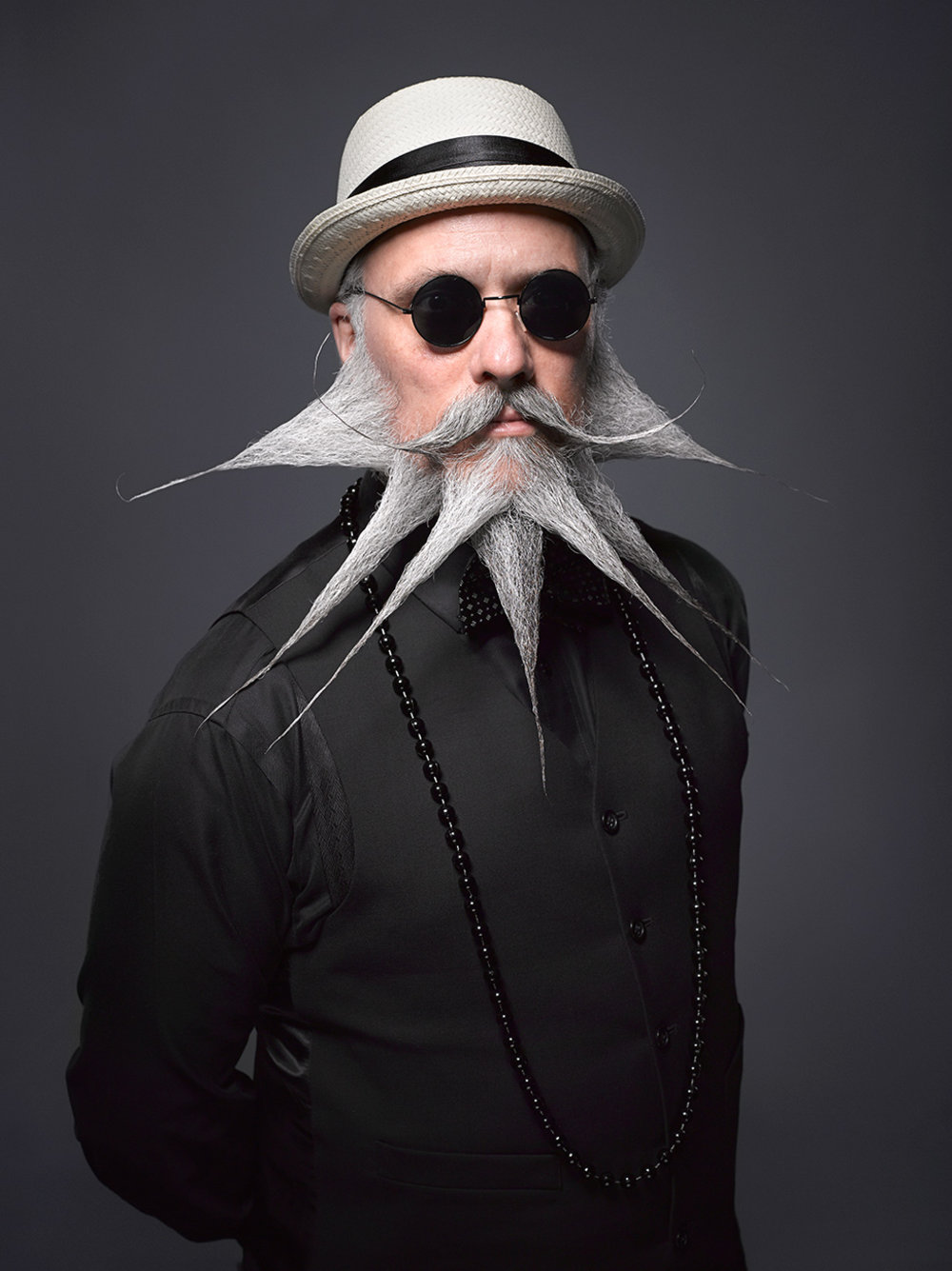 National Beard and Moustache Championships Contestants by Greg Anderson
The cornucopia of options includes the Styled Handlebar Moustache, the English Mustache (a narrow, slender moustache with the hairs extended outward from the middle of the upper lip) and the Dali Moustache (slender with the tips curled upward). Among the most elaborate styles are the Musketeer, also known as a 3-Point Beard (the beard is narrow and pointed, the moustache is slender, long, and drawn out in a slight bow), the Whaler (a wilder, full beard up to 12" in length with no moustache), the Shenandoah (hair grown full and long over the jaw and chin, meeting with the sideburns but lacking a moustache) and of course, the entire craft category that requires a seriously creative eye and styling products with intense hold.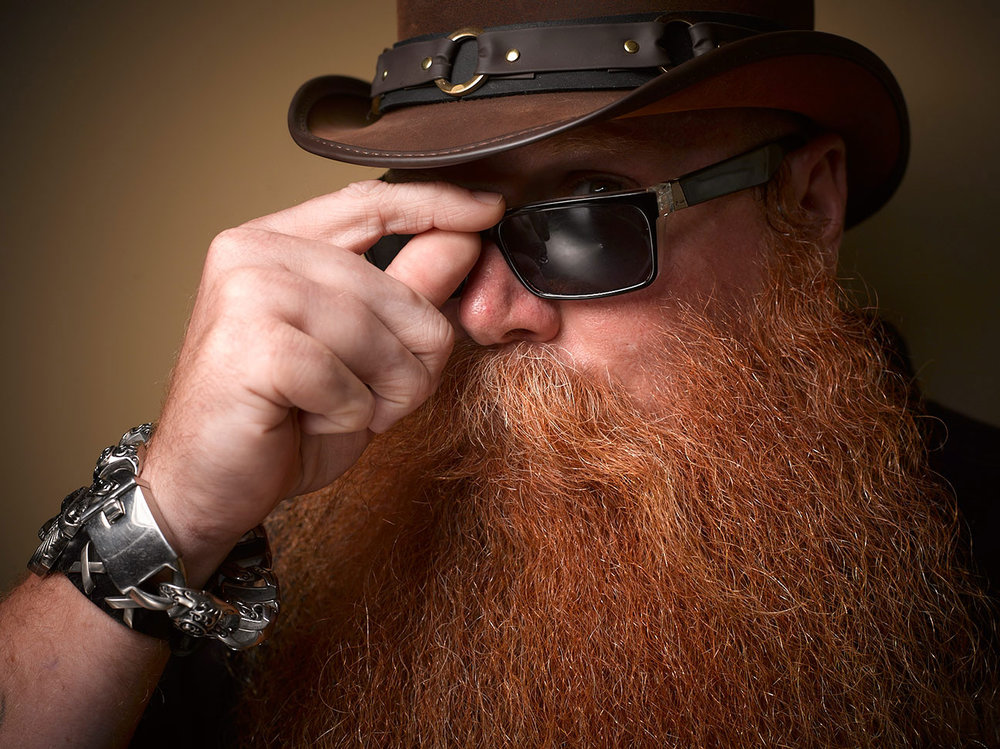 National Beard and Moustache Championships Contestants by Greg Anderson
Then, there's the 5 O'Clock Shadow, where competitors will shave no earlier than 7am the day of the event and will be judged according to level of growth later that same day at 5pm. The Brewers Beard features "any beard of a hard working, beer making person that will be judged on wildness and ability to produce yeast" per the official rulebook. Yes, that's right. Beer basically consists of four things: hops, barley, water, and yeast—yeast that, in case you missed the memo, can now be "harvested from" a brewmaster's beard! Bottom line? When it comes to the ways of the beard, there's no such thing as weird.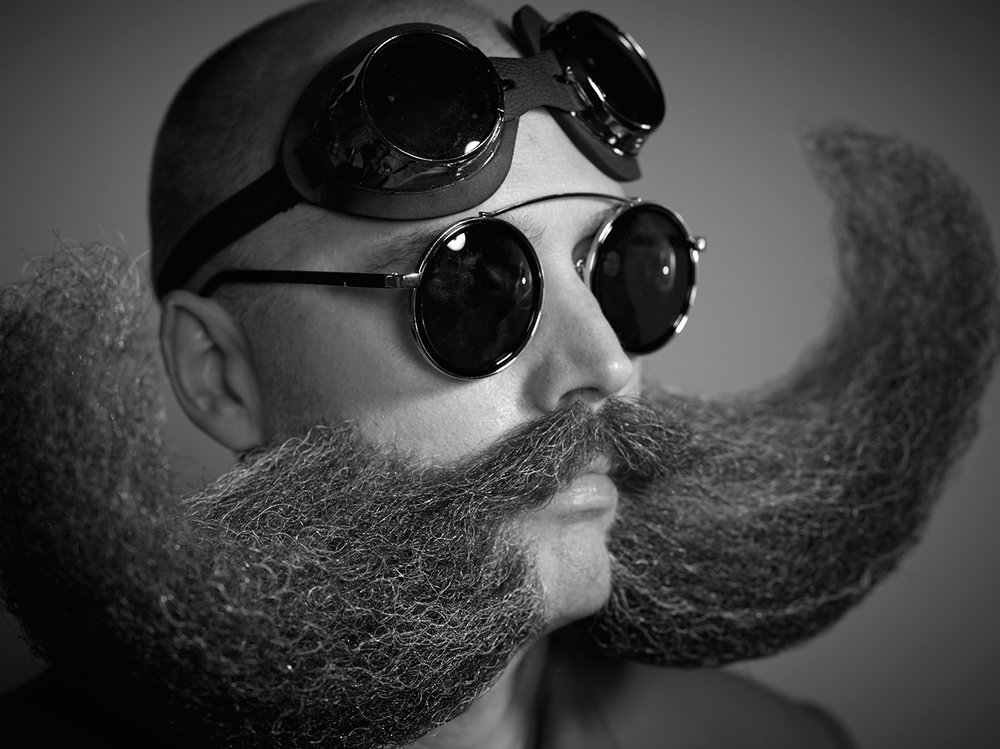 MJ Johnson by Greg Anderson
To get a better idea of what's what, we took a peek behind the scenes with competitors MJ Johnson and Garey Faulkner. "It all started as a bet for charity at work," says Faulkner. Not long after that he was introduced to the competition circuit  through a friend—his beard growing more elaborate by the day. "I get tons of groupies men and women—luckily mostly hot women," he jokes.
For Johnson it was more of a creative instinct thing: "I saw art where I didn't see it before and wanted to grow the type of moustache I felt the world needed right now," he says when asked why he decided to grow his beard in the first place. As for competing: "Once I learned such a thing existed my drive to find my first beard and moustache contest was strong," he says. "I started following Beard Team USA for contest updates and just picked one. The rest is history." Growing such a luxurious beard takes effort and sacrifices but Johnson, a proud member of the Remington Beard Boss team, has his routine down. "Silk pillowcases. Organic Coconut Oil. TLC. A healthy diet," he reveals, stressing the importance of patience during the growing process. "Let it grow—if you care about something and want to do a good job, you should give yourself time to create."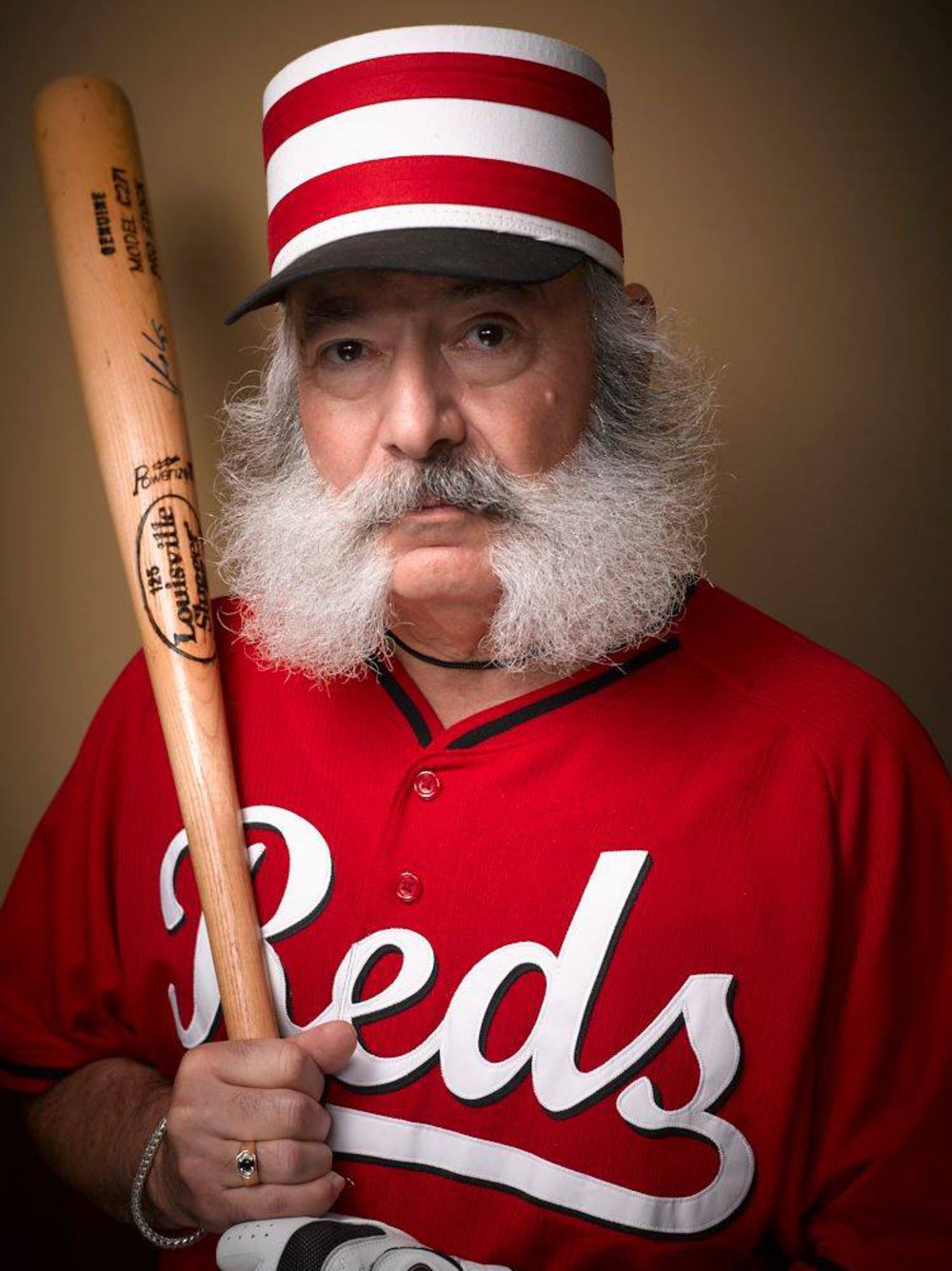 National Beard and Moustache Championships Contestants by Greg Anderson
Natali Johnston's story is a little different. You see, she cannot grow a beard per se. One of the very few women participants, Johnston decided to start creating beards after seeing other female competitors on stage during a competition at Charleston, SC. "There were both beards made from hair and even one that looked like a mountain. It was so beautiful and I thought to myself, 'I can do that'," she says. "A few months after that I learned about a competition in Myrtle Beach, so I decided to create my first beard and compete for the first time. I was extremely nervous, being my first time, but everyone was very nice and encouraging. I ended up placing second and was hooked," she adds. "The next morning after brunch, I was told that another competition was coming up the following month." She had no idea at the time, but as it turns out there was one in a different state every month. Johnston was up for the challenge. "All of my creations are like my babies—I handle them with care," she says revealing her very meticulous beauty regimen: "They are given the attention as if they were real beards: they are oiled with Honest Amish beard oil to give them a nice realistic shine, they're then combed and styled." She should know.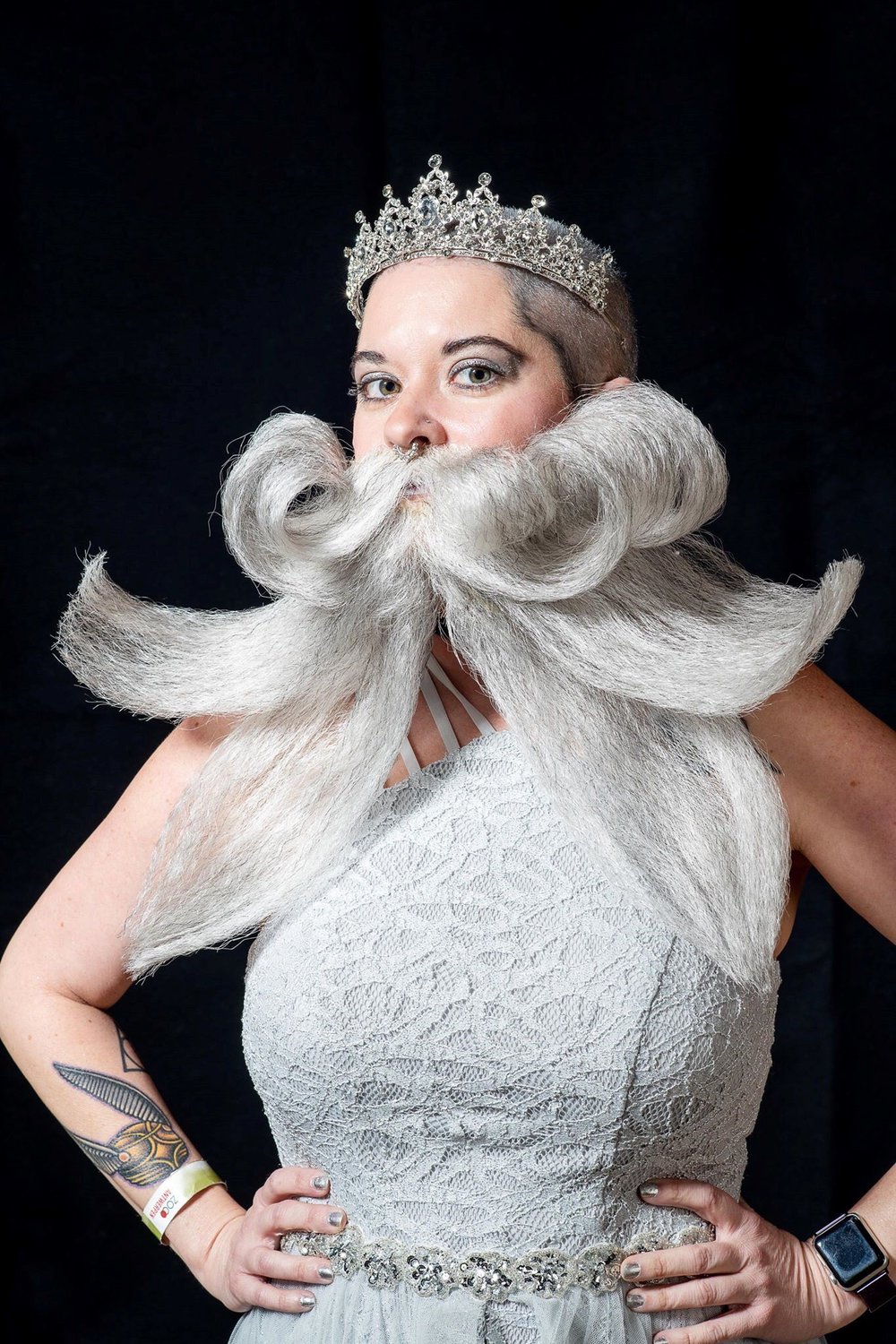 Natali Johnston
As for anyone out there wanting to cultivate an award winning beard/mustache, Johnston has a few tips: "Just grow it and take care of it. Know what facial hair works for your face—don't try to force something that isn't going to work for you," she says. "Sometimes your face doesn't want to grow a beard; it wants to grow a goatee. Or maybe you were meant to have chops instead of a mustache. Learn what works best for you and own it." Who knows, maybe one day you'll be on that stage showing off your very own glorious and meticulously groomed facial hair. And don't forget: bragging rights come with the territory.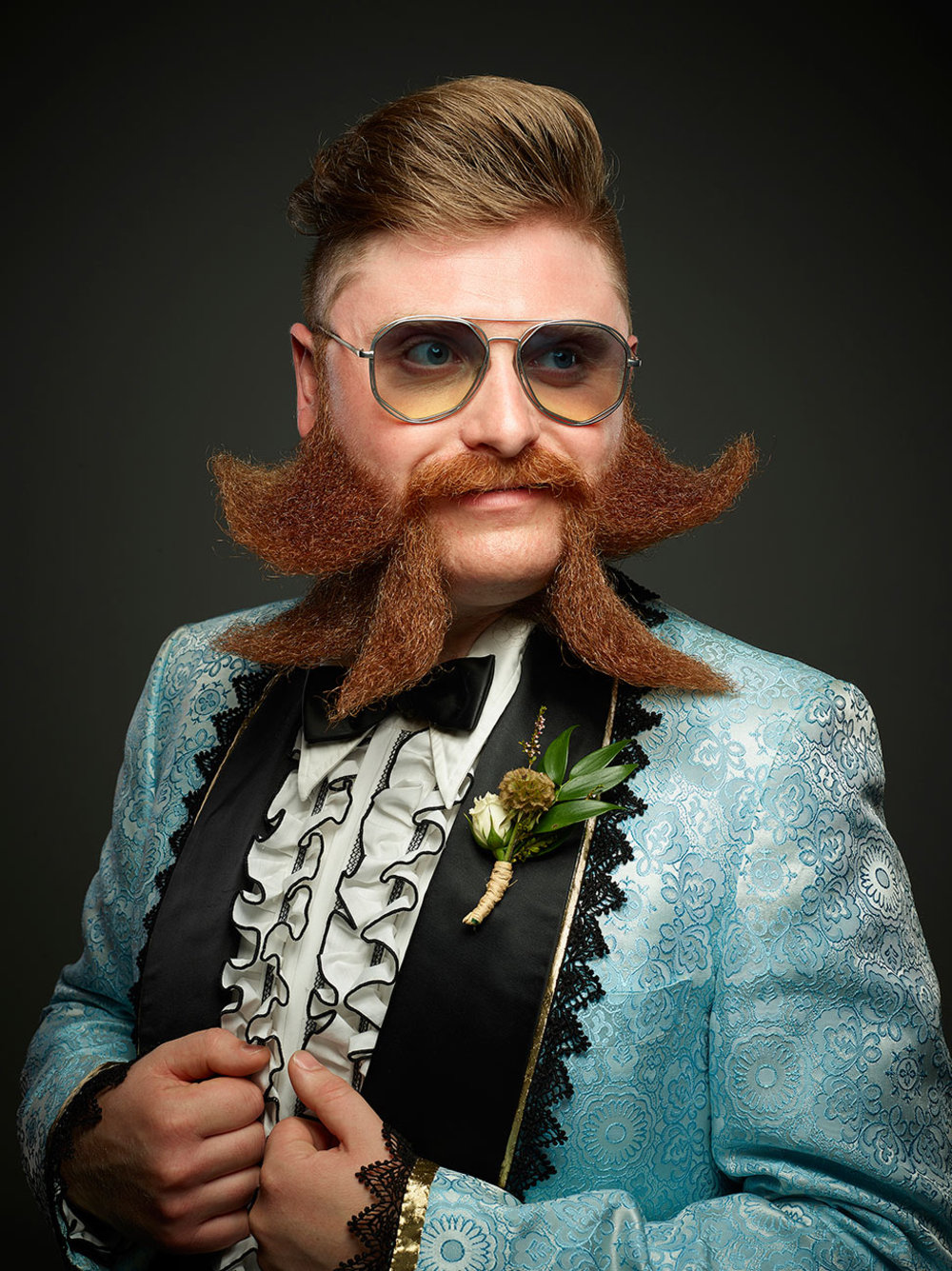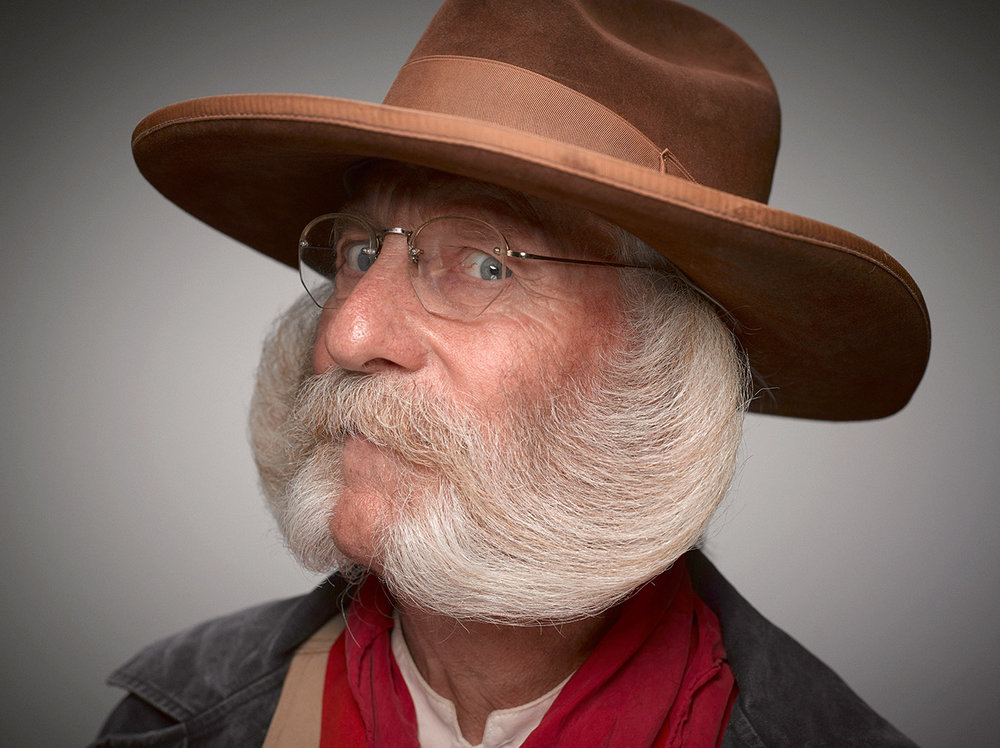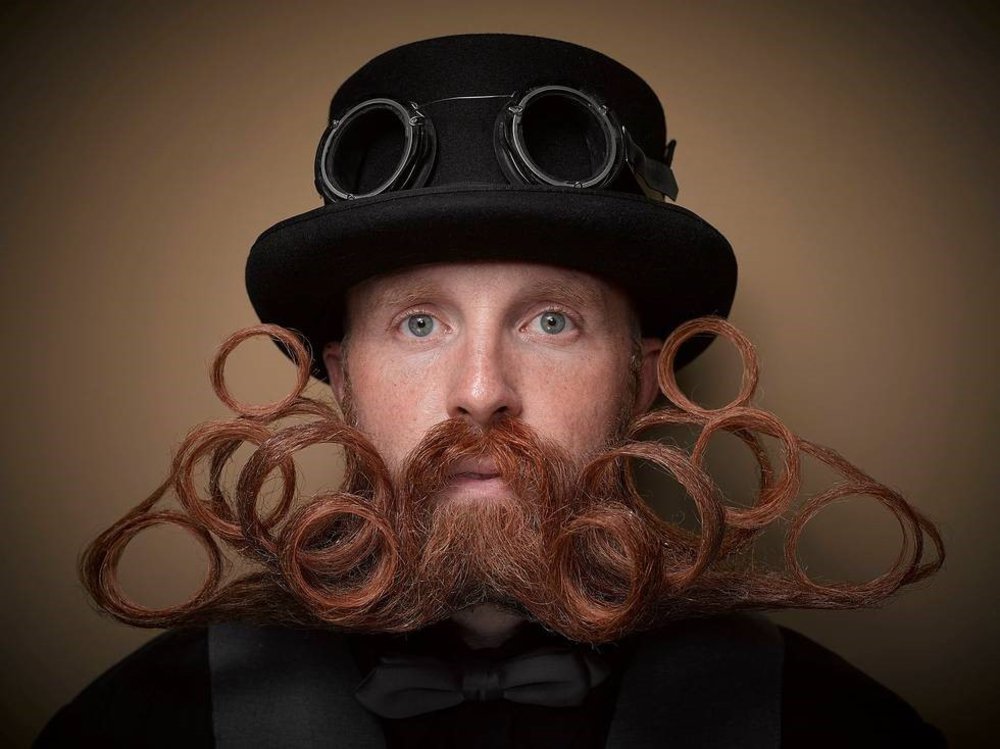 National Beard and Moustache Championships Contestants by Greg Anderson
2019 National Beard and Moustache Championships