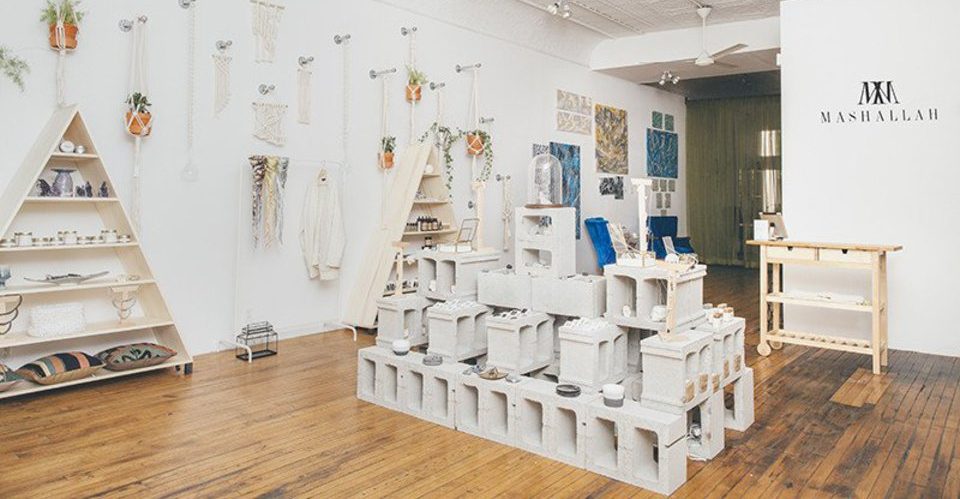 Mashallah Ghouleh Talks Quartz Crystals and Entrepreneurship
From pop-up markets around Chicago, to a brick-and-mortar store of her own, Mashallah Ghouleh made her dream come true, one piece of handcrafted jewelry at a time. Her aesthetic —bohemian yet sophisticated, detailed yet natural and raw— gives her designs a dreamy quality that provides the perfect opportunity for layering or mixing and matching. Quartz crystals meet brass and crushed pyrite, and alongside gold and black agate stones, become one-of-a-kind rings, cuffs, necklaces, and earrings. Onyx, pearls, and gold-plated protective symbols like the Hamsa Hand and the Evil Eye, become minimalist bracelets with a deeper purpose, as they are believed to bring their owner happiness, luck, health, and good fortune. Heavily influenced by Midwest's haute couture ambassador Ikram Goldman —who also happens to be her aunt— Ghouleh proves that creative genes and an eye for style must pass down through generations. Here, she talks about the MASHALLAH brand and her boutique/studio in Chicago's ever-evolving Pilsen neighborhood that also doubles as a gallery. She also discusses her influences through her travels around the world and why she simply needs to handpick everything. One of the biggest lessons she's learned along her entrepreneurial journey so far? Not having all the answers is OK.
Take us to today: Where did you come from, and how did you decide to start MASHALLAH?
Mashallah Ghouleh: I started my career in the industry in 2014  working as a freelance makeup/hair and wardrobe stylist. I did that throughout college while I was securing my associates degree, then I was hired by one of Chicago's leading local boutiques AKIRA, where I was able to indulge in fashion and the business side of things for about 4 years. From there, having been a part of so many amazing things, my inspiration to nurture my own business grew dramatically. In November of  2011, I started my accessory label, MASHALLAH.
When describing the collection you talk a lot about jewelry that's timeless. What do you want to convey with your work in terms of philosophy and style?
Mashallah Ghouleh: It's very important to me that my collections transcend certain "trends." I try my best to create collections that can be worn regularly by women of all ages. Best of all, it is very easy to layer my jewelry with items that you already own.
You recently opened your brick-and-mortar store.  What was that experience like?
Mashallah Ghouleh: Having the opportunity to interact with so many beautiful individuals from all walks of life and all parts of the globe is what makes me happiest. Collectively this community that my company has helped me build allows myself and others to be in a constant space of encouragement, appreciation, and inspiration. The shop has given my team and me the ability to amplify all of this!
How does it feel to be part of Chicago's growing creative and entrepreneurial community?
Mashallah Ghouleh: It truly feels incredible to be a part of this community. The support we give and receive is magical.
What have been some of the biggest mistakes or challenges you faced in business, and what have you learned from them?
Mashallah Ghouleh: I don't like using the word "mistake" because I truly believe that everything happens for a reason. One of the most significant challenges I have faced was during the beginning stages of starting MASHALLAH. My first two years in business, I did not have a firm grip yet on the direction my work/brand would take —everything was still very new to me. Accepting that truth was key. One of the most significant lessons I learned was that "not having all the answers" is OK. During that time, I was able to explore, research, and put all the great things I was learning  into action. This, without a doubt, is the reason why today I am open to shaking things up.
What are you most proud of professionally, and why?
Mashallah Ghouleh: I have recently been fortunate enough to make a childhood dream of mine a reality. I opened a flagship location in Chicago's premier arts district of Pilsen. The support from all over has been overwhelmingly beautiful and I am grateful mostly to all those that have given me the opportunity to go this far.
Share a good piece of advice based on your own life experience to people who want to be their own boss.
Mashallah Ghouleh: Have confidence in yourself. Set goals, both small and large. Surround yourself with inspirational people. Do not be discouraged when you make mistakes.
You handpick everything –that's exciting and hard to keep up with at the same time. What inspires and motivates you? 
Mashallah Ghouleh: Yes, everything we offer is handpicked by me. I must love it all. My inspiration is truly fueled by a wide range of things and my motivation is to constantly be a better me. When my husband, Mark, and I toured parts of Europe and Africa for three weeks, everything —from the art, to the culture, architecture, food, and the dreamy city of Morocco— had me feeling the most inspired I have ever been.
Please, create a haiku best representing your life right now.
Mashallah Ghouleh: A beautiful life. Love, peace, and good intention. Creates something whole.
What do you find at the end of the rainbow?
Mashallah Ghouleh: Peace.