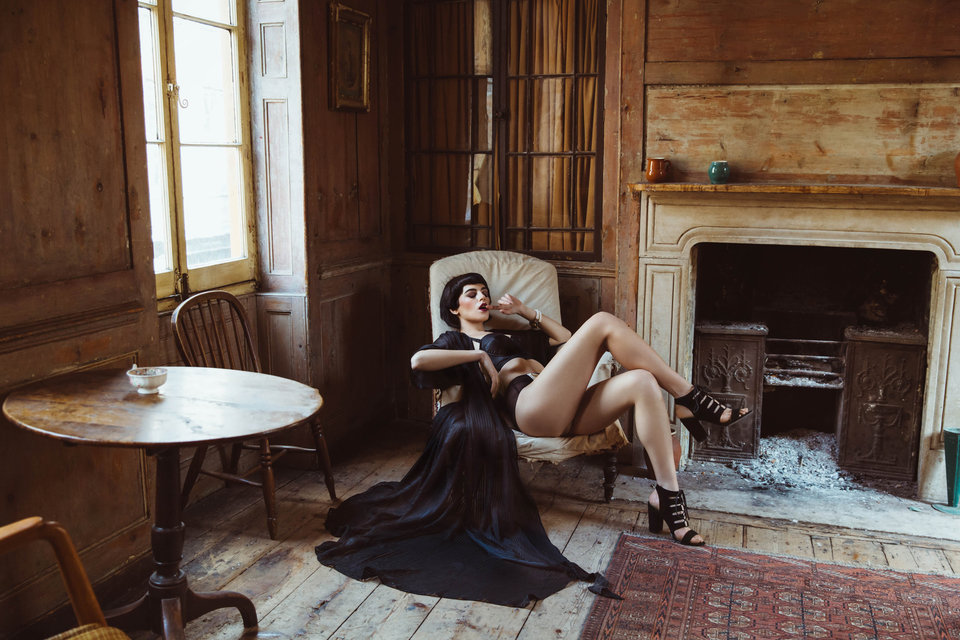 Inside the Industrial Boudoir of Jamie Hayes + Gerry Quinton
When Jamie Hayes (of Production Mode) and Gerry Quinton (of Morua Corsetry and Couture) team up, wonderful things happen. Working together in a slow fashion atelier, embracing a movement that is steadily gaining momentum, the designers bring together elements from their creative backgrounds and travels around the world for collections that reflect styles from a different era. Inspired by strong, independent women of the 1920-40s and the intriguing parallels between then and now, Department of Curiosities is exactly what its name indicates: A space of past and present, where Italian silk meets contemporary style in the form of nightwear and luxury lingerie —an "industrial boudoir," as they like to call it, that toes the line between romanticism and fierce independence.
From Chicago to Costa Rica, to Italy and England, the powerful duo not only cares about beautiful fabrics and elaborate, floral prints but takes it a step further bringing to life collections that are carefully detailed, ethically made and built to last. Bringing refined craftsmanship to Chicago's Logan Square, the Department of Curiosities concept store adds a touch of sensuality and sophistication to the local creative ecosystem.  It is a place of inspiration and originality, where fashion comes together in many forms, through exhibitions and pop-up dinners, lectures, and workshops.
Here, the designers talk about their journey thus far, their aesthetic influences, and why they find the beauty ideals of decades past—Josephine Baker, Marlene Dietrich, Greta Garbo, and others, who owned their sensuality in a mature, sophisticated way— still relevant. Hint: They think the interior lives of adult women are much more interesting.
Take us to today: How did you come up with the idea to start Department of Curiosities?
Department of Curiosities: We met at Columbia College Chicago, where we studied fashion together. We kept in touch through the years, and when Gerry moved back to Chicago from England, the timing was perfect for us to find a joint studio space. That's all it was at first: a shared space for creativity, shared rent, and mutual support… but quickly it grew.
We found a great storefront rather than a studio. Then we needed to choose a name. Department of Curiosities seemed fitting as we didn't know what the space would end up being. We only knew that it would have to include Jamie's love of bold/brash prints and Gerry's elegant corsetry. Next we had to choose a unifying aesthetic —Jamie loves mid-century modern and Gerry loves Victorian furnishings, but we both love the 1930s-40s, so we established a kind of "industrial boudoir"aesthetic: edgy, modern, feminine— and put it together with love, a lot of DIY techniques, and all on a shoestring budget. Department of Curiosities soon had a life and identity of its own. We both found it very freeing and easy to channel its identity.
You also host exhibitions, pop-up dinners, lectures, and workshops. Can you expand on that?
Department of Curiosities: We've always wanted the space to be more than just a place to shop —we find that idea boring. First and foremost we are artists and designers. This is why we periodically host different events in our space —we love to activate our minds, meet like-minded people, and build a community.  
What is your favorite aspect of working on your own business?
Department of Curiosities: The creative freedom.
Co-founder dynamics are extremely important and extremely fragile. How do you find balance especially in such a creative environment?
Department of Curiosities: The best collaborations are more than the sum of their parts. Department of Curiosities draws on both of our strengths and takes us to new exciting places. It has its own personality that we both understand quite intuitively so it's usually very easy for us to agree on the aesthetics of the collection. We also have a ton of respect for each other as artists and people. We are very different, but try our best to recognize and appreciate each other's strengths and be understanding of and acknowledge our weaknesses. Gerry tends to work on detailed aspects of projects, be it technical or aesthetic, and Jamie is more of the big-picture planner.
What inspires and motivates you?
Department of Curiosities: We both are very inspired by the women of the 1920s-40s. Social mores were changing, especially in the Prohibition era. It was a time when women were first entering the workforce in large numbers, and even running things during WWII.  Dada and Surrealist art countered and challenged the rise of fascism. The sex symbols of the day were strong, complicated women like Josephine Baker, Marlene Dietrich, and Greta Garbo. Female designers like Elsa Schiaparelli, Madeleine Vionnet, and Elizabeth Hawes were creating garments as striking as the women who wore them. We see many parallels from time period to our own.
Music and dance are the other thing that inspires and motivates us both. We're both part of social dance communities —lindy-hop for Gerry, and salsa for Jamie. And Jamie deejays a monthly night at Danny's. Both of us love old cumbia, rocksteady, Jamaican ska, and old soul. We plan to host a monthly Department of Curiosities music night celebrating these forms of music and dance sometime soon.
Chicago's creative and entrepreneurial community is constantly growing. How does it feel to be a part of it?
Department of Curiosities: Chicago is a great place to start a creative business —especially now. We've benefited from the great independent music scene here and the rise of the TV and film industry. For example, our clothes have been pulled for a shoot for "Billboard" magazine and for a TV show that's being shot here. The Chicago creative community on the whole is very supportive of one another —we know that if one person succeeds, it makes the whole city look good, and will likely open up doors for the rest of us. Rent is still low enough here to promote true creativity and risk-taking. The only thing that is difficult is that it seems that it's hard to find customers who have the income and are interested in supporting independent, ethically made fashion —not just spend it on well-known designers.
What have been some of the biggest mistakes or challenges you faced in business?
Department of Curiosities: Our line is too big. Each piece requires a huge investment of time and money in order to perfect the design and fit, to grade it (create the different sizes), and produce it in various sizes. What we've figured out is that we're artists, not business or sales people. But we're learning. And eventually we will get help in those areas as well. There are only so many hours in the day and we'd rather focus on what we're good at and let someone else with those skill sets take care of the customer side of business.
Share a good piece of advice based on your own life experience to people who want to follow their own dreams.
Department of Curiosities: Jump in! We have learned most of what we know from doing; experience is the best teacher. Also, be humble and willing to admit your mistakes, and learn from them. There are an infinite number of ways to make mistakes so embrace it as part of the process.
Please, create a haiku best representing your life right now.
Department of Curiosities: Drape, cut, pattern, sew. Pray we have money for rent. Spend it all on silk.
What do you find at the end of the rainbow?
Department of Curiosities: A gorgeous, novelty 1940s rayon frock for Gerry, a 1920s metallic crepe dress for Jamie, and the perfect dance party to wear them to, with all of our friends of past, present, and future.