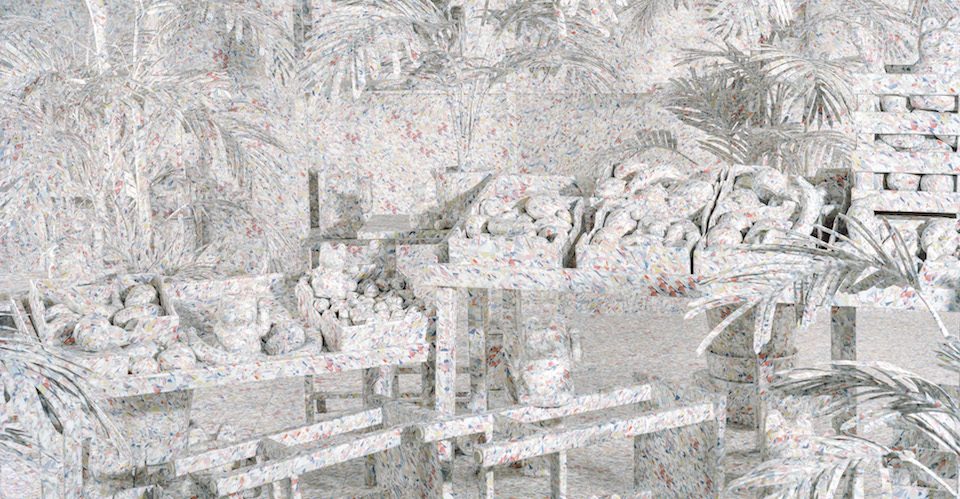 #StudioLife: A Behind the Scenes Glimpse Into Leonard Suryajaya's World
Home is a space that consists of physical places, domestic practices, and mental meanings. Even more so in the case of an artist's studio. Reflecting on physical and mental space, Leonard Suryajaya talks about his experience creating work in between different studios and different countries, and how he managed to make every single one of them feel like home.
Suryajaya, emerged from the School of the Art Institute of Chicago a few years back to take over the local contemporary art world. He did so by vigorously wrapping spaces around him in brightly patterned paper and layers of colorful fabrics. Furniture and household objects—from floor tiles, to stools, to picture frames, to plants, to fruit—they would all be given an otherworldly breath of life. They are parts of a vividly distinctive world used to explore themes of identity, intimacy, community, and family.
An Indonesian citizen of Chinese descent, a Buddhist educated student in Christian schools in a predominantly Muslim country, and a foreigner in The United States, Suryajaya is someone who (better than most) understands the importance of a space to call one's own in its many dimensions—even more so when the lines between them blur. His family members are often involved in his photographic process, friends and loved ones are used as subjects or helpers —namely, work accomplished in several exhausting, consecutive days of wrapping— and familiar spaces populate his images (like his Indonesian childhood home, in which he transformed rooms into shooting studios with precise instructions).
Wondering if his space of work, source of inspiration, and brainstorming battleground look anything like the elaborate worlds he creates in his work, we visited his current studio and had him explain what's what.
ON LIFE INSIDE THE STUDIO
"My studio is a hub where I get to sit down and figure out the meanings I'd like to make in my work, the next steps to kick ass and what's ineffective. I don't decorate. I put my work up, live with it, and wrap it up when I'm bored with it. I don't hate my studio. I love how spacious it it. But right now it's a mess—I deinstalled a few shows right before I left Chicago in December and used it as storage.
I'm so fortunate to have the opportunity to be an Artist in Residence at Mana Contemporary Chicago. It helps being in that kind of a facility and support system and being surrounded by other amazing artists. My studio feels really energizing, especially after coming back to this new [administration] America, but it is only as effective as how well my mind and body works. I like keeping active and doing the heavy duty work in my head.
It's now easy to get discouraged and angry after seeing the social instability around me —both here and in Indonesia. I'm constantly learning how to be nice to myself and be fierce in dealing with nonsense. I try to get out all of my aggression in my fitness. Anger is consuming. It's too easy. I don't want to have to live with it in my work."
ON LIFE OUTSIDE THE STUDIO
"I'm getting better in figuring out the process in my work. I'm super anal in the initial planning and preparation, but when I start the actual work, I'm an improvisator. My photographic process requires me to be organized and decisive.
[One of the biggest challenges is] traveling with lighting equipment, a large format camera, and film—it can be really stressful. One time, I was asked to open up boxes of undeveloped negatives after they went through the X-rays only because the security agents were curious/suspicious. It was quite a dick move, but I was successful in arguing my way out of it. Another time, I was stopped, searched, and told to not ever bring a dust blower in my carry-on luggage because it looks too much like a grenade.
Aside from the questionable actions that result from people's ignorance of the photographic process, the most nerve-inducing part of all of this is making sure I'm on point with the handling of the film as they can only be processed here in the U.S. It is stressful after a month or two of working, accumulating films to be developed, to not being able to see what I have gotten. I'm usually quite spent at the end of each work trip. But, all of that gets remedied after I am able to scan the work I've accomplished. The magical aspect of the large format process is real. It allows me to be grounded in the relationships and experiences I share with the subjects of my work. They also can't harass me in wanting to see what they look like in the photograph! These photographs aren't simply an image of them—they are portraits of our encounters, with all of the memories, conversations, and experiences that go with it."