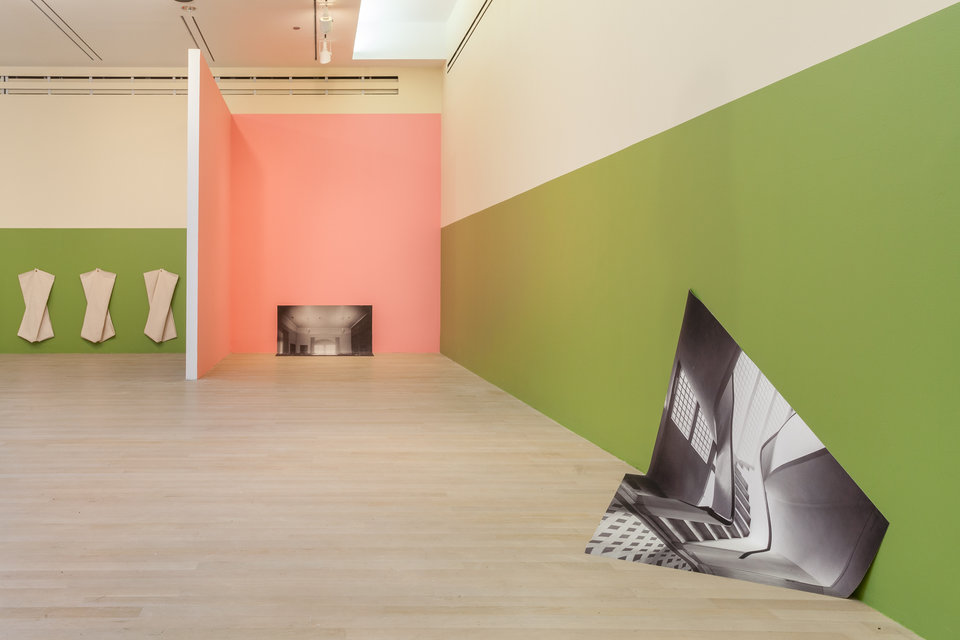 Colors are powerful. But Not Like Drunk-Tank Pink.
Colors are powerful. In fact, one specific color, Baker-Miller Pink, is the only color scientifically proven to reduce hostile or violent tendencies and depressive dispositions. This same pink, also known as Drunk-Tank Pink, has been used at the Naval Correctional facility in Seattle in a psychological attempt to subdue prisoners. With noticeable effects on health and behavior, and ability to soothe and calm—or on the flip side, even upset—aggressive color and light must be chosen wisely, especially for the walls of institutions such as schools, hospitals, prisons, or mental health facilities.
Exploring the physical and psychological qualities of color and space, Kipwani Kiwanga works across various media—sculpture, installation, ephemera, print, and video— in her first solo exhibition in the U.S. "The Sum and its Parts," brings two-tone color palettes, often used in the interiors of institutional spaces, onto the gallery walls. For the Ontario-born and Paris-based artist, who's also an anthropologist, social scientist, and award-winning filmmaker, her practice is an ongoing, research-based investigation. Wall sections, neon lighting fixtures, modified artificial surfaces, and found objects (including materials found in the archives of the University of Chicago's Special Collections Library) come together to create a kind of spatial collage —fractions as a part of a whole. Bright colors on two-toned walls fill the Logan Center Gallery in various combinations: pink/white,  gray/yellow, and green/cream, turning it into an experiential space that feeds the artist's research and aesthetic purposes. The site-specific installation is accompanied by a film ("A Primer,") in a separate adjoining gallery space, that also follows the two-tone motif.
Consciously weaving together art and science, color and space, fiction and reality, history and memory, Kiwanga triggers the psyche of the viewer. Then she observes. The exhibition takes space and color very seriously. In a therapeutic manner, is it evident that deconstructing the narrative is necessary in order to be able to put the pieces back together—until all the parts come to a sum.