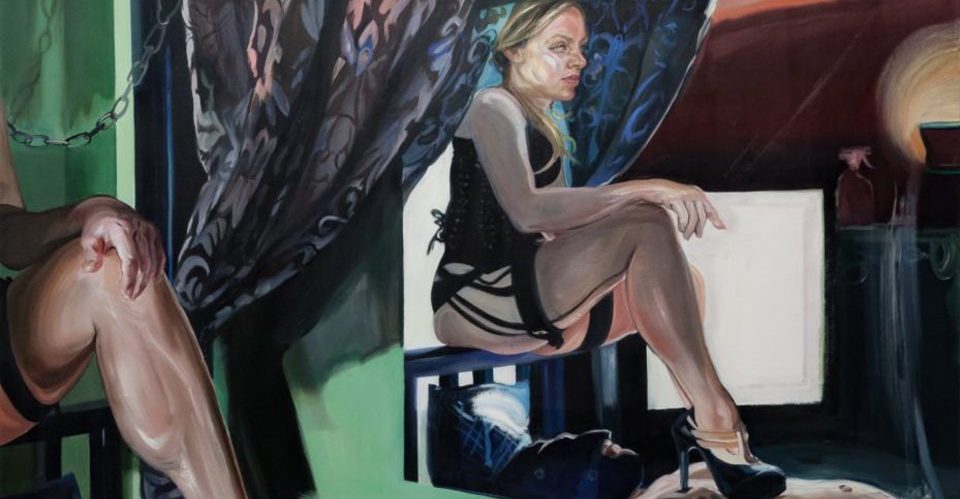 Natalie Frank Paints Fetish Wear, Sharp Stiletto Heels and Bodies Intertwined
Natalie Frank used to get in trouble at school. Looks like her nude drawings were a bit too much for Texas in the 1980s—so much so she was mislabeled as "a pornographer" by teachers and students, and was even threatened with expulsion. Today, the same overly-imaginative high school kid, who used to be frequently scolded, is a Yale graduate, who went on to Columbia University to further her Visual Arts studies. From there, she took the world by storm with frantic paintbrushes and powerful themes. Identity, sexuality, gender, and feminism are all at play in "Dancers and Dominas," her second solo show at Rhona Hoffman Gallery, aiding to  blur the lines between realism and abstraction.
Exploring the nearly endless spectrum of power-play dynamics that can be found within kink (through sadomasochism, and certainly bondage and discipline,) Frank provides an educated look at power exchange relationships, thoughts, and feelings, in BDSM play. All inspired by real-life boudoirs and sex dungeons, her life-size paintings feature atmospheric settings, erotic fetish clothing, and bodies intertwined. Men in latex masks succumb to women with scandalous lingerie and sharp, stiletto heels, who will not hesitate to discipline, restrain, or whip them as they see fit. Sexual pleasure lies in the eye of the beholder.
Positioned next to oil-paintings of dancers—strong, flexible bodies in elegant and graceful poses, and ballerinas in pointe shoes balancing on the tips of their toes— Frank's women are forcing the viewer to observe the juxtapositions between the two scenes. Much like dance, sex is rhythmic. And connecting to the rhythm is what they're both all about.
Taking a deeper look,  one cannot but notice that the dancers dominate the space in a very similar way that dominas dominate their submissives. And within the gallery setting, they both dominate the viewer's gaze. Capturing the essence of dance and vibrant sexuality, Frank's feminist perspectives make her women—whether dancers or dominas— stand out fierce and independent, dramatically dominating both the paintings' composition and the gallery space all at once, and inevitably rise above the male gaze. In this plethora of colors, textures, and emotions, she masterfully leads the viewer's eye from the foreground to a multilayered background that captures the attention. Vertical strokes simulate the dancer's glide, while diagonal ones are used for the dominatrix's leather flogger, raised in the air above her head ready to strike.
The New York-based artist—who has been extensively experimenting across media: drawing, collage, and sculpture— is no stranger to the explicit and the grotesque. Both her Brothers Grimm fairy tales-inspired series (Grimm's Fairy Tales) and her feminism-infused illustrations in The Sorcerer's Apprentice, showcase her curiosity and out-of-the-box interpretation of the classic narrative. Similarly, "Dancers and Dominas," exists between the figurative and the abstract creating a space between fantasy and reality, and between dimensions—literally, as the artist herself only started seeing in three-dimensional forms in adulthood. Frank grew up with a lack of stereoscopic vision. She had to explore the difference between two-dimensional surfaces and three-dimensional shapes. She had to relearn and understand the world around her. Growing up, she might have had a slightly distorted perspective of life as most experience and see it, but one thing is for certain: looking at her work, you could never tell.