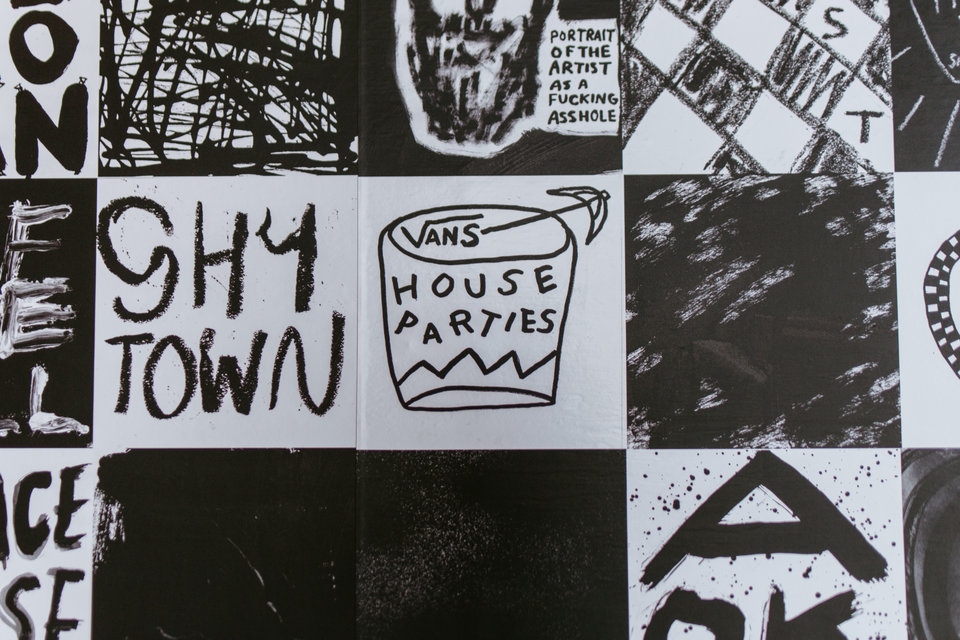 Nathan Bell Brings Tasty Frozen Drinks, Sun and Snakes to House of Vans
"Tasty frozen drinks, sun, and snakes," says LA-based artist and designer, Nathan Bell, when asked about his recent work at House of Vans. "I am trying to communicate a fun but dark take on summer activities," he adds. Transforming not one, but two of the iconic brand's skateparks, into an extraordinary art experience, Bell has taken over Chicago and Brooklyn, bringing to life an installation that comes as a continuation of his first solo show, Mixed Feelings, at Shepard Fairey's gallery, Subliminal Projects, this past May. There, the artist presented a series of type-based pieces on french paper, coroplast, and mixed media works. These small, 6×6 inch square paintings soon built on a much larger narrative installation of what he likes to call "an experiment in language, typography, and aesthetic."
Building on that initial thought, Bell went on to create a highly immersive "Off The Wall" experience. "For this project, I made custom 'squares' that played off of the Vans brand, the bands performing at the House Parties this summer, and the cities of New York and Chicago. For example, there is a painting that reads 'Abe Froman,' a shout out to Chicago's sausage king and a reference from one of my all-time favorite movies: 'Ferris Bueller's Day Off,'" he explains. "The squares comprised of musings, wordplay, lyrics, patterns and drawings then formed a checker pattern to reflect the classic Vans shoe."
Strongly influenced by music, pop culture, and vintage graphics, Bell's work delivers bold social commentary in the form of black and white patterns vividly wallpapering the House of Vans space. Imagery takes the forms of reimagined Chicago flags (checkered, with six pointed stars) hanging from the ceiling and… snakes. "In the spiritual world, snakes represent a creative force, as well as immortality," he says about a giant painting on the wall featuring checkered-bodied snakes with their forked tongues darting out, resembling mythological creatures of some ancient folklore. "With Vans and skateboarding in general, I feel that creativity and fearlessness are a driving force; the snakes are meant to represent those qualities," he adds. He's right. In another room, a large, painted snake pit, covers the entirety of the floor. Knotted and intertwined heads and tails create an optical illusion that makes each step across the floor feel like a potentially deadly game —a firewalking of sorts across hot coals, only on the safe side. The artist thinks they transform the room into a transcendent, ceremonial space. Once again, he's right. Bell's serpents might be cartoonish in representation, but they possess a supernatural, almost god-like quality.
The immensely graphic, black and white works unquestionably provide an intimate look into the artist's mind and psyche, but working with an established brand is not just a unique chance to share one's creative vision in a new context of high visibility —it's way more than that, and Bell knows it. "It was a new challenge to have my work exhibited on such a large scale. It took some getting used to, but I feel like I was able really utilize the space and make it my own," he says. Bell's originally from Ann Arbor, Michigan, and therefore no stranger to the Midwestern culture. It also helped that he has had experience to working with major, nationally-recognized brands (he previously served as Art Director for Foundation Skateboards, etnies footwear, and the Keep A Breast Foundation, as well as the Co-Founder/Creative Director of the men's grooming and accessory line Beard Buddy.)
"It feels great to be a part of Chicago's art scene and its growing creative community," he says taking the time to appreciate the opportunity to come back to the Midwest and install his work at the newly opened House of Vans space. But even when he's not around, he's still trying to find ways to connect to the local scene: "I've shown in various LA-based group shows with a few Chicago artist friends, like Cody Hudson and Chad Kouri," he says. "It's always fun to see what they were doing, and how they are pushing the community forward." As for Vans? At the end of the day, "it's so much more rewarding and easy to work with a brand you respect and people you like. Everyone I've worked with [at Vans] are such good people —they put their heart and soul into the product and the events. It was an honor to be a part of that."
We live in a time when brand-artist collaborations are becoming more and more common as all-powerful marketing tools, helping labels to evolve, stay relevant, and connect to consumers in a whole new level. One facet of that is key: to truly establish a creative partnership, the collaboration needs to feel authentic —a natural pairing. And in Bell's case, this is exceptionally well-achieved. Engaging the viewer in a wonderfully playful dialogue, his work provides space for deeper reflection. And that's what art is all about.
*  The series of Vans House Parties that opened in June featuring a mash-up of musical genres, is closing on Saturday, July 29 with Cap'n Jazz and Hop Along.