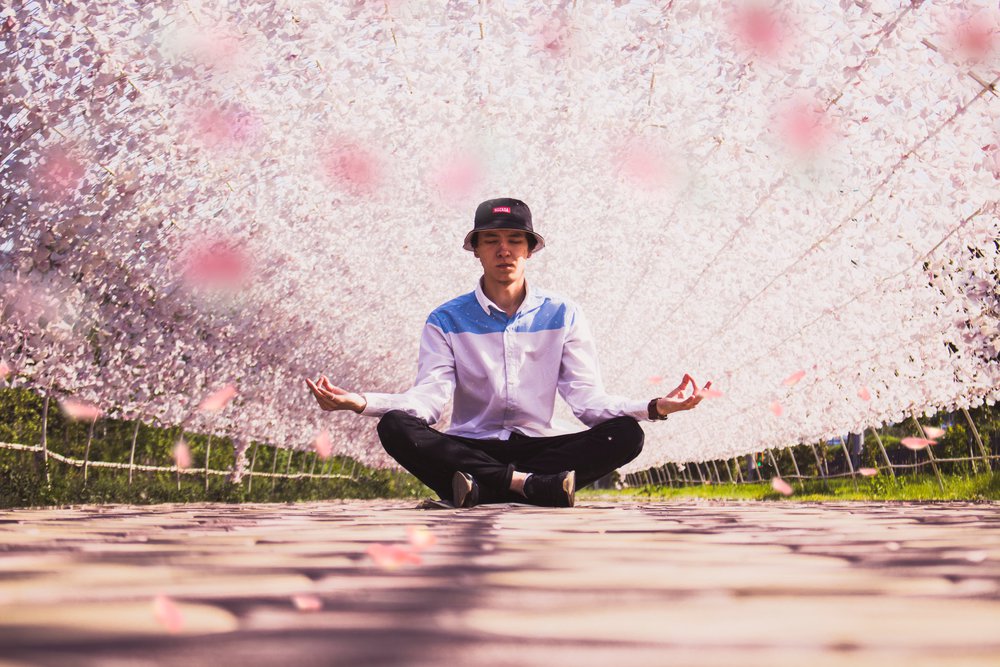 The Art of Chill: Meditating at the MCA
H ave you ever thought of a museum as a space for meditation? Or wellness programming as part of the art viewing experience? Well, that's exactly what the Museum of Contemporary Art (MCA) has in store for you this summer. Instead of inviting audiences to add to their experience through technology or social media, something that our digital time has made the norm, they take a different route towards active art viewing—two words: guided meditation.
Providing a refuge from the world around us, but at the same time the opportunity to engage with it more consciously, the ancient practice that is believed to originate in India several thousand years BCE, is bound to change your perspective and clear your mind, even if it's only for thirty minutes. Tailormade to contemporary audiences and their demanding schedules, the session conveniently takes place during lunch hour at the Commons, the museum's space for art and civic engagement. And what better backdrop for such an experience than an immersive installation that brings the outside in? Think of a tropical paradise of an urban garden of sorts—planters, baskets and lamps hanging from the ceiling creating a space overflowing with plants, color and texture. A collapsible stage and a bunch of multi-functional furniture in bright shades of pink and orange add some extra-cozy touches to the area the MCA calls "the heart of the museum" and is built with the mission to bring artists, visitors, and communities closer together. Behind the concept is Mexico City–based architecture firm Pedro y Juana, who appropriately named it From the Tropics with Love. Don't you feel more relaxed already?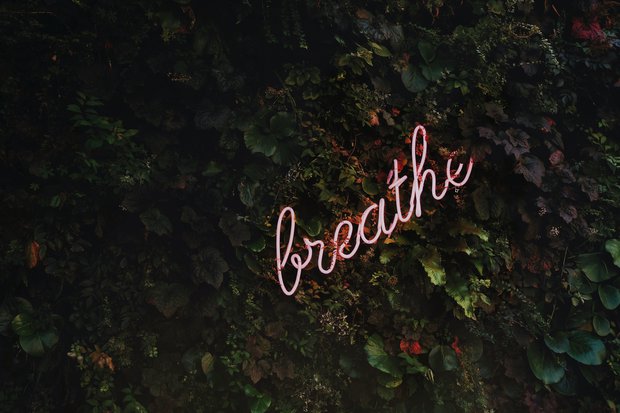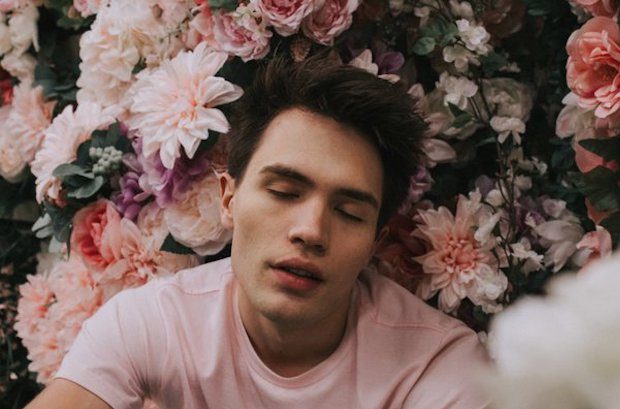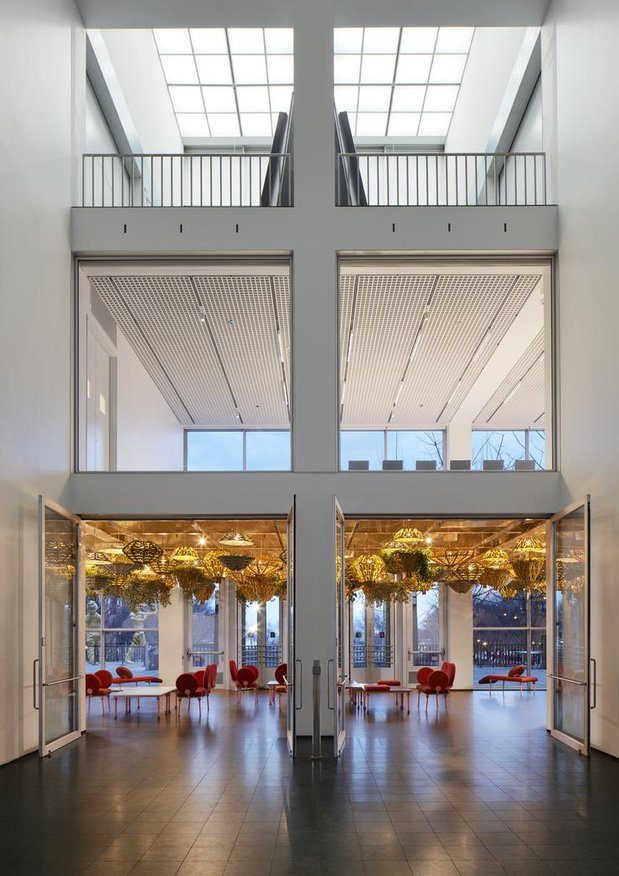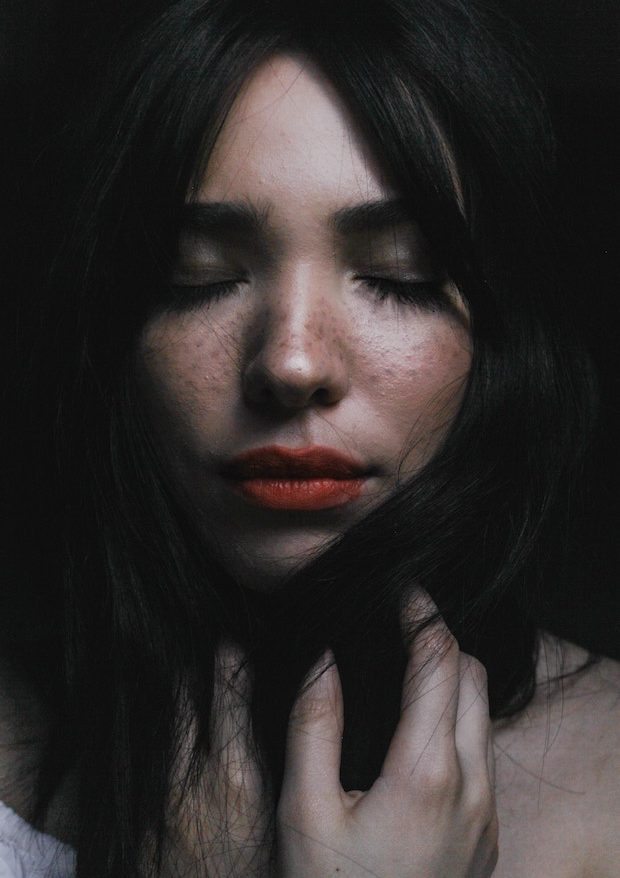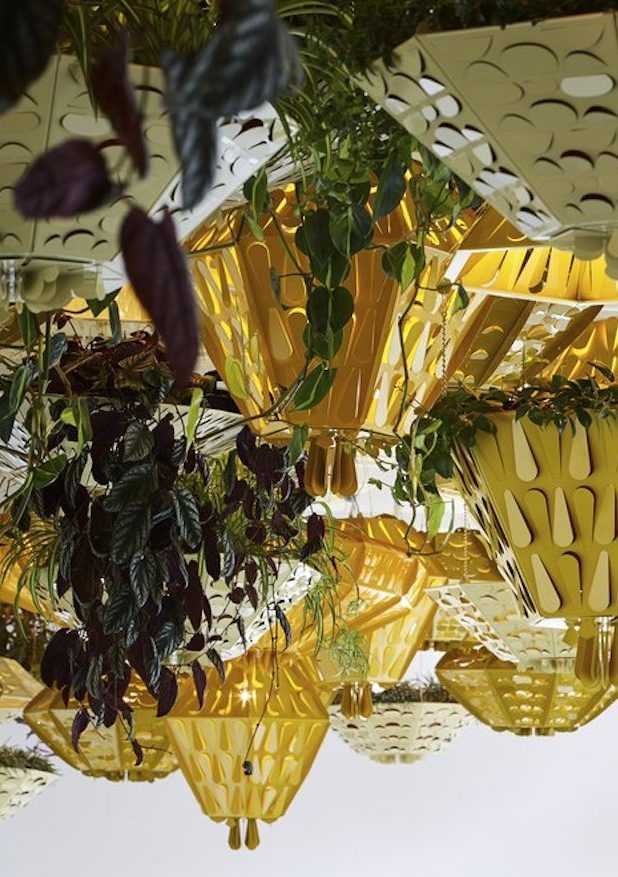 Museum of Contemporary Art (MCA) Commons by Kendall McCaugherty–Hall+Merrick
"Find a comfortable seat," says softly, Rhonda Duffaut, meditation and yoga guide at, yoga-meet-meditation hotspot, Chill Chicago. "Breathe deeply." Connecting to the here and now is no easy feat, especially within the museum space. But if you think of the street noises and the indistinct voices of people as part of your meditative practice and not as an obstacle you have to overcome in order to access a higher level of, dare we say, bliss, things start to get interesting. As you tune into your body, the sense of relaxation heightens. "Close your eyes softly, relax your muscles, focus on your breathing. Now it's time to engage each of your five senses, one at a time—I'll guide you through it," she says, reassuringly. "You'll notice your attention waivers, it flickers like the flame of a candle," she adds before you have the chance to overthink it. "It's alright. That's what awareness does. Just acknowledge it and guide it back."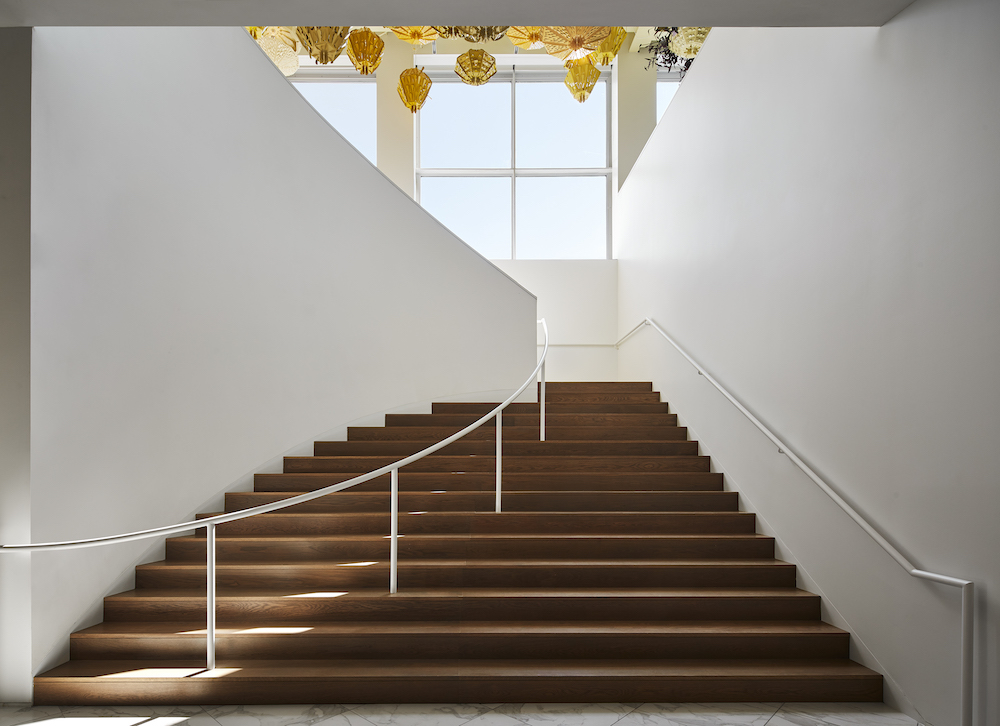 Museum of Contemporary Art (MCA) by Kendall McCaugherty–Hall+Merrick
A little more than twenty people become one as they engage physically and emotionally with something beautiful that is at the same time different; unexpected—a sensory museum experience unlike what they're used to. Duffaut instructs them to gently shift into their seat and draw attention to their hands before they slowly open their eyes. "Now observe the work of art in front of you," she says directing their attention to the orange and yellow backdrop featuring abstract circular shapes that vaguely resemble sunflowers. "How do you experience art? I'll give you a moment to think about that." Focusing your gaze to a specific pattern provides a different visual experience with the work itself—after all, how often do you take the time to actually stop, look, "feel" a work of art? Soon you realize that much like meditation, looking at a piece of art forces you to slow down, to disrupt your patterns of thinking and focus on the here and now. All you can hear is the small crowd's breathing rising and falling like waves in the ocean. It's almost hypnotizing.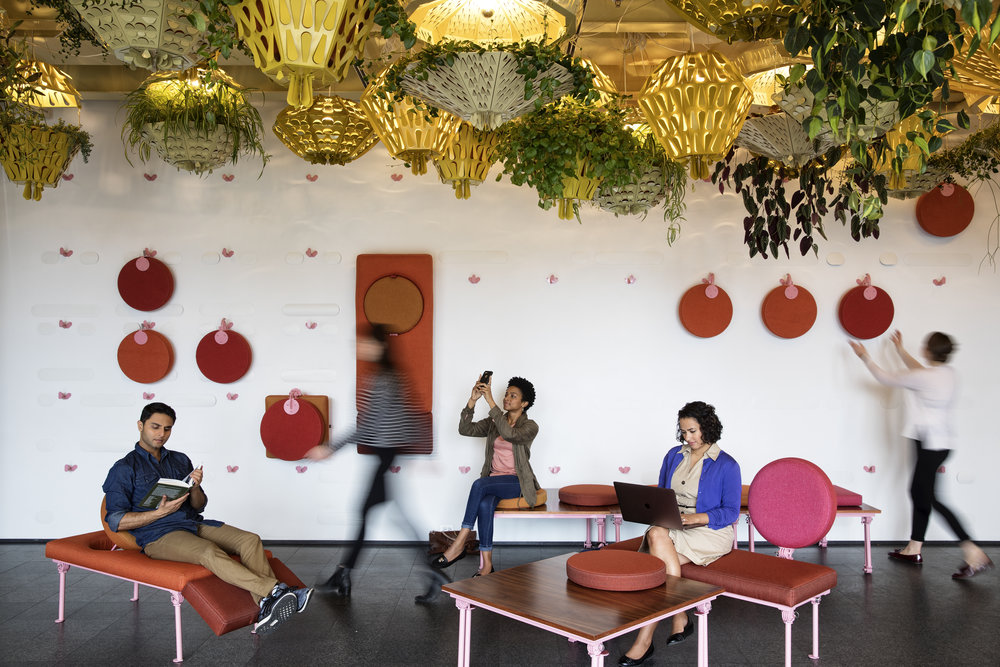 Museum of Contemporary Art (MCA) Commons by Kendall McCaugherty–Hall+Merrick
The thirty-minute session is over before you know it. "Blink your eyes open," Duffaut's voice is soft and steady. It is when you start moving toward your senses that you immediately feel the difference—you're more relaxed, changed, even a little lighter. "I can tell I'm more aware, more calm," says someone. "I feel like I just came out of church," says another. They're right. A docent-led museum tour immediately follows. "Like an installation at the museum, they just came, stayed for part of it and then left," notices Duffaut. "I hope they will now have the opportunity to focus more on the art but at the same time be aware of the space they're in and how they're experiencing it," she adds.
Getting sucked into the fast pace of daily life is easy. But meditation should not be hard. And Chill Chicago is on a mission to make it a little easier for people to live less stressed, more mindful lives. Even if that means taking thirty minutes to meditate in a museum.
CHILL at the MCA: Meditation for Viewing
May 28, Jun 18, Jul 30, Aug 27, 2019