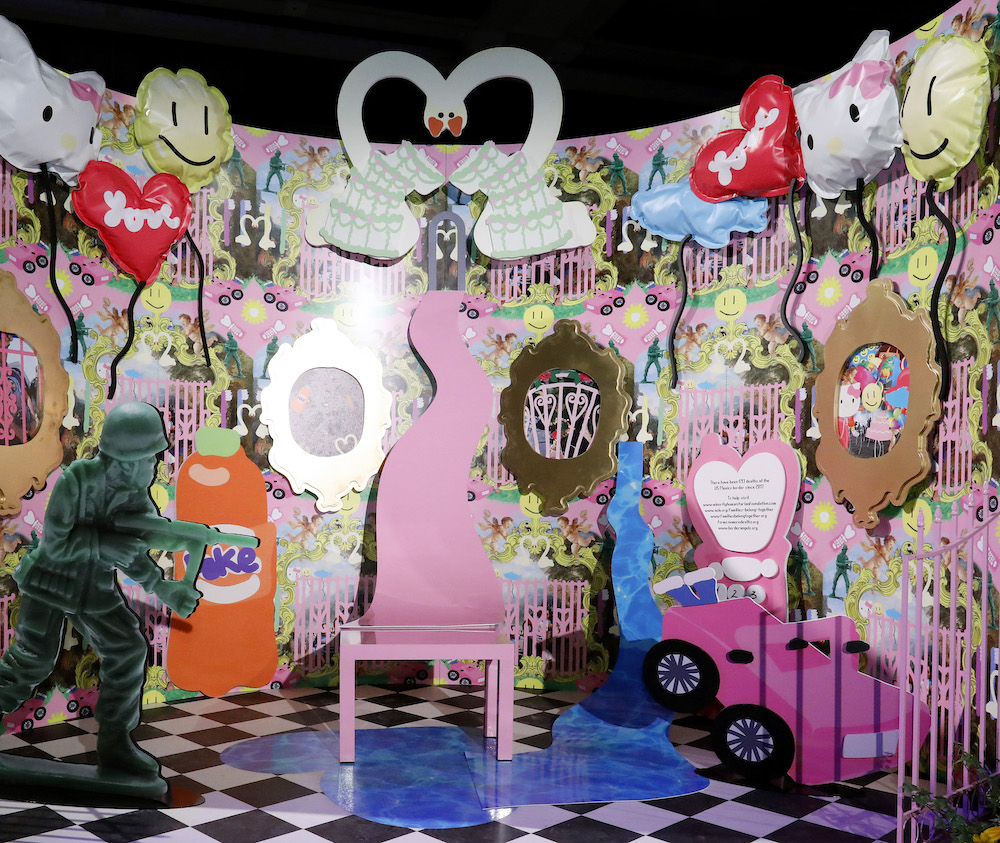 Yvette Mayorga Covers 29Rooms in Frosting
T he bold, in-your-face, pink candy sculptures and mixed media installations that look—and often smell—like actual candy might seem innocent, even cute, at first glance, but a closer look reveals something deeper, darker. As you step inside Yvette Mayorga's immersive world you immediately notice: among props that bring party decorations to mind—heart-shaped balloons, swans, elaborate flowers and Hello Kitty—there's plastic guns and life-size toy soldiers. The installation is surrounded by pink fencing. Caught in between two worlds, it might take a while, but as soon as you find your footing you realize this is all very intentional. Using confection, industrial materials, and the American board game Candy Land as a conceptual framework, Mayorga negotiates issues of politics, race, identity, gender, violence, Latin stereotypes and the realities along the U.S.-Mexico borderlands. What is the American Dream, after all?
Mayorga's family moved to Chicago from Mexico in the 1970s so issues of immigration, marginalization and the search for a utopian future have always been strong both in her life and work. But she's unafraid to dig deeper, look harder and, while doing so, up her doses of thick-textured fluorescent pink paint and glitter, piping intricate designs reminiscent of over the top, multi-tiered Mexican cakes. And what better place to do so than 29Rooms? The pop-up, returning to Chicago for the second time, has always offered Insta-worthy opportunities, but also makes us think, reflect and maybe see the world a little differently—much like Mayorga's work. As she explains what's what from the inside, make sure you keep an eye on her. Mayorga is on her way to bringing meaningful change into the (art) world. And from what we can tell, it certainly feels like she's just scratched the surface of what she's capable of.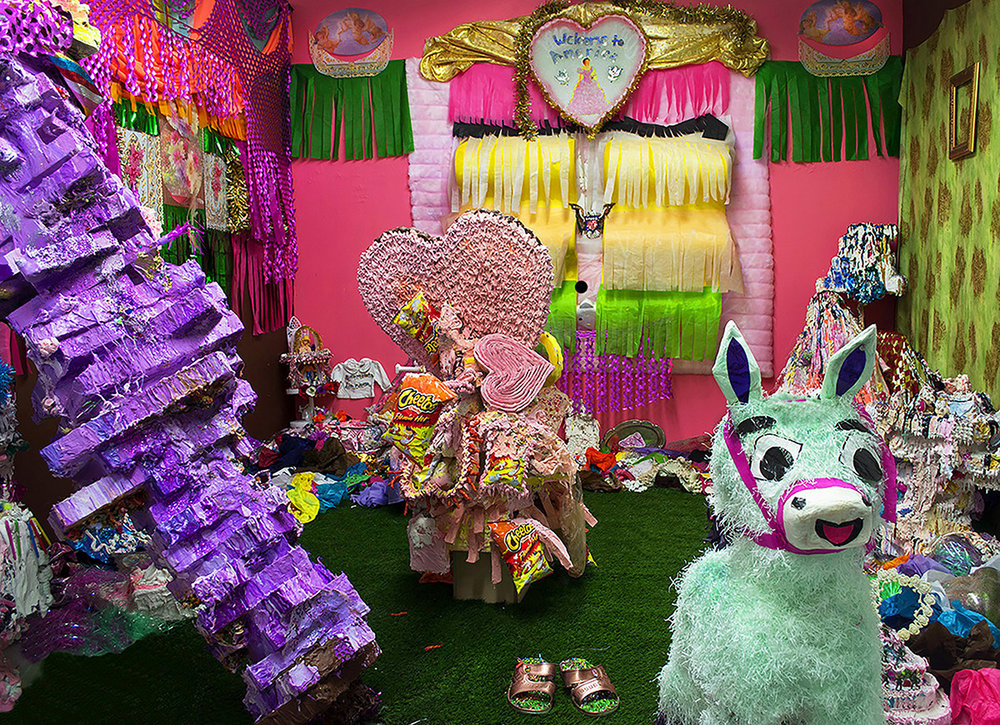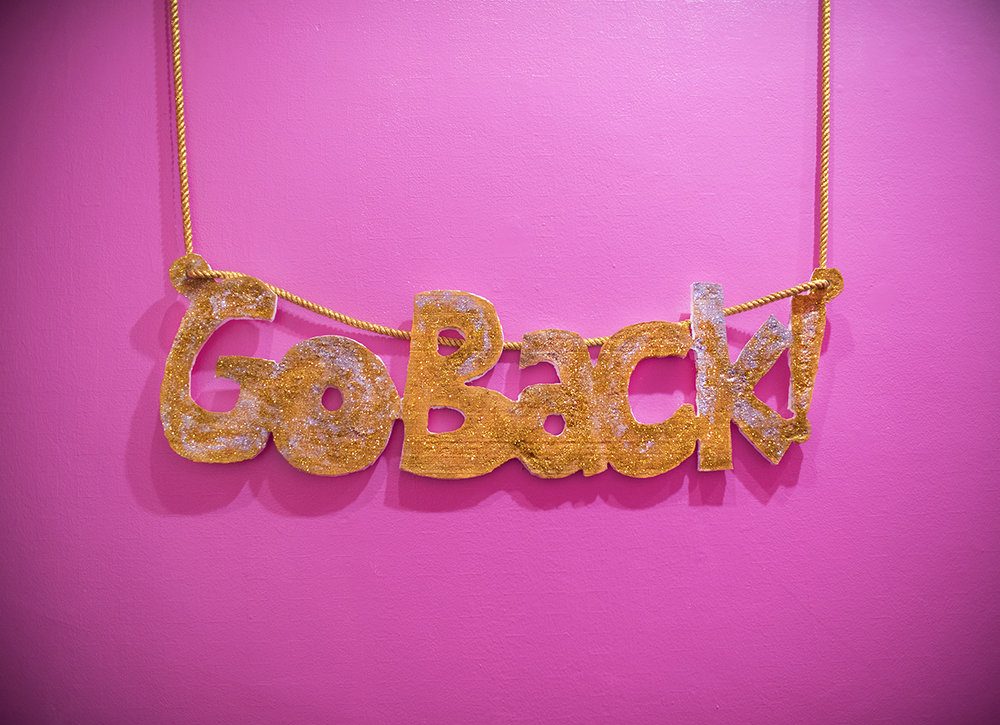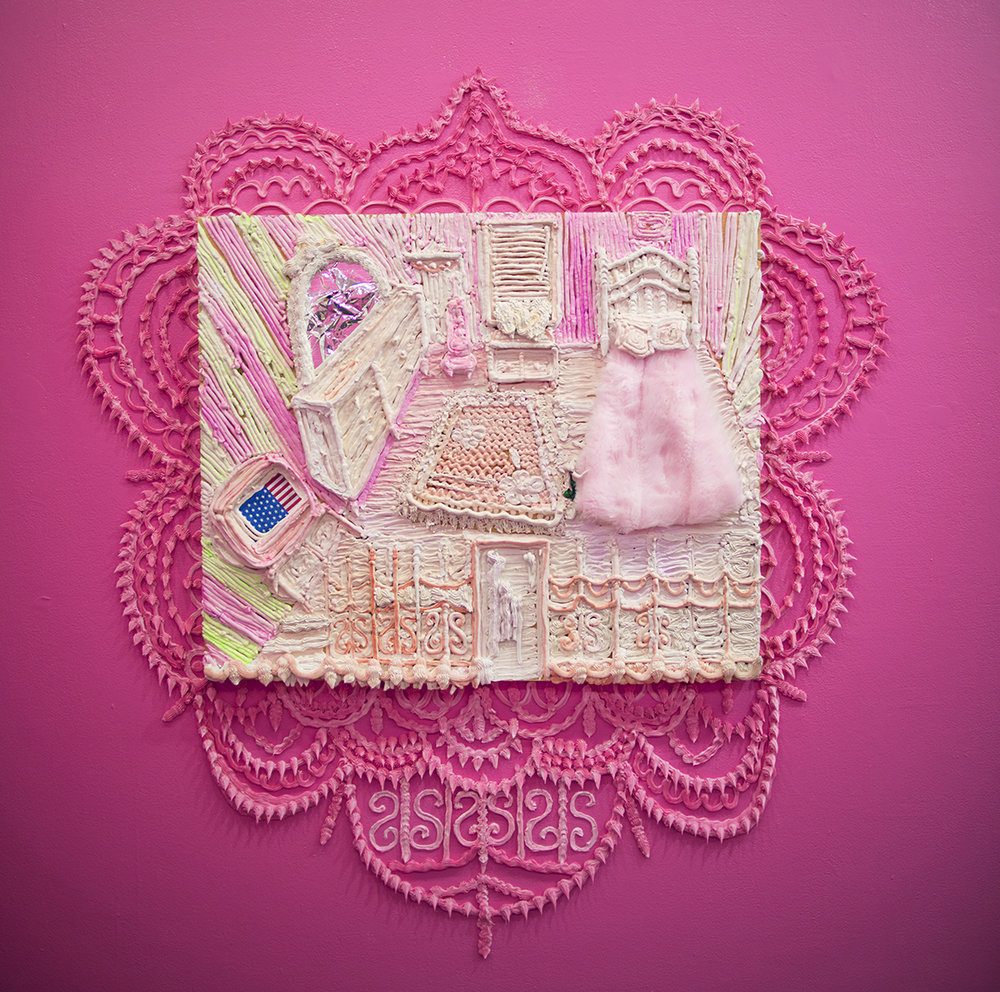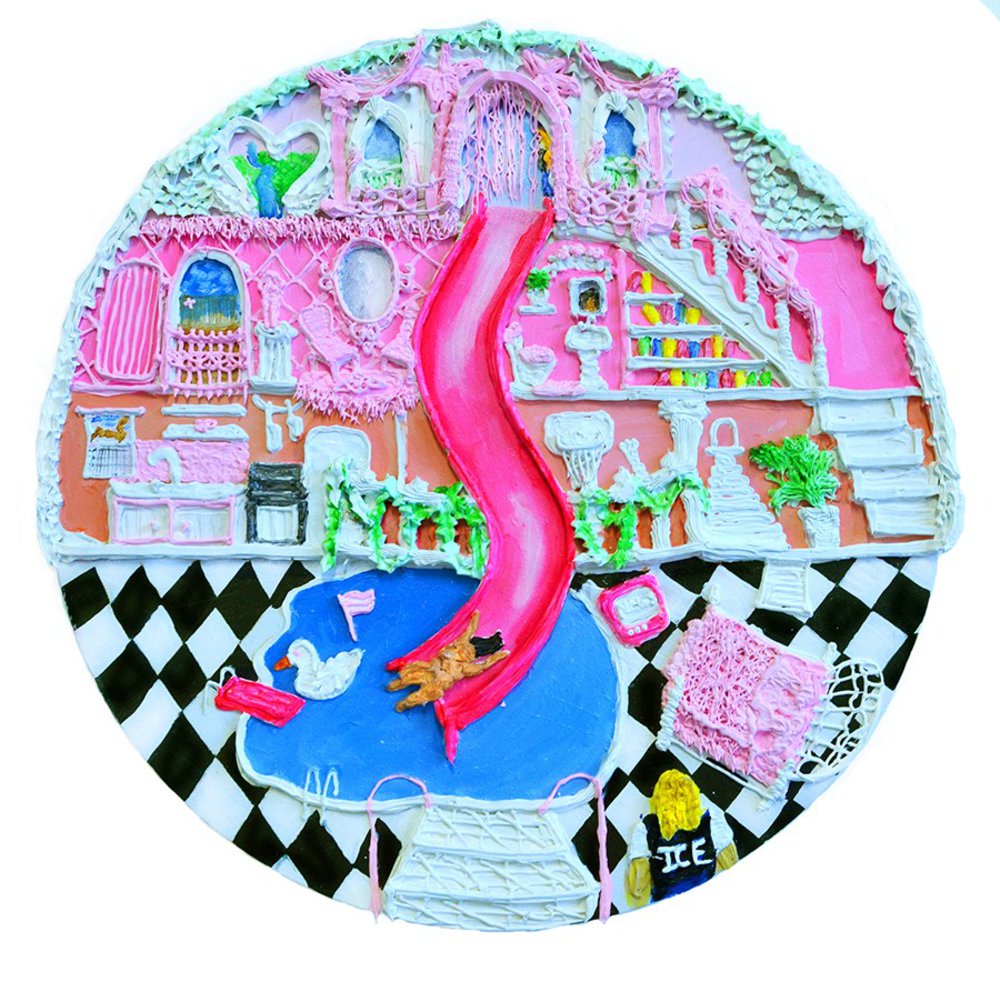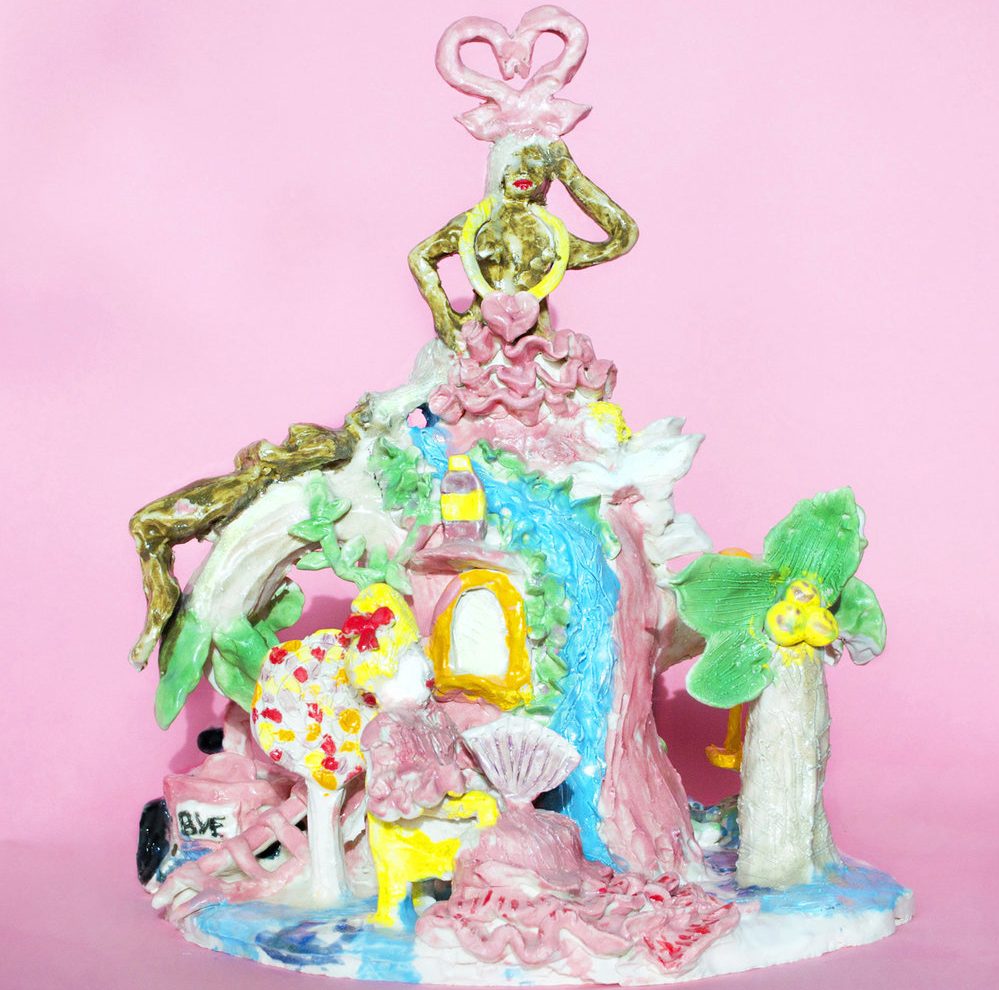 Yvette Mayorga, Selected Works, 2016-2019
Can you talk a little about the piece you created for 29Rooms and the inspiration behind it?
Yvette Mayorga: Dreaming of a Dream, is an installation composed of larger than life playful iconography commonly found in my work. A pink slide, toy soldiers, consumerist objects and swans come together in a space that exudes dreams made up of the rococo, inspired by the Polly Pocket, all in order to allude to the imagined American Dream.
At a time when the made-for-Instagram museums have built a cult following and spectacle exhibitions have really taken on a whole new dimension online, what kind of vibe did you want your installation to give off IRL but also as a Instagram photo moment?
Yvette Mayorga: I made the work to be representative of the iconography and subject matter that I use in my work not based off digital perception, but more about the experience of being inside one of my built worlds. I think spaces like 29Rooms are interesting because it brings together groups of people inside and outside of the art world and makes art accessible to people interested in seeing work outside of museum institutions. I want my installation to represent my work similar to past installations, while contemplating ideas around status, immigration, gender, and consumerism.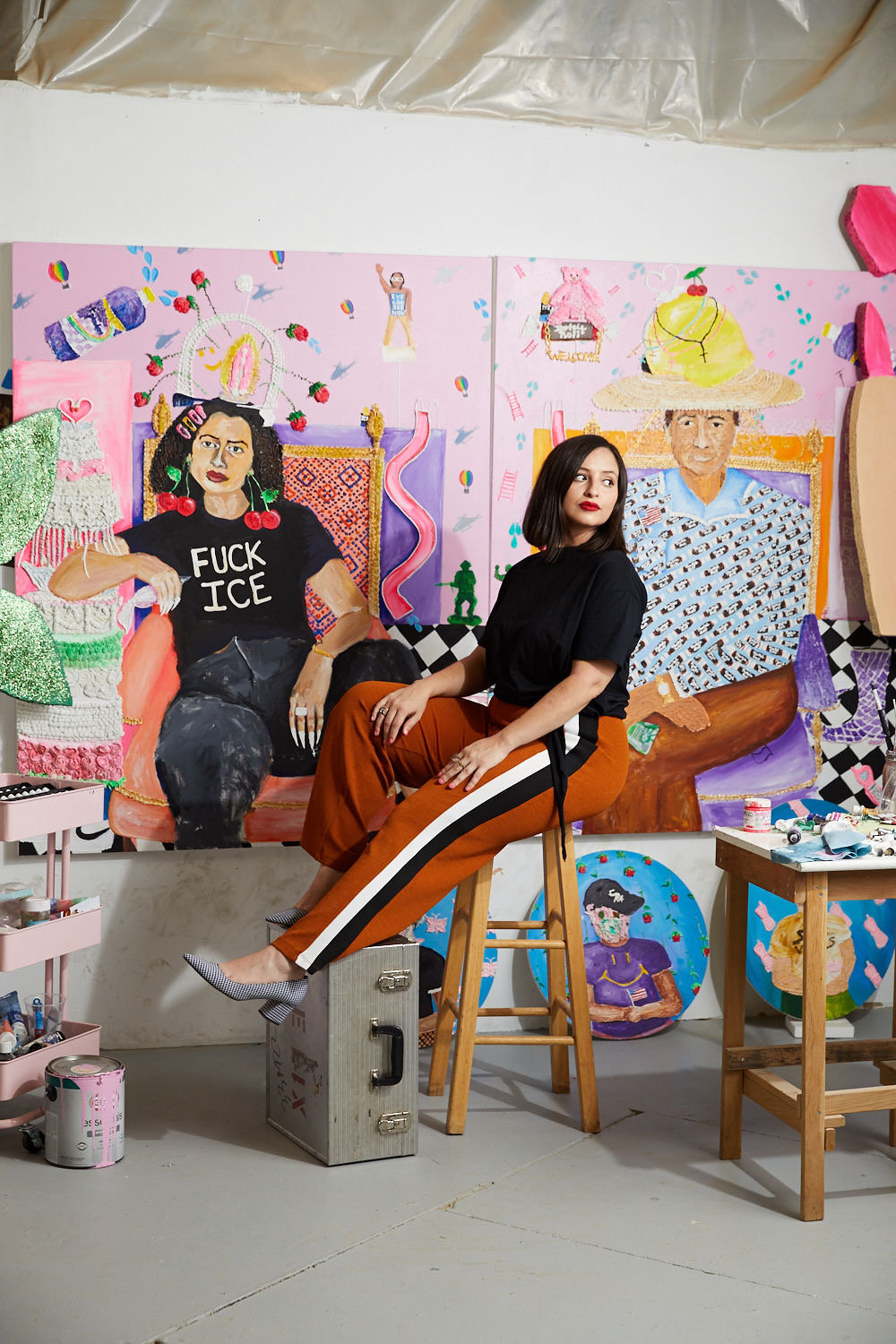 Yvette Mayorga by Kevin Penczak
How was this experience different than working within a more traditional gallery setting?
Yvette Mayorga: It was a great opportunity to think about my paintings in a 3D form. That's super exciting to me—to have elements that have become synonymous in my work come to life. This installation has been drawn out several times in different ways and I'm glad to be able to share it in its tangible form. 
What was your favorite part about collaborating with 29Rooms?
Yvette Mayorga: My favorite part has been the opportunity to think about my paintings as installations and have the accessibility to make my most over the top idea come to life in a larger than life form.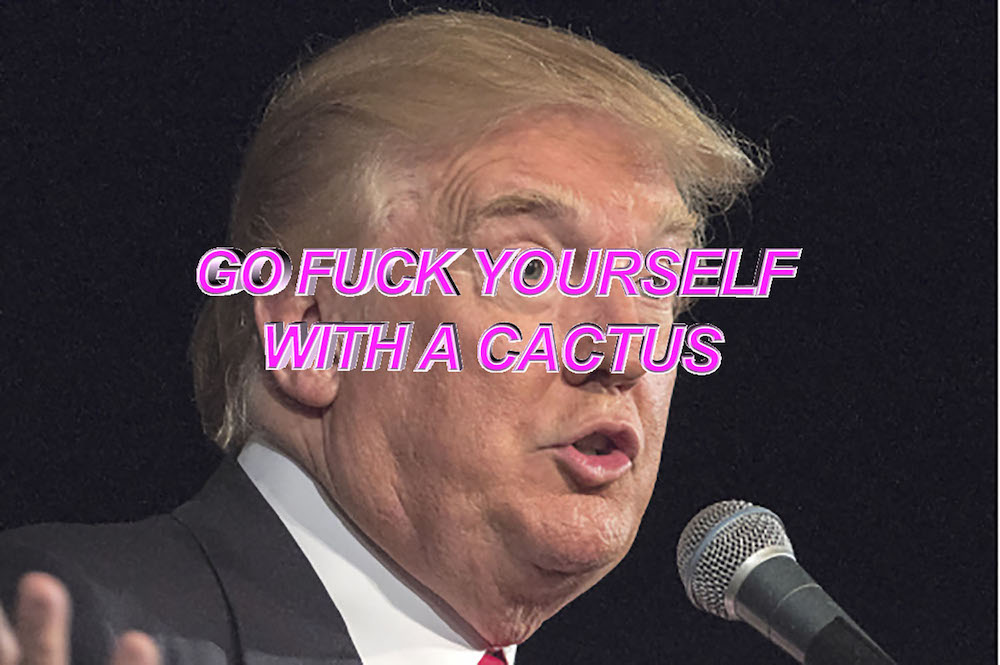 Yvette Mayorga, Really Safe in My Room in America, (still), 2016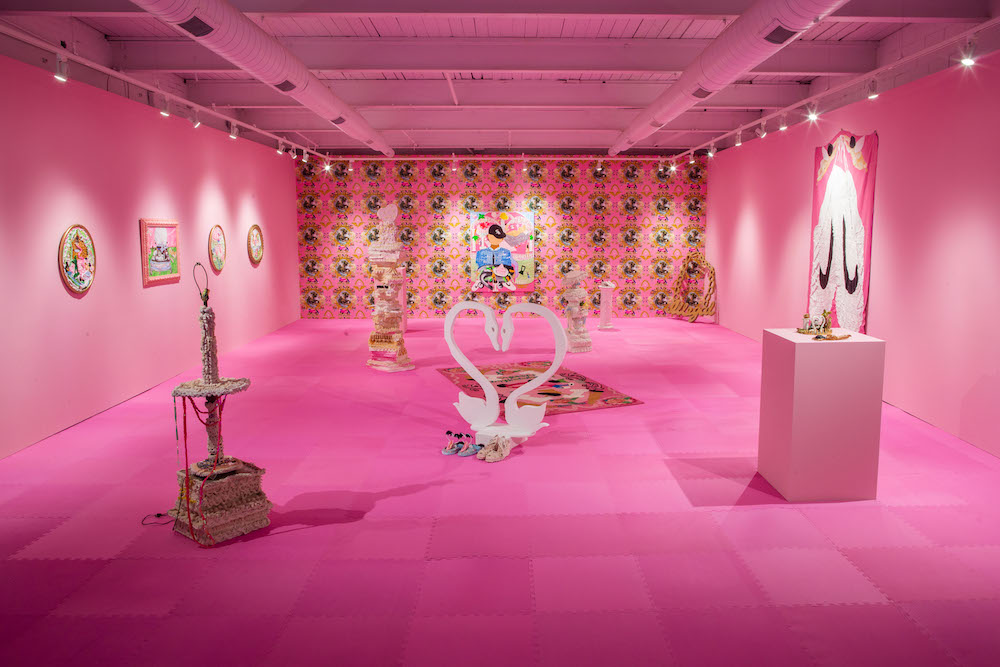 Yvette Mayorga, High Maintenance, Tube Factory Artspace, Indianapolis, IN. 2017-19. Photo courtesy of Daniel Jacobson and Tube Factory Artspace
29Rooms: Expand Your Reality