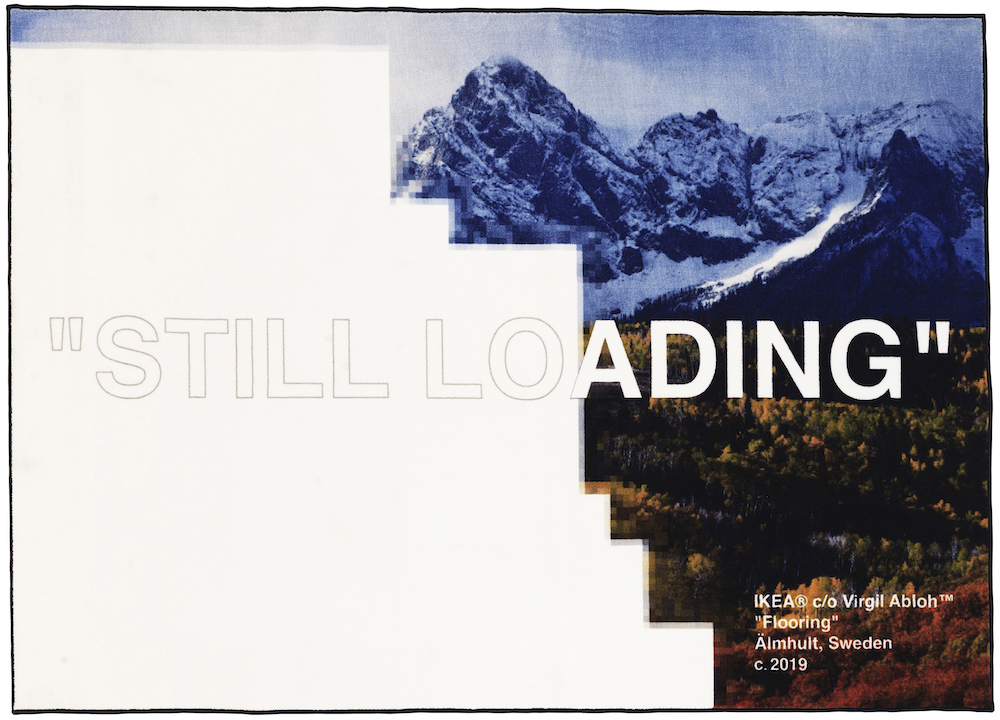 All the Things Virgil Abloh Said
I n case you haven't noticed, Virgil-mania has hit Chicago hard. As the Museum of Contemporary Art (MCA) hosts Virgil Abloh's first ever exhibition—a retrospective spanning twenty years of his life and cross-media career that includes art, fashion, music and architecture, and serves as the epicenter of it all—satellite events and experiences keep popping up around the city, turning it into a global fashion destination—if only for the summer.
 These include the NikeLab Chicago Re-Creation Center, a retail and workshop space that hosts a summer mentorship program connecting local creatives with young adults; an Instagram-based design challenge that, in collaboration with the MCA, invites the Chicago youth to unfold their creative vision by "taking something boring or broken and turn it into something extraordinary"; multiple DJ appearances; and a blinding orange Louis Vuitton pop up store that sells limited edition, Chicago exclusive apparel of the same color. A special treat: A pop up store (yes, that's right, another one) that's actually part of the museum experience and features walls covered floor-to-ceiling with Jeurgen Teller photographs and fitting rooms with plastic PVC curtains, where you can try on some of Off-White's best-selling t-shirts recreated for the MCA and shop special edition merch—think belts, phone cases, totes and more—inspired by the exhibition. Needless to say this is not your regular exit-through-the-gift-shop experience.
A creative force of nature, Abloh seems to have mesmerized most everyone who comes into his orbit, including the city of Chicago that's hyped for this homecoming of sorts. Here's all you need to know about the "Figures of Speech" exhibition in his own words. Maybe he'll help you understand if you're a "purist" or a "tourist" and why it's important to see the artistic value in the naturally occurring.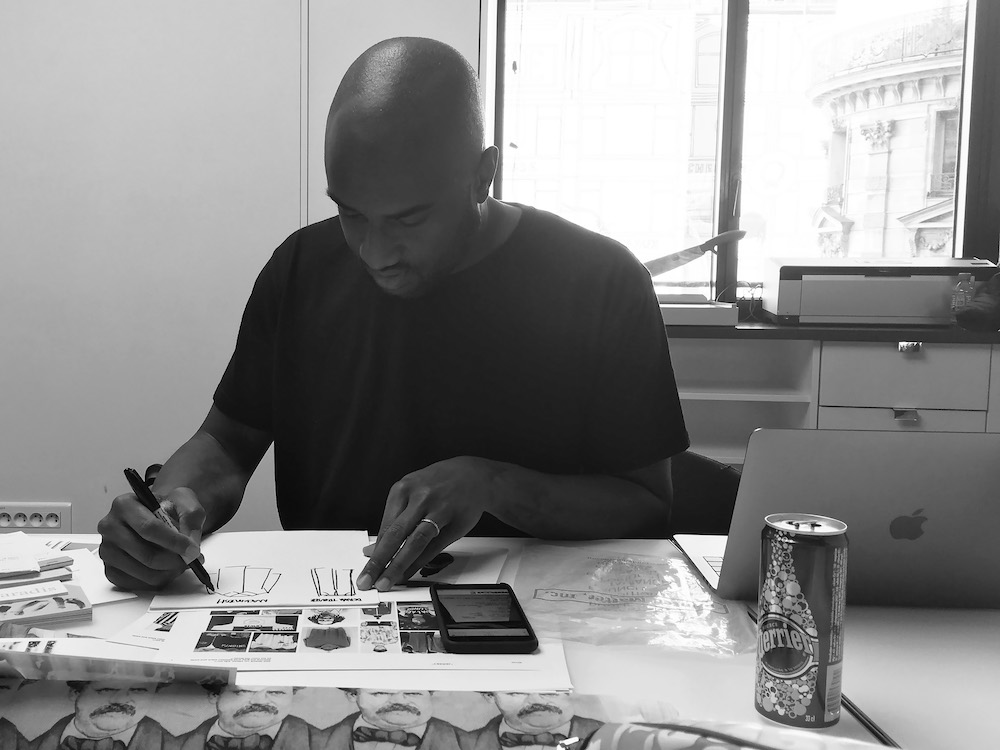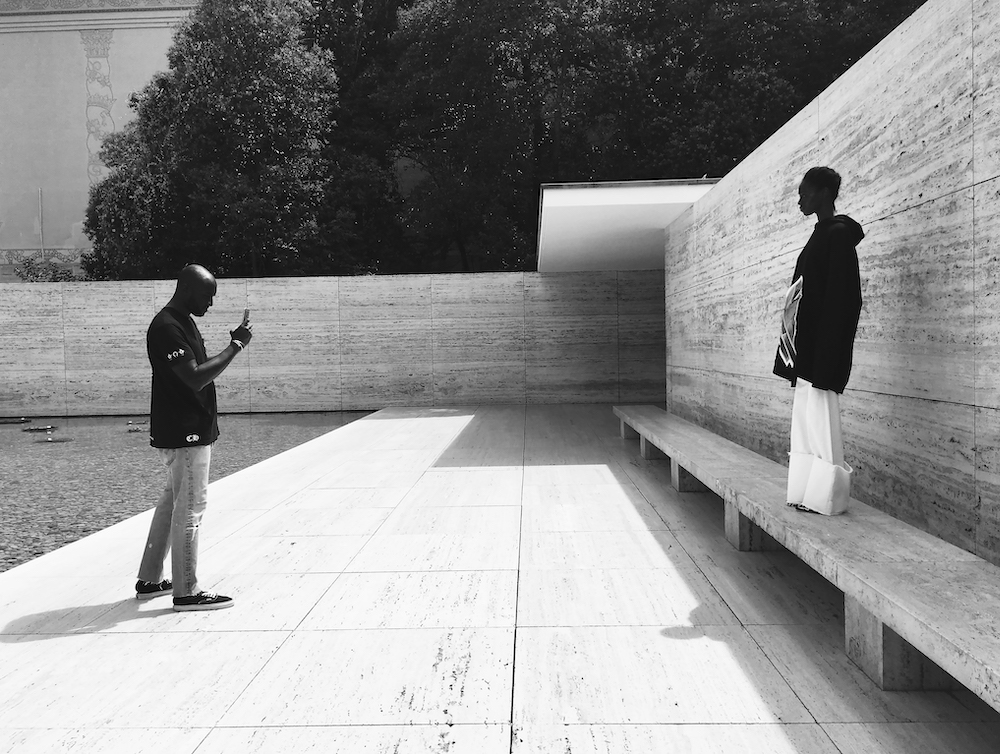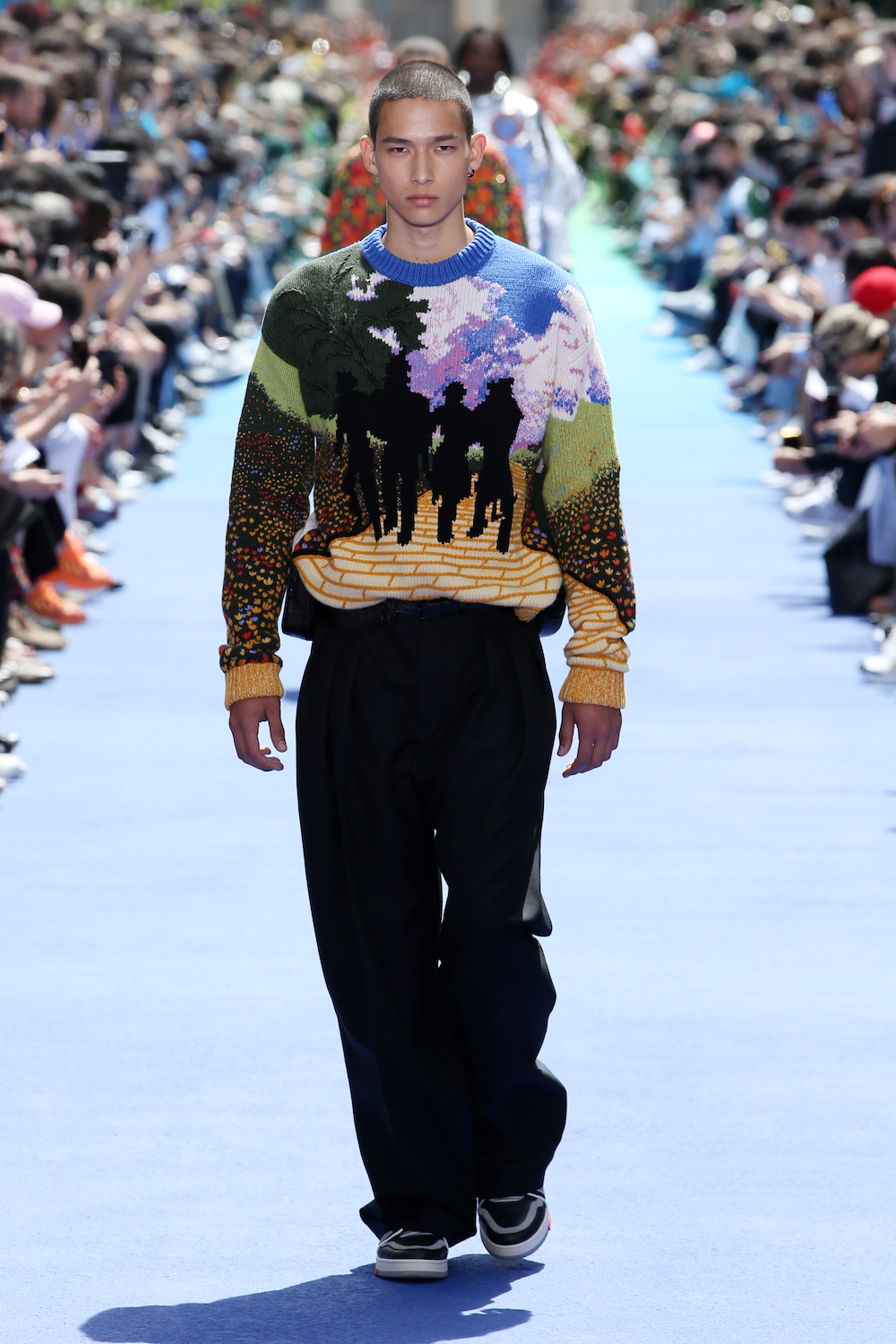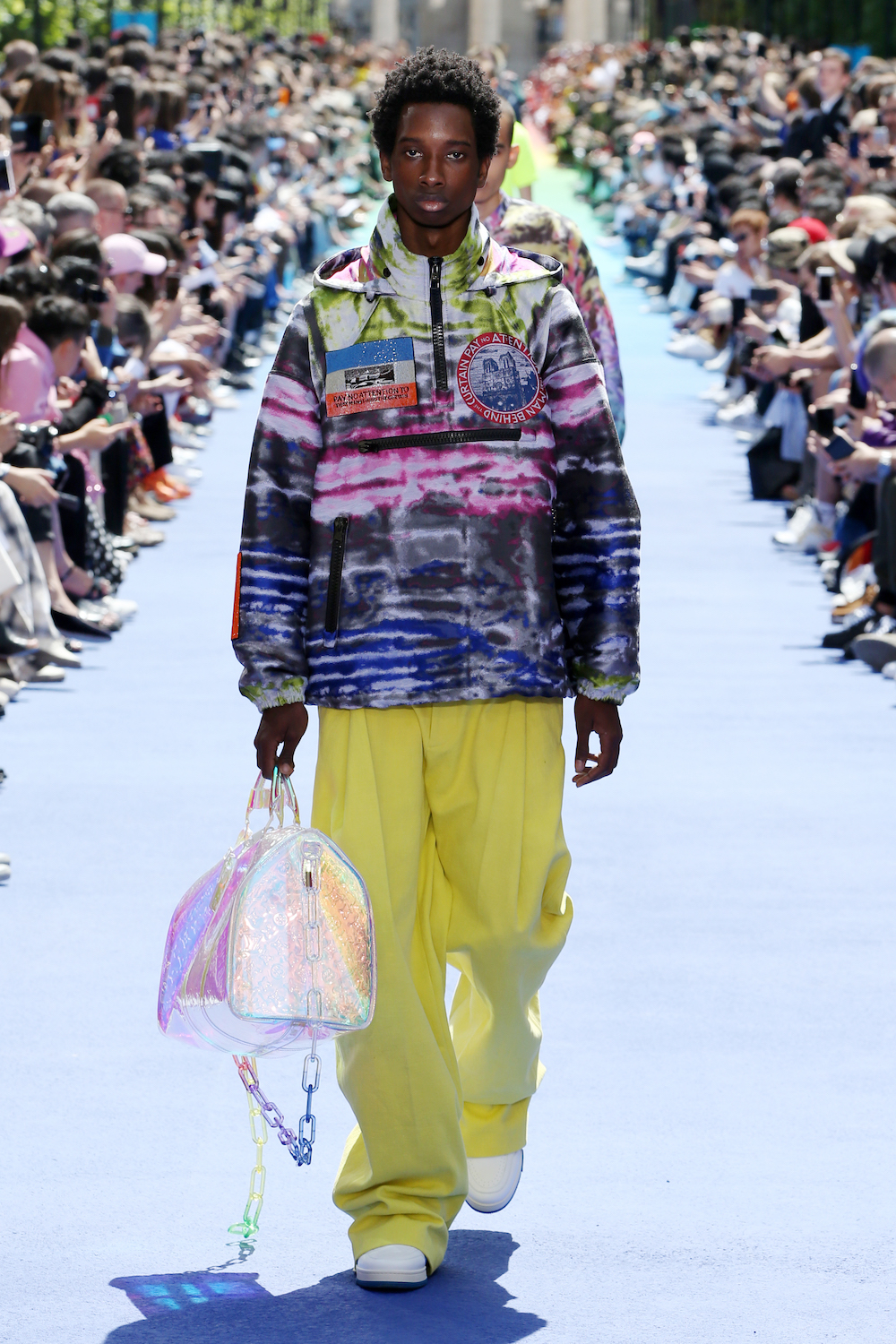 Virgil Abloh at work by Hanna García Fleer + Look 54, Look 11, Look 28, Louis Vuitton Men's Collection, Spring/Summer 2019 ("Dark Side of the Rainbow") Photo: Louis Vuitton Malletier/Ludwig Bonnet
But how did an African American kid from Rockford, IL, who loved skateboarding and screen printed t-shirts for him and his friends, become the most sought after man in fashion? Glad you asked. The answer is printed on a black flag right outside the museum. Two words: Question Everything. Said flag serves as one of two public markers for Abloh's "Figures of Speech" exhibition. The second being the words "City Hall" plastered across the museum's front as a  reminder of the essential role of culture to a free and open civil society. The means to that is viewing the museum space as a platform for cross-cultural dialogue—one that is fostering empathy, mutual understanding, and respect. As MCA director Madeleine Grynsztejn, puts it: "We're in Virgil's church. We talk back to each other and with each other."
Installation View, Virgil Abloh: "Figures of Speech", MCA Chicago, Photo: Nathan Keay
"Figures of Speech" is an exhibition rooted in advertising and the projected image. Which is not to say it's just eye candy. "For me that show upstairs is more than bright objects. It shows how I am constantly looking for a way to transform myself to the Virgil that I didn't know was possible," Abloh says. The much anticipated exhibition is designed by Samir Bantal, director of research and design studio AMO, that operates under the Dutch architectural firm OMA umbrella, who made sure to build spaces dedicated to each phase of Abloh's career providing an extensive walk down memory lane: from his first fashion label, Pyrex Vision, to the moment he launched Milan-based Off-White—the first luxury fashion brand designed and owned by an African American—in 2013, to his DJ and music production days, to designing album covers including Kanye West's Yeezus that appears prominent in the museum space blown up in monumental scale. There's a whole lot of sneakers, and of course his latest work as the artistic director of Louis Vuitton's menswear collection since March 2018. Also featured is his thesis project from the Illinois Institute of Technology (IIT)—in case you didn't know Abloh graduated with a master's degree in architecture after building a light-blue styrofoam replica of downtown Chicago with a pink polygonic apartment building in the middle.
Installation View, Virgil Abloh: "Figures of Speech", MCA Chicago, Photo: Nathan Keay
"I'M NOT A DESIGNER, I'M A CONSUMER"
An artist, an architect, a fashion designer—these are only a few of the roles Abloh's taken on throughout the years. Which brings him in a unique position to push the boundaries, shift the discourse and do things differently—even within an industry so powerful and fierce such as luxury fashion. "There are all these preconceptions in the world about what a designer is," Abloh says. "And I was like, 'I'm not a designer, I'm a consumer.'" As such, he's most intrigued by posing questions that have to do with the message behind the clothes, and with deconstructing the concept of value. "Clothes are clothes, we all wear them. It's the message—why we wear them—that's much more interesting to me," he says explaining we give too much value to stuff, himself included. "If Kanye was wearing a pink polo shirt, I go and get it. That would make me happy," he says. But observing things like that—consumerism, advertising, speculation, lust—fuels his creativity. "Consumer, in my language is obviously not a bad word. It's curiosity. It's free education. It's gonna feed my next chapter of work," he says.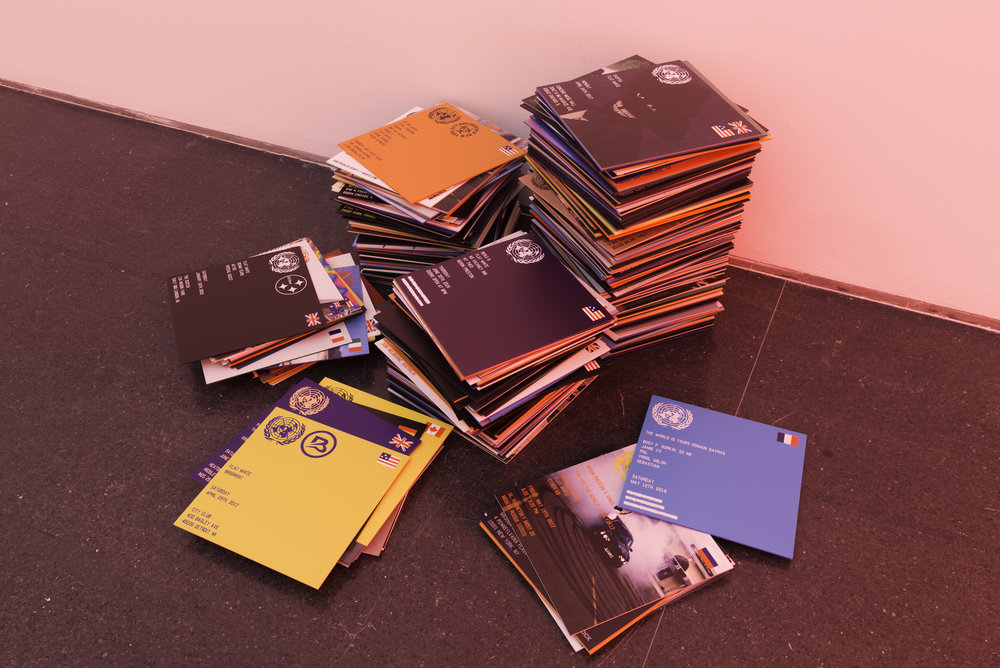 Installation View, Virgil Abloh: "Figures of Speech", MCA Chicago, Photo: Nathan Keay
"ARE YOU A PURIST OR A TOURIST?"
"Tourist and purist—that's my main device to understand the sections of culture, that move culture forward," he says. "You have a purist, that's like, 'I know the whole art history of everything, you can't do this, this was done twenty times before you thought of it.' Like, this is the pure institution," he adds. "Then there's the tourist, who's bright-eyed, curiosity-driven, that has a lust for learning, and they support whatever. The goal of the exhibit was to allow a tourist, someone who's from the outside to look at the everyday world and see the artistic value in the naturally occurring." Those themes are prominent in the "Figures of Speech" exhibition—a timeline of his life and work from consumer to producer. And if you pay attention, at the end of it, you'll find yourself coming full circle, too, essentially navigating the path from consumer to creative, between "tourist" and "purist," much like Abloh himself.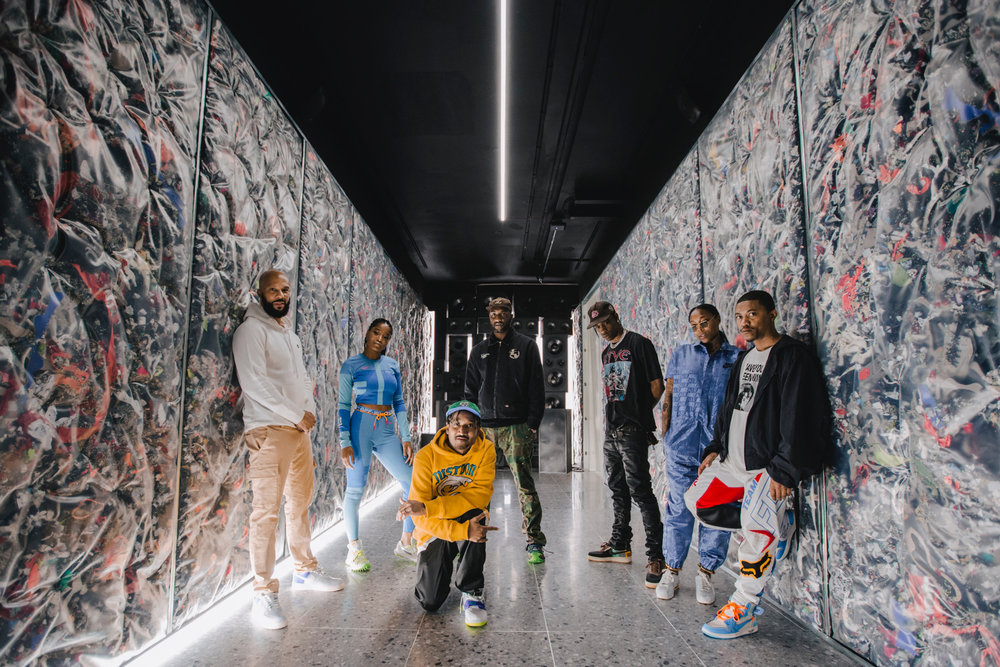 NikeLab Re-Creation Center c/o Virgil Abloh, Photo (left to right): Common, Keke Palmer, Don C., Virgil Abloh, Travis Scott, Cappie Poindexter, Ibn Jasper
"BRING YOUR COMMUNITY TO THE TABLE"
Abloh cannot stress the importance of community enough—whether that means mentoring Chicago's next generation of creatives, inviting all the Louis Vuitton employees to his runway shows or letting models choose their runway looks. "Bella and Kendall need to be seen for the independent women that they are," he says, explaining that a model's personality, presence and the way they feel about an outfit makes all the difference. His mission statement? That luxury can be inclusive—like horizontally and vertically open. "That's my way to holistically be a part of my community," he says. But he wasn't always so wise. "I'm that idiot kid who thought if your name is on the label you're the one who made it," he says. "It took me eight years to understand, to be like 'Oh, damn. That's not true.' I'm not going to pretend Off-White is just me. They need to be in a museum too."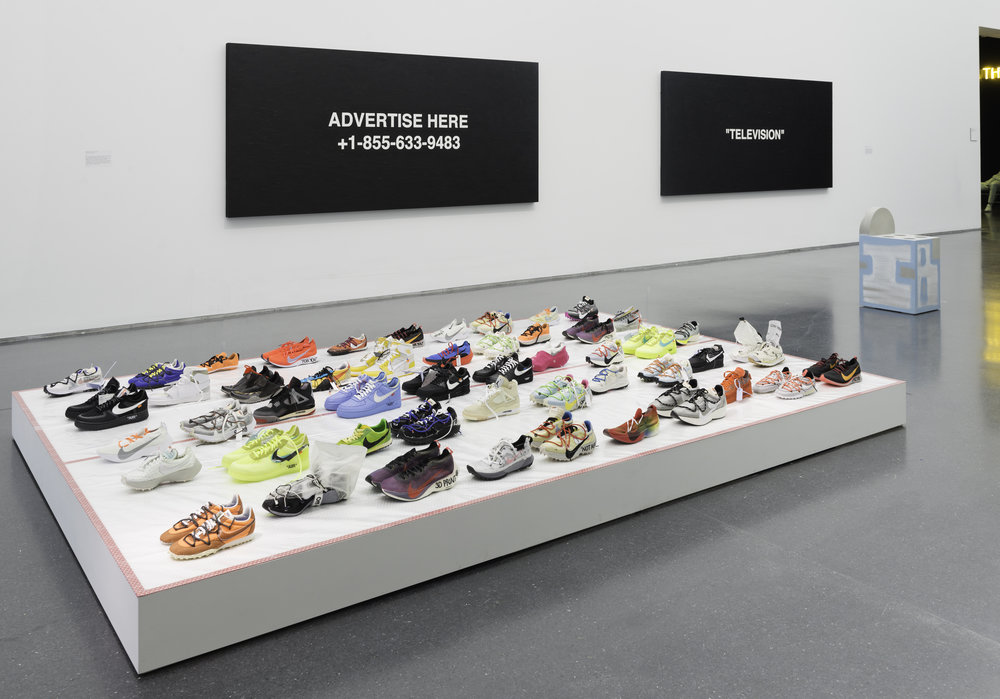 Installation View, Virgil Abloh: "Figures of Speech", MCA Chicago, Photo: Nathan Keay
"I'M INTO FAILING. IT'S COOL."
Existing between media and between worlds, from DONDA, to the runway, to IKEA, Abloh's life and career has been all about hard work, drive and passion. And failure. "I'm into failing—it's cool. It's part of my trajectory," he says. "You can't get to ten without getting to one, to two, to three." Through trial and error, and through constant prototyping—the dozens and dozens of never-seen-before prototypes he made in collab with Nike are enough to fill a museum gallery. He's bringing his ideas to life one step at a time. His process, which is far from a straight line, is informed by his love for street style, ready-made art and pop culture, and by his formal training. "I went to all of this school—eight years of higher education," he says about his time studying structural engineering at the University of Wisconsin before he went on to IIT to receive his master's degree in architecture. From there he soon became the creative director of Kanye West's creative agency, DONDA, and well, the rest is history. His journey might sound a little unorthodox but having one foot here and one foot there is what really set him apart. An artistic and entrepreneurial whirlwind, Abloh says he's always interested in two things at all times. "This is just how my mind works." His influences—a mash-up covering the exhibition entrance in the form of a huge collage—range from skateboarding, to Michael Jordan, to Jay Z and Axl Rose, to Mies Van Der Rohe. Abloh believes it's important you know where he's coming from and it's equally important to understand his approach to prototyping—all that constant making-testing-remaking process, all the constructing and deconstructing that doesn't necessarily lead to a final form but could sometimes take a life of its own becoming a brand  new concept.
Virgil Abloh: "Figures of Speech", MCA Chicago
"I WAS SPEAKING ABOUT RACE THE WHOLE TIME"
"That was the message all along," he says. "I was speaking about race the whole time." Themes of inclusion, race, equality, have been the beating heart of Abloh's work since the very beginning. Off-White, "a fashion label rooted in current culture at a taste-level particular to now," was named to define the gray area between black and white and challenge the fashion industry's exclusion of black talent. "Black Gaze," that he refers to as "the place for the serious twist in my work, where it's not all fun and games with graphics and clothes," reflects on black cultural experiences in the U.S. A closer look into his work reveals political messages and social critiques. There's a neon sign that reads "You're obviously in the wrong place," (a reference to a line from the 1990 film, Pretty Woman, when Julia Roberts walked into a into a Beverly Hills designer store wearing knee-high stripper boots) glowing above a reimagined version of the typical mannequin he designed for Louis Vuitton—sculptures that are reminiscent of African-American men in natural, relaxed poses. On the gallery floor, sixteen yellow evidence markers catch the eye—a nod to the sixteen shots fired into Chicago teenager Laquan McDonald by CPD officer Jason Van Dyke back in 2014. "If you understand the 'Black Gaze,' you understand that's been the sort of mid-layer of the work the whole time," Abloh says. "It was my mission to see if luxury could be inclusive in a real way."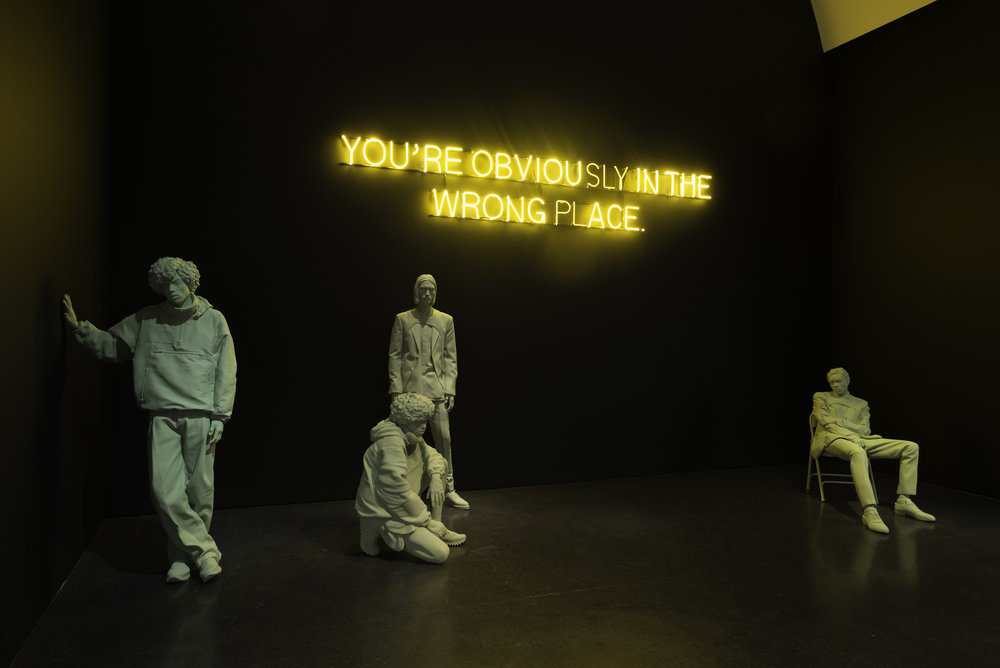 Installation View, Virgil Abloh: "Figures of Speech", MCA Chicago, Photo: Nathan Keay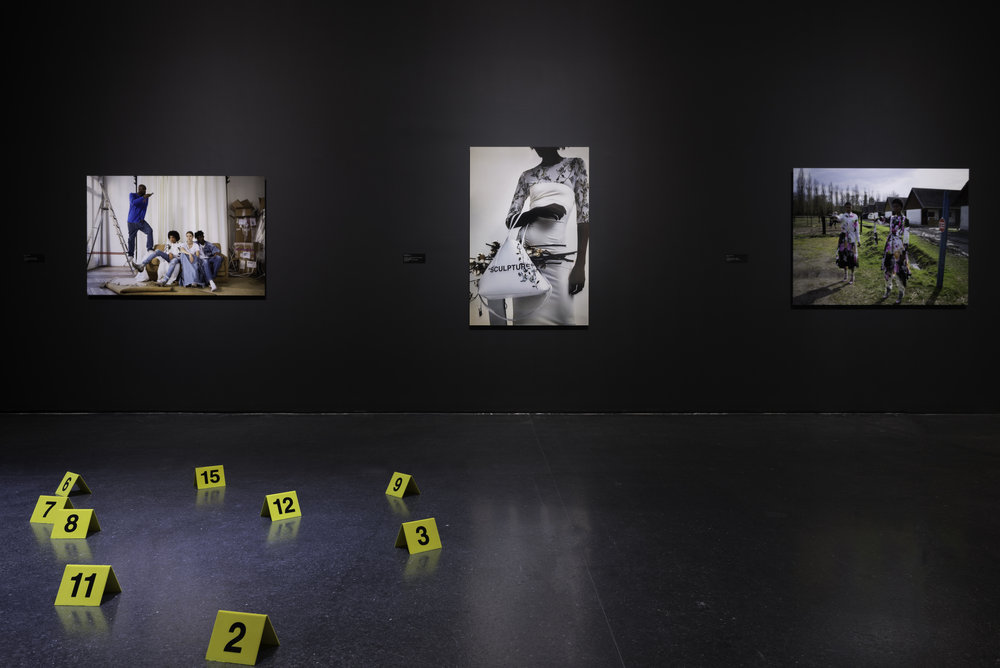 Installation View, Virgil Abloh: "Figures of Speech", MCA Chicago, Photo: Nathan Keay
"I WANT THIS EXHIBITION TO CREATE 5 MORE VIRGIL ABLOHS"
Abloh insists that "Figures of Speech" is less about him and more about Chicago's youth, some of whom will be visiting a museum for the very first time. He believes that anyone can be anything as long as they learn to question everything—to think for themselves and not silo themselves into one point of view, one career path, one singular idea. "Don't be a victim to the statistics," he says."You can be a kid from Chicago with the same skin tone as me and create work around your circumstance." He looks down at his limited-edition MCA Chicago Off-White x Nike Air Force 1s (known as "University Blue"). "There's no better education than for the kid who wants these blue pair of sneakers to just go into FootLocker two blocks away, buy them for $60, paint them blue, then find a red tag at Home Depot, and all of a sudden, you have a one-of-one version of my shoe," Abloh laughs. "That's the brilliance of youth culture—that's what I would do." More than bringing streetwear into the high-fashion spotlight, more than being one of the most in-demand designers of our time, he's bound to empower the new wave of unexpected creative geniuses—like himself. His big picture vision: that this exhibition creates "five more Virgil Ablohs" and make the journey ten times shorter than he had to do to get to this stage.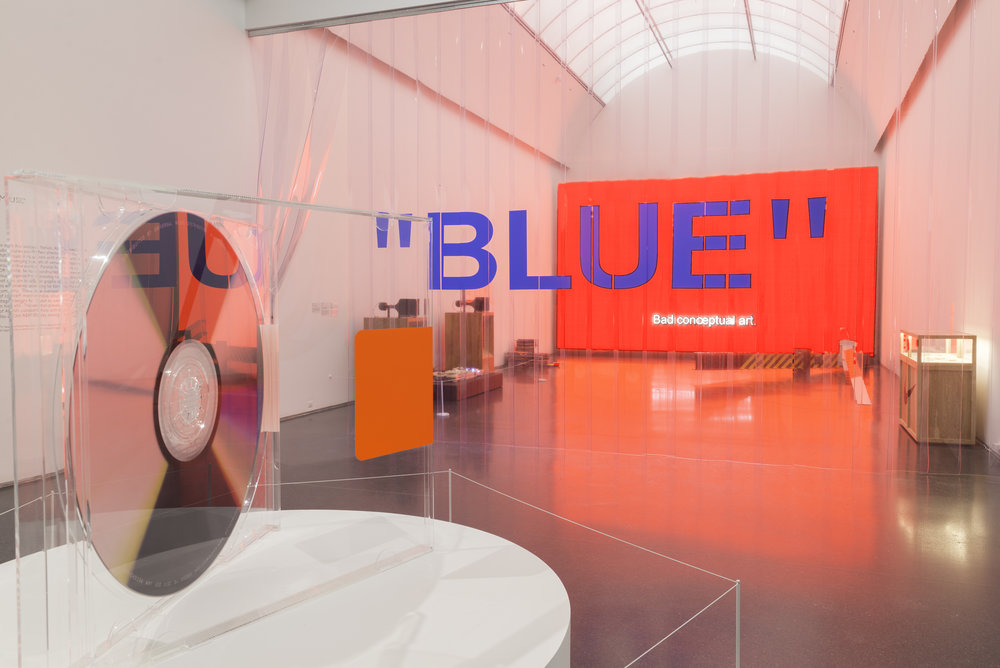 Installation View, Virgil Abloh: "Figures of Speech", MCA Chicago, Photo: Nathan Keay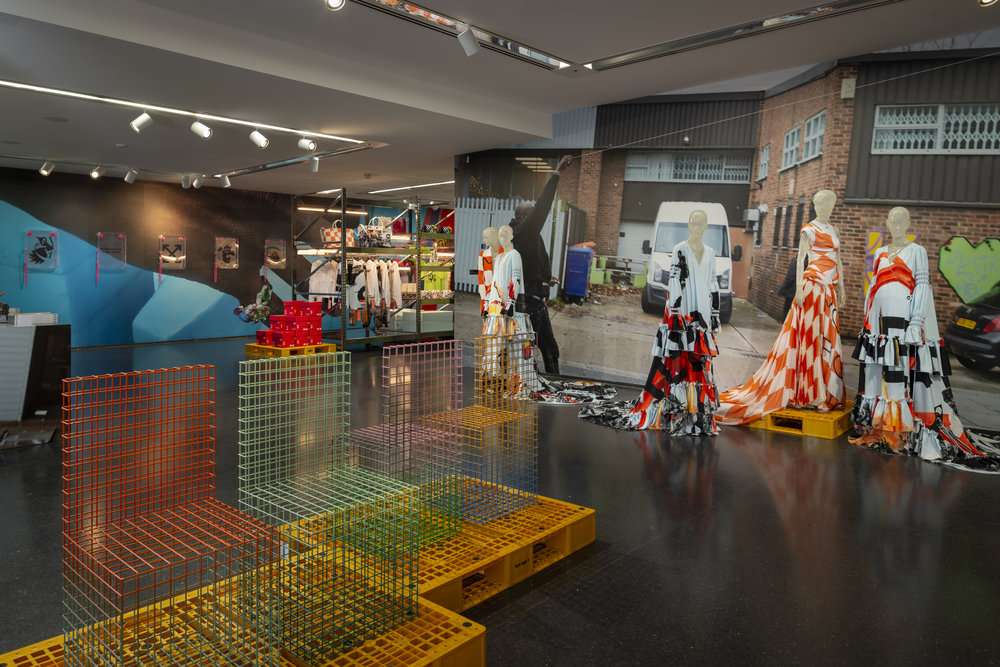 Virgil Abloh × MCA pop-up store, "Church & State," MCA Chicago. Photo: Peter McCullough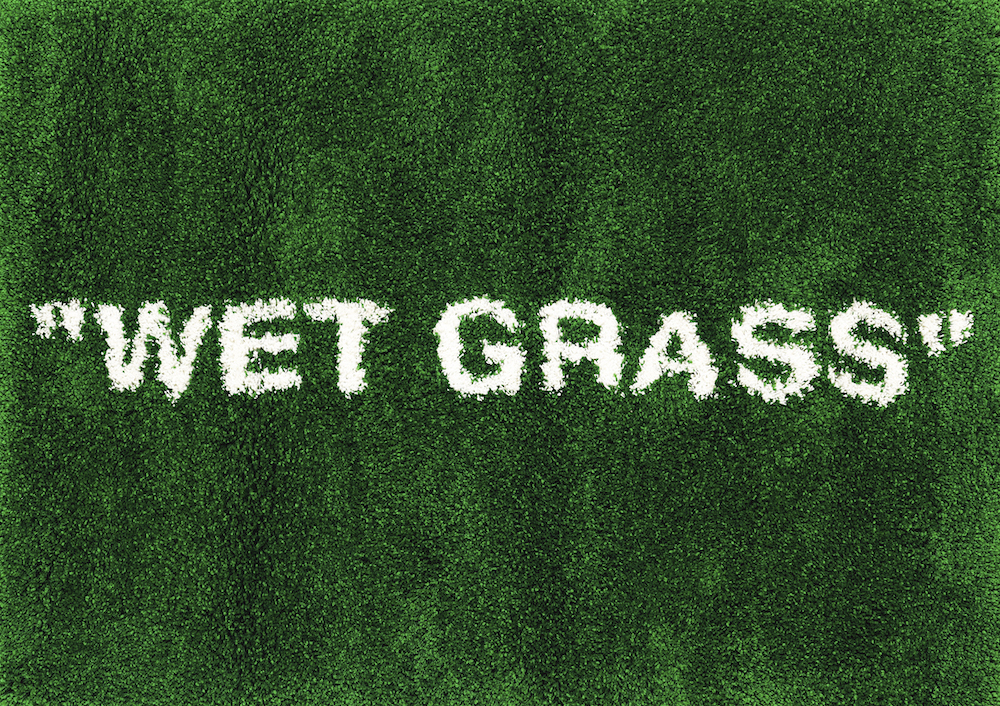 Virgil Abloh for IKEA, "WET GRASS," 2018 (prototype). Woven rug. Photo courtesy of IKEA
Virgil Abloh: ``Figures of Speech``