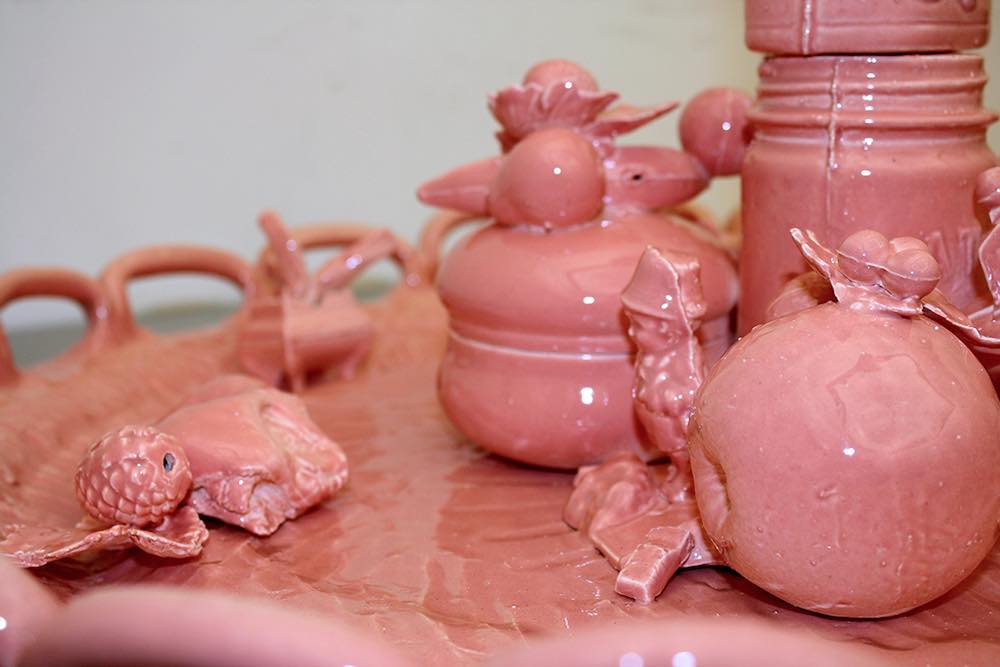 Looking Back at The Other Art Fair: 5 Booths We Loved
A fter four days of looking at art, making new friends and catching up with old ones, mixing our own cocktails and even doing some shopping, The Other Art Fair has come to an end. Booths have been torn down and the Mana Contemporary space has returned to its regular programming. But before we say goodbye, let's take a look back at the fair's second edition in Chicago—a cross-media exhibition including painting, sculpture, photography, dance, film, sound, and performance, presented by Saatchi Art.
Bringing together affordable work by more than 100 artists from Chicago and beyond and an extensive series of exciting performances, interactive art projects and installations, the independent-artist fair with the laid back attitude serves as more than an exhibition platform. It provides a setting where art crowds can mingle away from the sometimes serious and sometimes ridiculous art world etiquette. There, artists become creative entrepreneurs; art is bought and sold in a more organic way, and trust us when we say, there's something for everyone.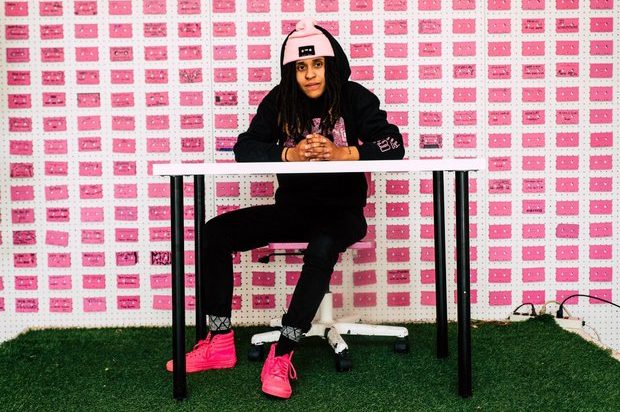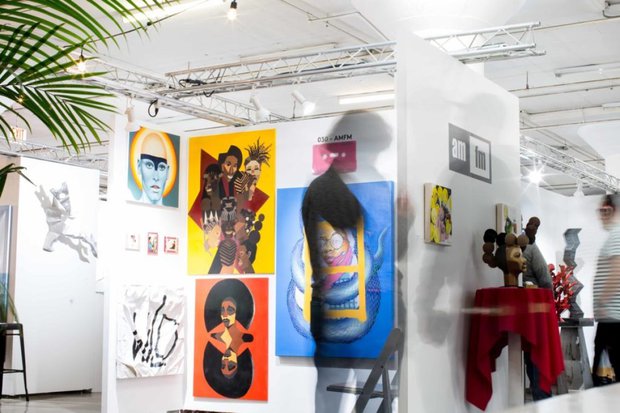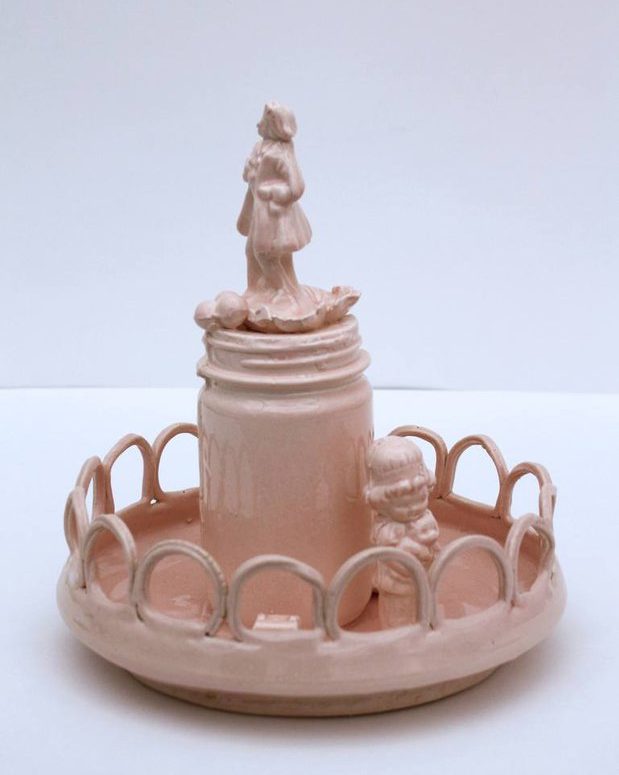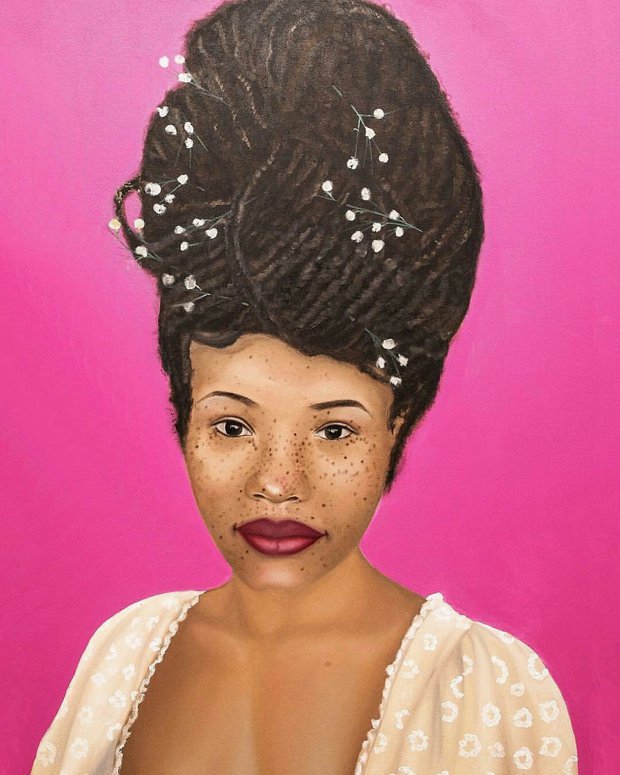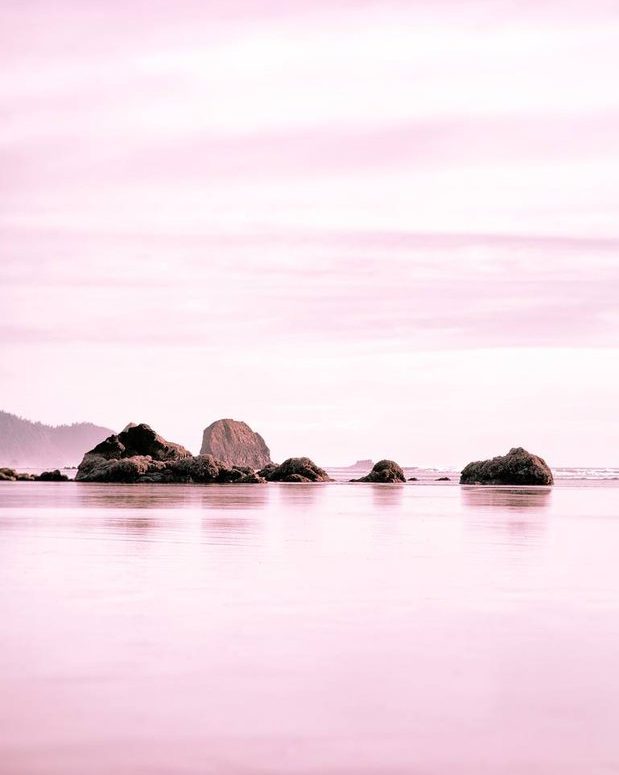 The Other Art Fair, Chicago, 2019
Arguably one of the loudest and brightest, the AMFM booth brought together a unique bunch of Chicago artists, essentially curating a mini group show that featured Yvette Mayorga, David Heo, Nikko Washington, Chad Kouri, Delisha Love, Andrea Coleman, Sergio Farfan, Solomon Adufah, and Eddie Santana White—all complementing one another. Above Yvette Mayorga's super textured paintings of the U.S. and Mexico borderlands, and Solomon Adufah's "Grace", a bright pink portrait painting that acts as a centerpiece and is part of a larger body of work that aims to celebrate contemporary African culture, AMFM's signature mixtape—also in pink— catches the eye, in perfect sync with the vibrant theme. An on- and offline platform for local creatives to showcase their work in the visual arts, music and fashion, AMFM also hosts events to bring the community closer together and was the one behind the fair's Friday Late party featuring a series of Chicago-based artists and performers. True to their word, AMFM is indeed a brand for artists and the people.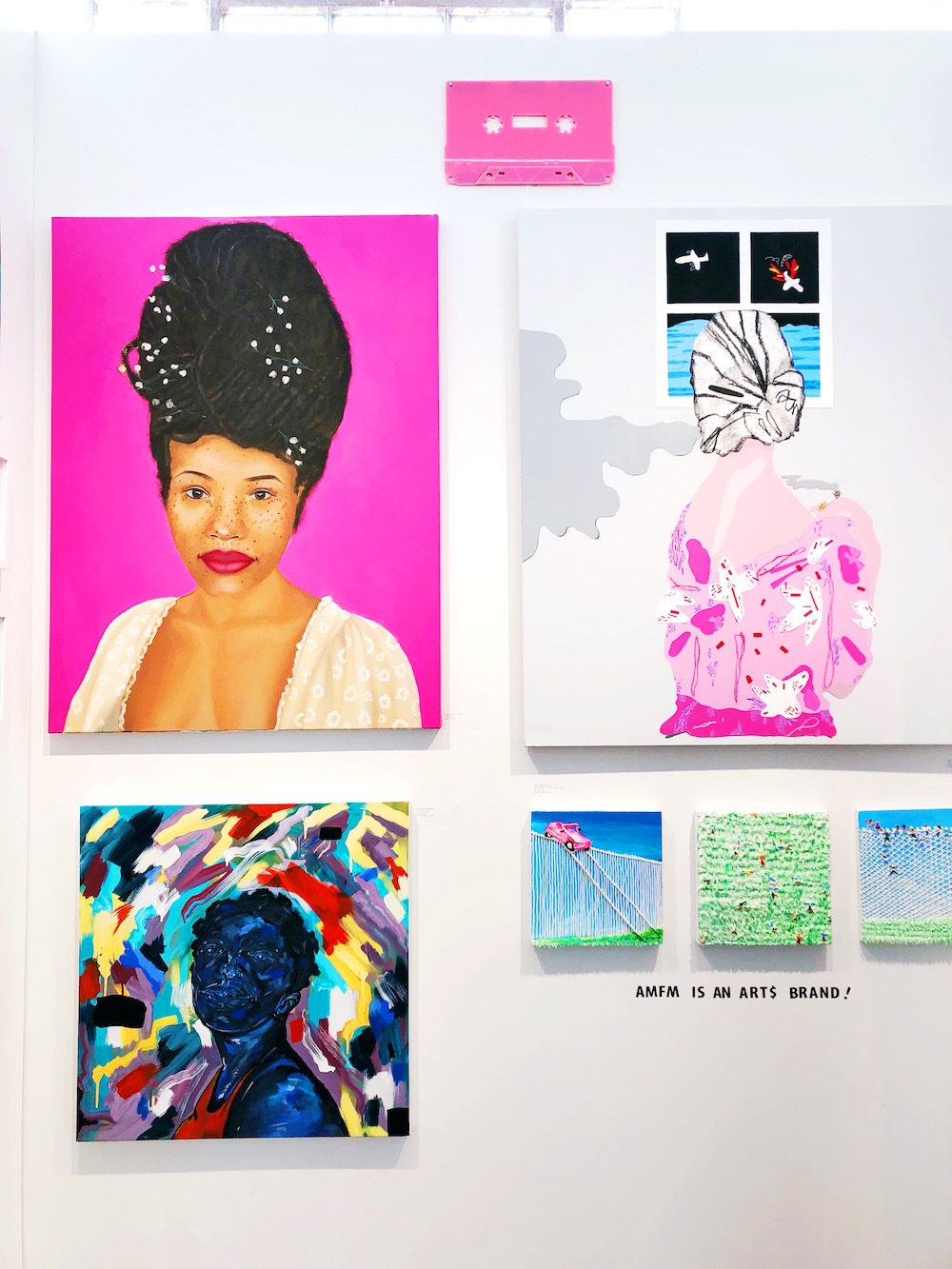 AMFM Installation View, The Other Art Fair, Chicago, 2019
FOR FAMILY MOMENTS WE CAN ALL RELATE TO
Christy Powers is going to change the way you look at family photos. How you ask? Digging into her own family albums for inspiration, she uses ink, and gouache, and watercolors to recreate them—only in painting. But there's a twist: as she mimics the effect of out-of-focus photographs, her work has strong elements of abstraction. Faces are blurry and barely recognizable, backgrounds are distant, and memories become fleeting and out-of-reach. But it is amidst a whirlwind of images—family gatherings, weddings, proms and parties, summer vacations and nights on the town—that those hazy photos, experiences and memories start making sense. One cannot help but notice there's a sense of familiarity. Behind the blurry faces of Power's own family's photos one starts to recognize their own. And it is in this moment that it becomes clear: paradoxically, what is most personal is, at the same time, most universal—a family moment we can all relate to.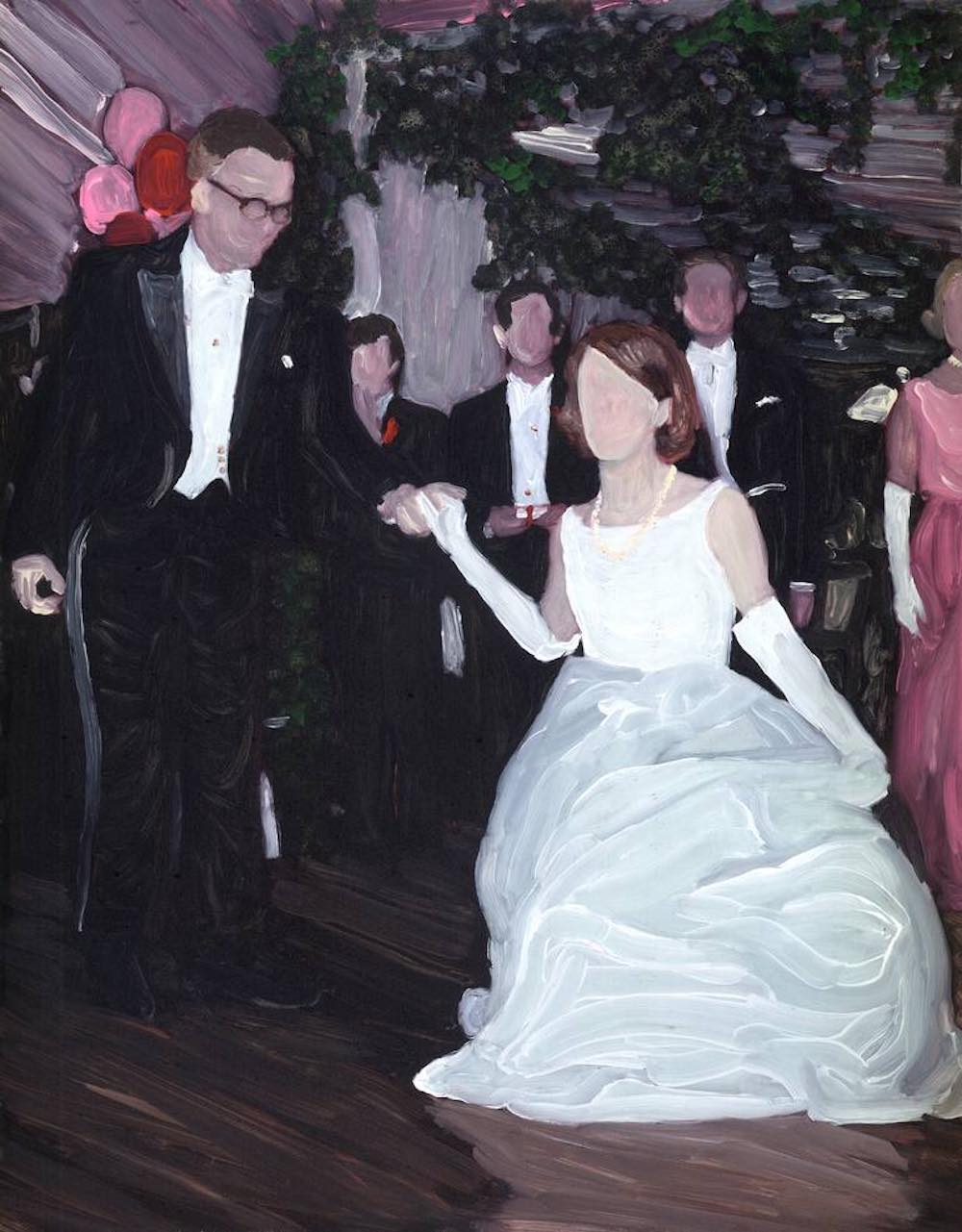 Christy Powers, The Debut, The Other Art Fair, Chicago, 2019
FOR A WALK ON THE SOUTH SIDE
"Is Black grass greener?" Kendall Hill asks. Bringing Chicago's South Side into the Mana Contemporary space, his installation, made out of old screen doors, cinder blocks, astroturf and space blankets, manages to create an immersive experience. The artist invites you to walk on the artificial grass that covers the booth floor wall-to-wall. It feels soft and welcoming. Stepping in, can even make you feel a little bold—after all, how often do you get to actually interact with art, other than merely looking? But at second glance, the fake bright green turf is far from it. Dozens of cigarette butts and packages seem to be everywhere serving as a miserable reminder of actual grass on the edge of a sidewalk. The walls are covered with canvases of spray-painted graffiti and looking up, there's a pair of shoes tied together and hanging from a makeshift power line. Between nostalgia and hope for a better future, Hill urges you to look around you, remember where you came from, but more importantly, never stop trying to make the world a better place.
Kendall Hill, Installation View, The Other Art Fair, Chicago, 2019
Walking into Kristin Hart's booth you immediately feel yourself relaxing. Her photographs of nature—sandy beaches and desert landscapes with the occasional surfboard-carrying dude and cactus plant, respectively—carry a laid-back, bohemian vibe impossible to disregard. After all, that's been her intention all along. Hart describes her work as "a self reflective and emotional journey"—but it's not just her own. As she investigates the human relationship to nature, the Florida-based artist brings washes of soft pastels into the mix—petal pink, mint green and pale pinkish-orange that add to the hazy, dreamlike quality of her images. The lines between where you are and where you wish to be blur. And it is in this moment that her work is fulfilled—when you feel what she calls "a sense of peaceful and spiritual elevation."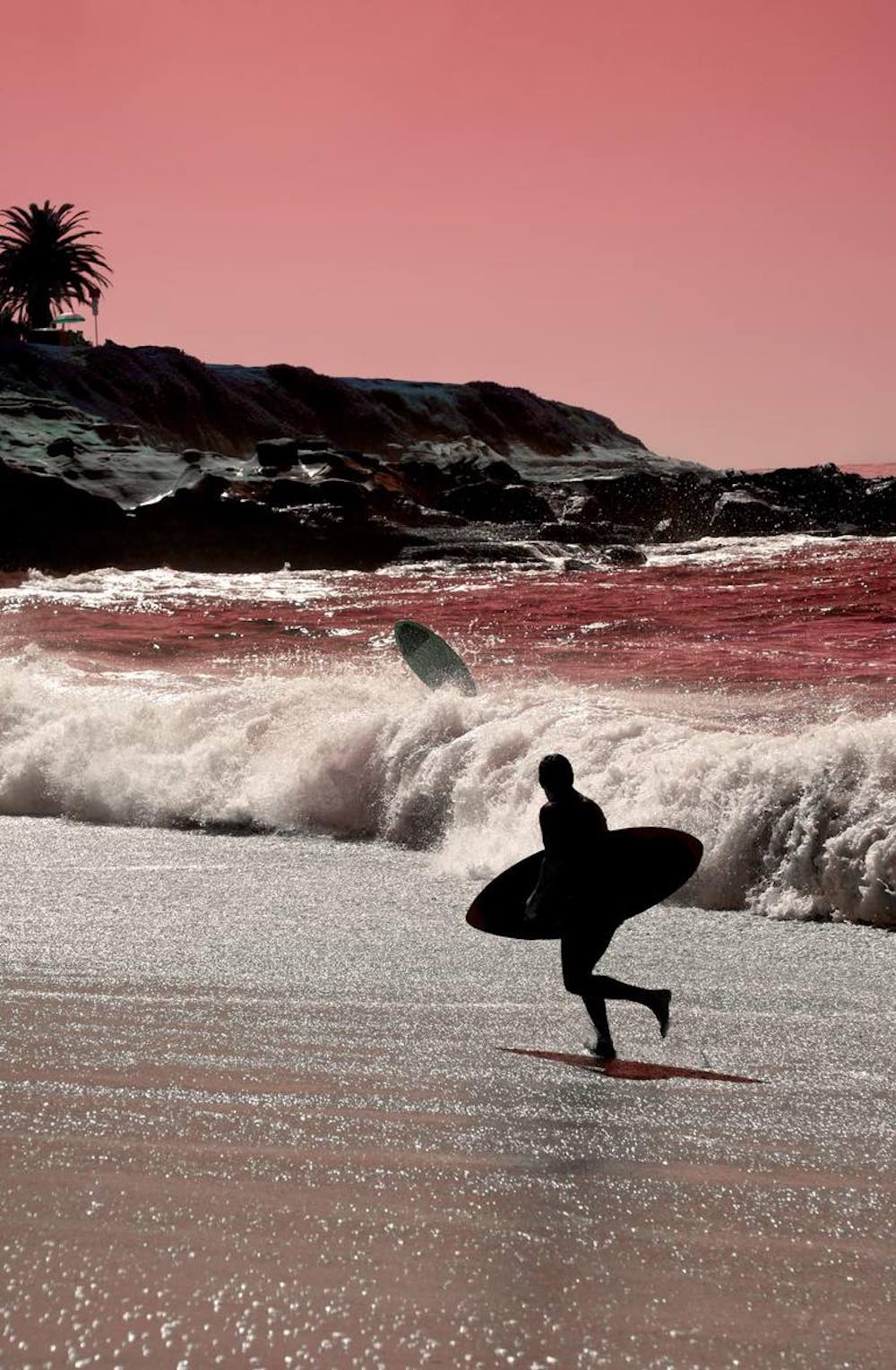 Kristin Hart, La Jolla, Coral, The Other Art Fair, Chicago, 2019
FOR ALL YOUR MINIATURE SCULPTURE NEEDS
Jennifer Rogers' tiny cast figures live in their own miniature world—one of tiny houses and tiny furniture, tiny cars and tiny gardens. But it is actually our world they inhabit. Found among all sorts of domestic objects, the lilliputian creatures are fragile and curious, yet tough enough to walk the line between the real and the imaginary. In Candy Dishes, a series of monochromatic sculptures featuring little people, animals, fruits and vegetation overpouring out of, what else, candy dishes, Rogers plays with size and scale reinventing the relationship between objects and spaces. Her ensembles are found in bubblegum pink, lemon yellow, avocado green, pale blue, but it is their titles—Bubblicious Kisses, Hawaiian Punch, Lemon Chiffon, Sweet Tarts, Juicy Fruit and Apple Girl—that make them even more delicious.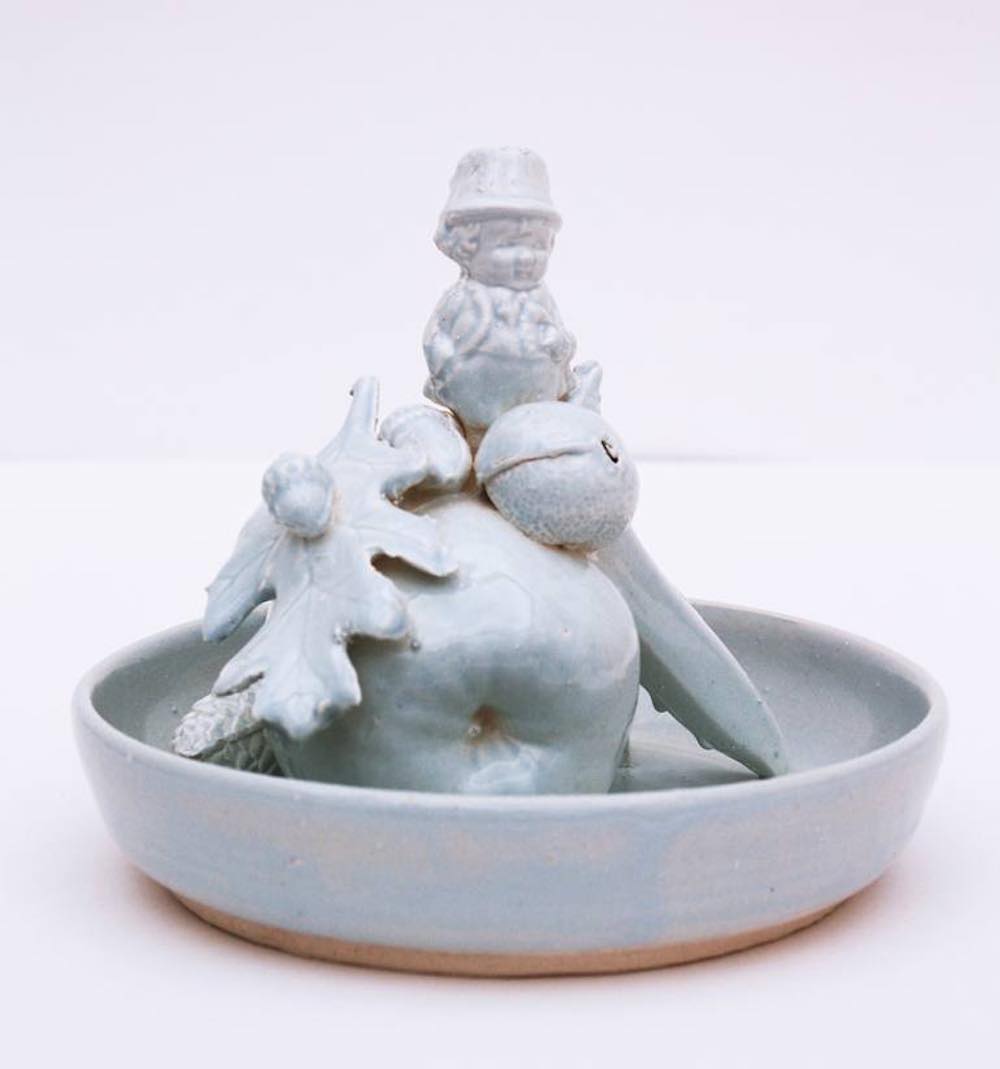 Jennifer Rogers, Little Boy with Fruit (Light Blue), The Other Art Fair, Chicago, 2019