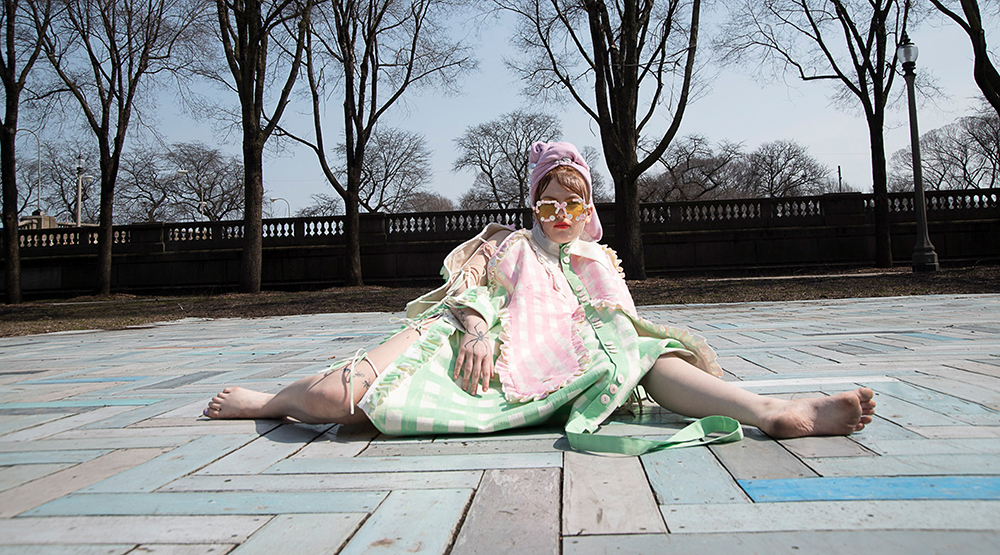 5 Rising Designers We Loved at the 2019 SAIC Fashion Show
T  he most anticipated celebration of the best of student fashion came and went. We're talking about the School of the Art Institute of Chicago's (SAIC) annual fashion show and benefit gala that features the next generation of fashion designers and supports the production of student work through scholarships that help graduates start their own fashion line, aka kickstart their careers in one of the hardest industries to break into. So it's a pretty big deal.
World-renowned for its unique approach to fashion that is equal parts artistic and conceptual, the SAIC fashion department's runway show has become a staple in Chicago's fashion circles, with crowds flocking to see the next big names in the making blur the lines between extreme and wearable. The show features work from the sophomore, junior and senior classes and is presented alongside a fashion exhibition at the Spertus Institute. This year's theme? Alchemy 2.0 Transforming Dystopia. Exploring the potential for transformation through design, the students consider garments of different shapes and sizes, make sure their creations tell a story and some even include cutting-edge ideas merged with technology. Think tulle, feathers, fur, flamboyant jewelry that reminiscent mythical creatures would wear or outfits that transform with a camera's flash.
With confidence even in their most outrageous designs, the students are unafraid to push all kinds of boundaries, ever-reminded that they are part of a fashion department within an art school. As theatricality in fashion rises and the student designers go bigger, better and more over-the-top, one thing is for certain: the view from the front row never ceases to amaze. Here's the five designers we're obsessing over this year.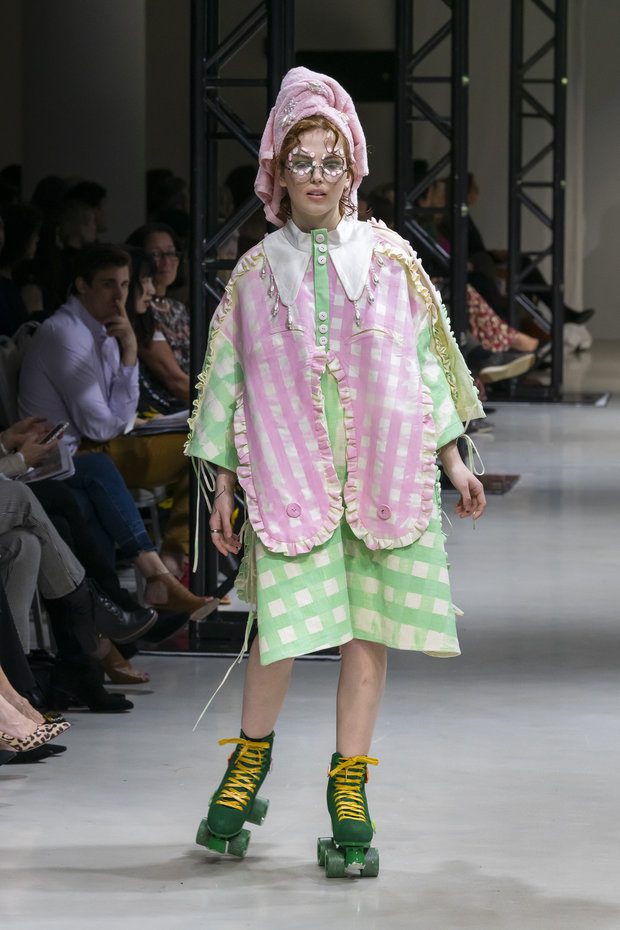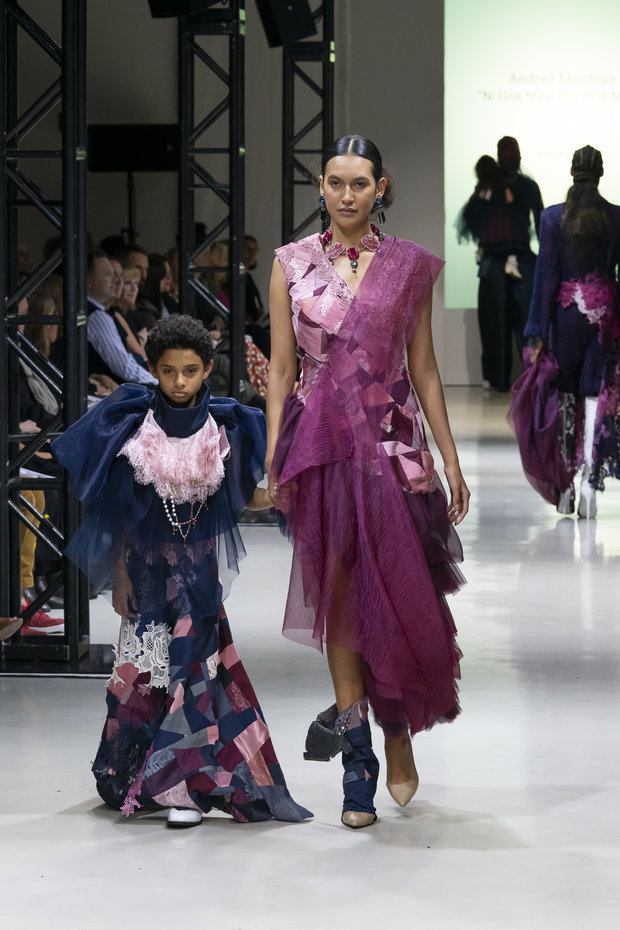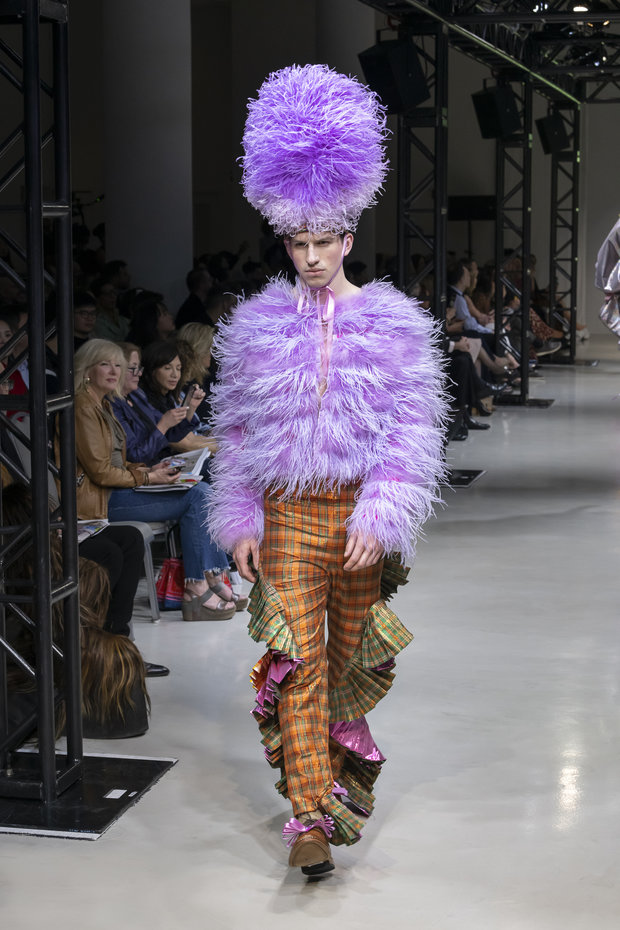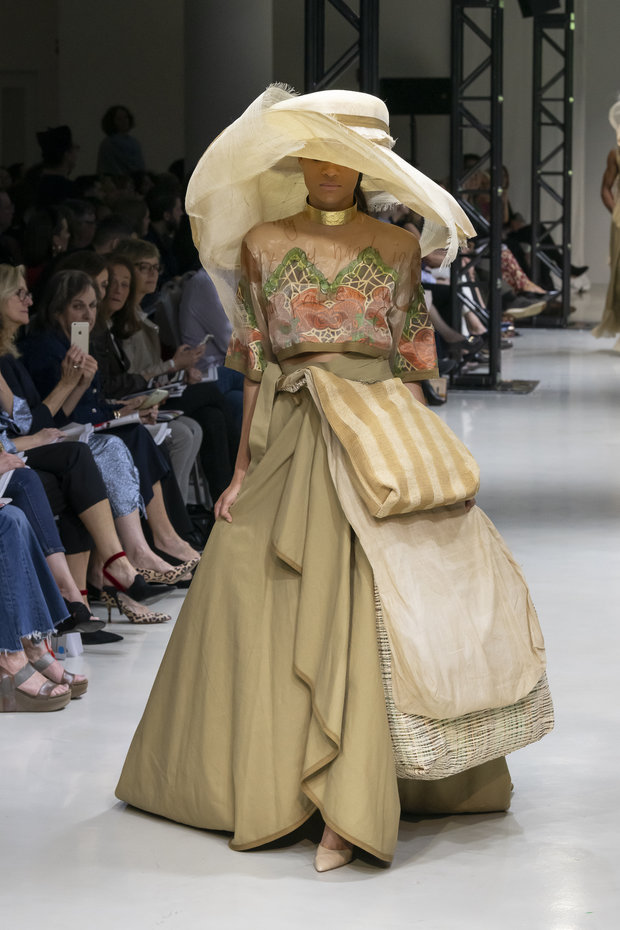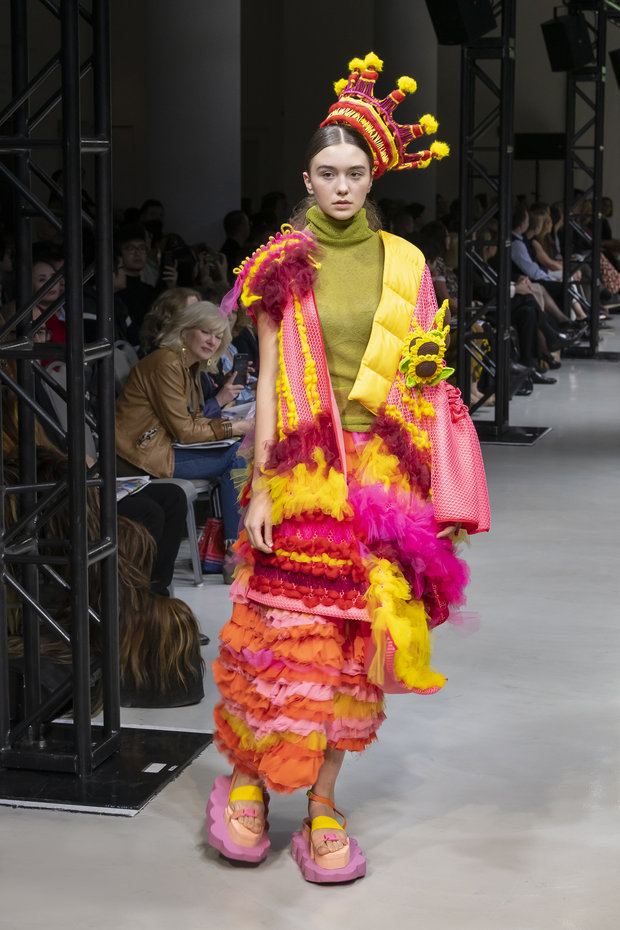 School of the Art Institute of Chicago (SAIC) Fashion Show 2019
When Sarah Forêt was young she used to spent time in the sun room of her grandmother's home in the Bible Belt of rural Alabama. But this is not the story she's here to tell. Reimagining her childhood memories, with influences in between southern domesticity and the humdrum of a metropolitan lifestyle, as she puts it, she mixes high camp and humor to present a dystopian parallel universe. There, brightly-patterned fabrics and oversized sleeves, coexist with unexpected accessories, such as a 1960's style pastel pink retro rotary phone—cord and everything. There's a Victorian-inspired nightgown big enough to fit two—imagine the creepy twins from The Shining but all grown up, fit inside a giant light blue dress wearing matching caps and—wait for it—red cowboy boots. There's outlandish makeup, a fringed bolster pillow turned into a handbag and head towel wraps adorned with pearls. Also, grandma wears roller skates, which is very fitting considering Forêt's design philosophy. She thinks of garments "not as merely static but as performances—an avant-garde expression of the Self."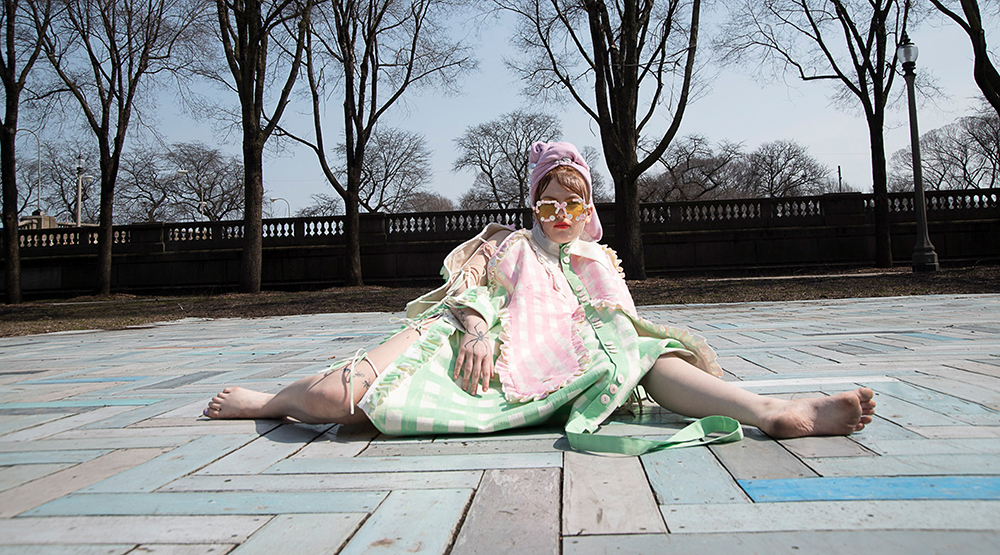 Sarah Foret, Photo by James Prinz, School of the Art Institute of Chicago, 2019
Femicide, the killing of women because of their gender, is a worldwide phenomenon. But in Mexico, things are extremely bad. To give you an idea, Mexico recorded more than 33,000 homicides in 2018, the highest number since the country began keeping records—an average of 91 deaths a day. The worst part? With laws against gender-based violence rarely, if at all enforced, the numbers keep growing and victims' family members have no option but become their own advocates as they seek justice for their murdered loved ones. In response, a social movement called Ni Una Más (Not One More) emerged in an effort to raise awareness. Drawing from that and bringing our political system into the mix, one that is held accountable for family separation at the U.S.-Mexico border, Andrea Montoya, whose work has served as a means for expressing personal views on politics, social inequities and the human condition, presents models with kids in their arms walking the runway together. Her color palette features greys, deep blues and dusty pinks and purples. Her ensembles are reminiscent of religious clothing and are paired with intense headpieces some of which veil the face—a face mask of sorts. Unafraid to get political on the runway, Montoya's work is heavily charged with raw, uninhibited emotion that spotlights a broken system in desperate need of change.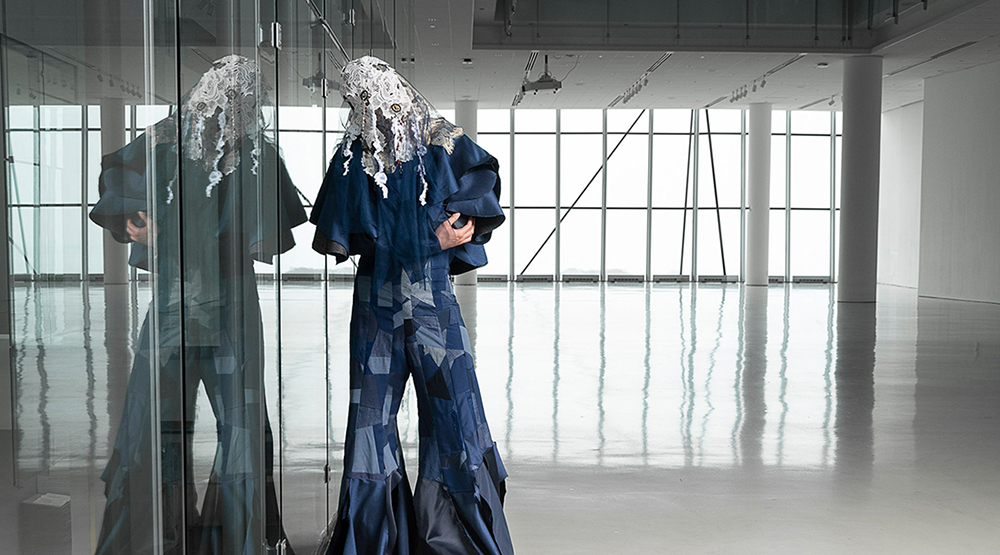 Andrea Montoya, Photo by James Prinz, School of the Art Institute of Chicago, 2019
"All grown-ups were once children… but only few of them remember it." Quoting Antoine de Saint-Exupéry's The Little Prince, to preface her collection, Xinyi Lin urges you to let your inner child emerge once again. Then learn to embrace and nurture it. "Adults tend to forget how to enjoy themselves and listen to their own voice," she says, explaining that she tries to bring herself back to the fearless little girl she used to be—one with a pure heart and a vast appreciation of life. In her effort to do so, she created a body of work that combines knitting and weaving, with tulle petticoats and soft, cushiony platform sandals that must feel like walking on a cloud—and whose sole is actually shaped like one. Her playful, multi-layered looks brighten up the runway with rainbow hues and extravagant headdresses that resemble the crowns of your childhood fairytales. Alluding to an intuitive play with various colors, textures and materials, Lin's fun and vibrant aesthetic perfectly fits her mission: to reflect the wonder, the mystery and the beauty of childhood innocence.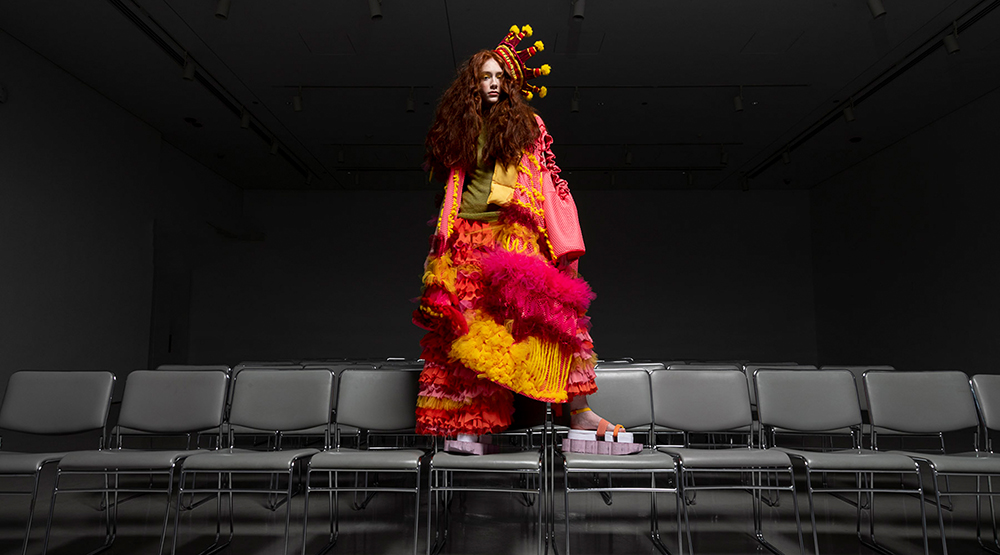 Xinxi Lin, Photo by James Prinz, School of the Art Institute of Chicago, 2019
"Worship, in the African American community, is otherworldly," says Adreain Guillory, explaining the feeling as "a call back to our roots—an outer body experience or actually an inner body experience connecting us to our self and to our ancestors," as he puts it. "Gospel music lifts me up," he continues. "Even when there's stillness, I find my body unable to stand still—it's moving and swaying as if it's trying to tell me something." His work, existing between the earthly and the divine, is bound to explore the connections between faith, ancestry and music and what it means to be tied to something unknown. Inspired by the four generations of women who raised him, Guillory is celebrating his heritage and worship culture at-large in a collection that has strong church attire elements but at the same time, manages to bridge the gap between traditional and contemporary. Think earthy tones—coffee browns, reddish clays, sandy tans and forest greens—paired with soft floral or wide striped patterns to reveal airy, layered looks topped off with super oversized hats, bows and headcovers.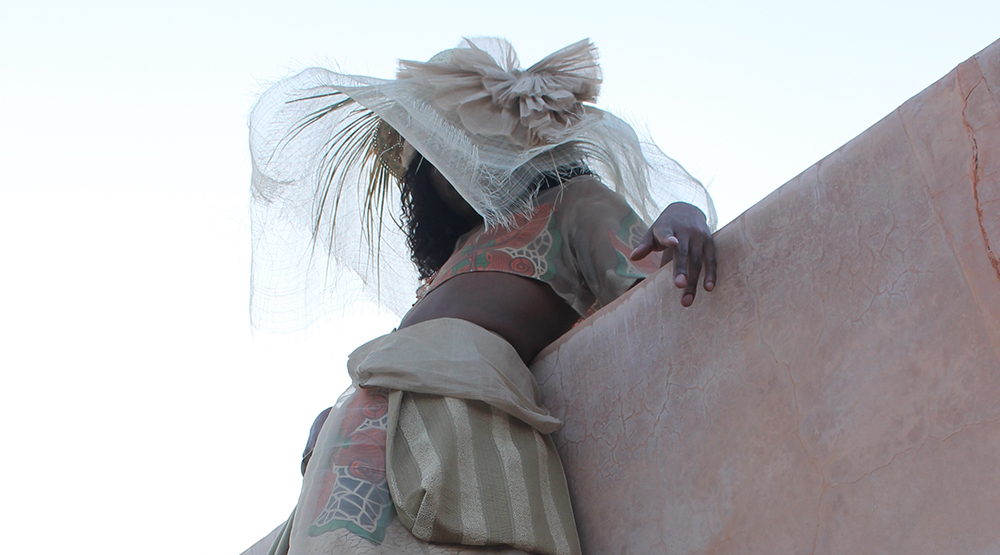 Adreain Guillory, Photo by James Prinz, School of the Art Institute of Chicago, 2019
When Claire Lyons was fifteen years old she started her own dance costuming business. Naturally, this is deeply rooted within her creative practice to this day. Working with experimental materials such as party ribbon and tinsel, she creates elaborate looks that reflect her love of design, pattern-making, embellishing pretty much everything and making people happy. Think of her work as the ultimate birthday party attire—intricate designs, voluminous bows, ruffle dresses, fury headpieces and party hats, and all the sparkle you can imagine. But behind the pops of bright pink, orange, and yellow, when the festivities die down, the party horn sounds fade away and the shiny wrapping paper is torn to shreds, one cannot help but look inward—and this is where Lyons' work starts making sense at another level.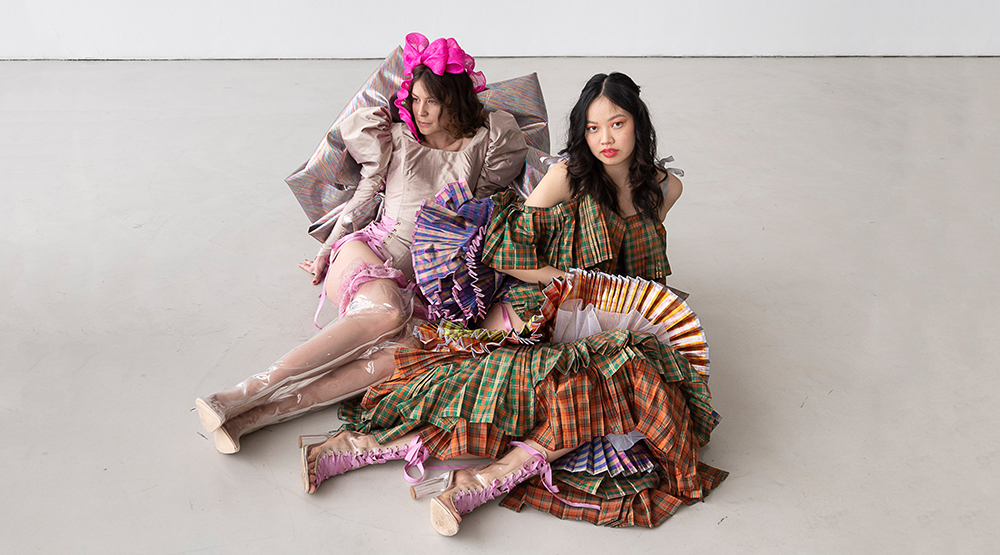 Claire Lyons, Photo by James Prinz, School of the Art Institute of Chicago, 2019
School of the Art Institute of Chicago (SAIC) Fashion Show + Exhibition 2019