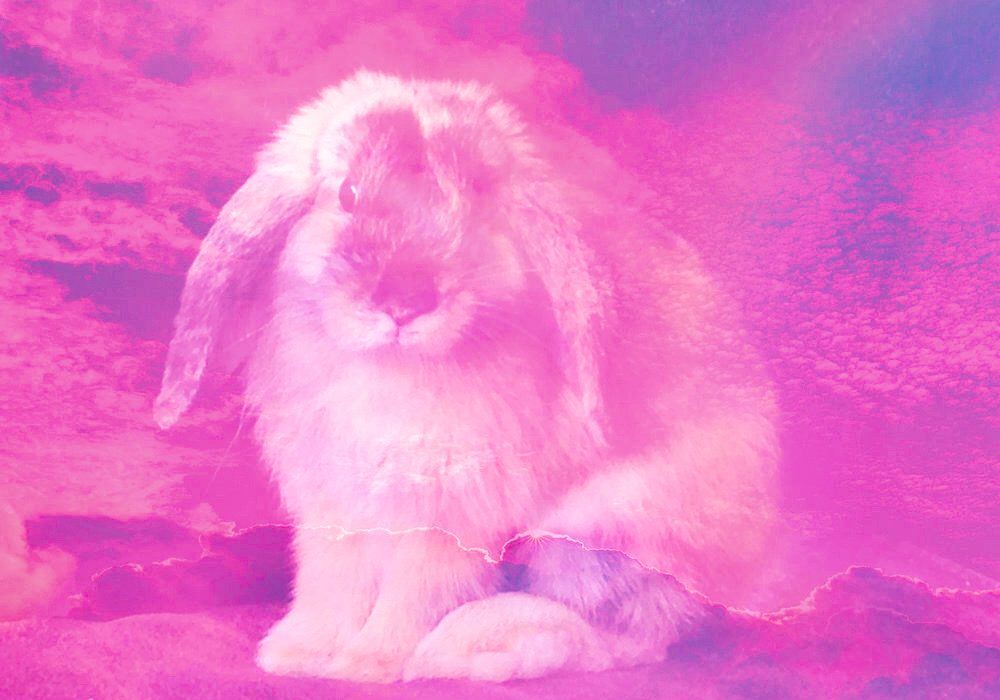 What Do Bunnies Dream About?
H ave you ever wished you could hear what your pet rabbit is thinking? Or imagined a life where your dog could talk? If the answer to any of those questions is yes, look no further. Crossing the Rainbow Bridge, Adrian Wong's first solo exhibition at Carrie Secrist gallery, will bring your wildest dreams to life. The artist has always been fascinated by animal communication. Looking for ways to deeper connect and understand non-human species, Wong, who holds a psychology degree fro Stanford University and now teaches at the School of the Art Institute of Chicago (SAIC), weaves together research psychology and spirituality. Between the real and the fantastical and with cats and rabbits as his helpers, he creates work that covers a wide spectrum of media—installation, video and sculpture—and is sure to leave you in awe.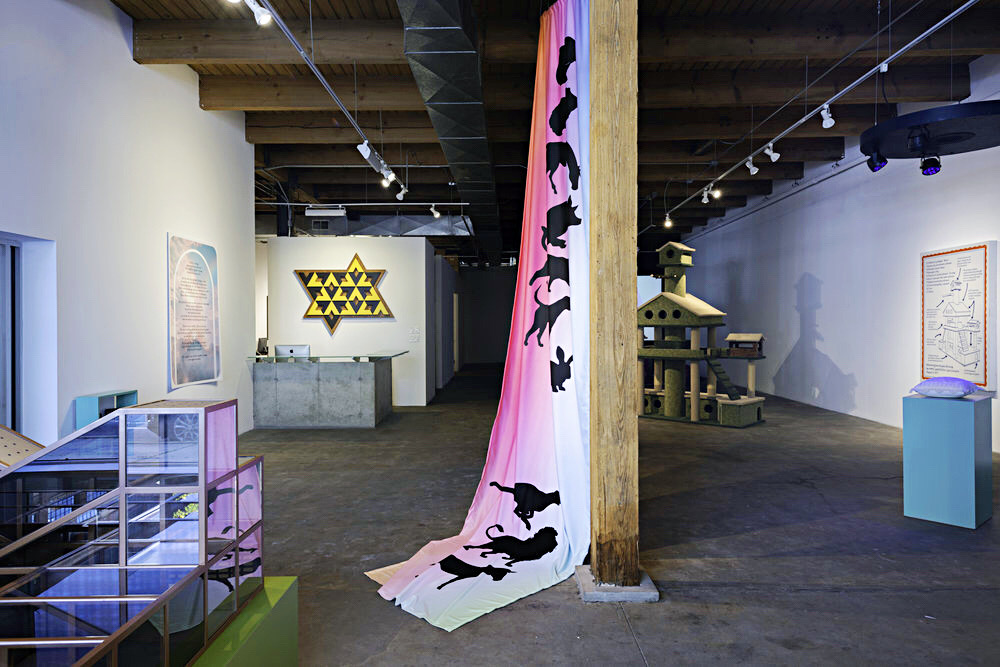 Adrian Wong: Crossing the Rainbow Bridge, Carrie Secrist Gallery by Nathan Keay
Have you ever wondered if your cat is dreaming? Twitching, snoring or even moving their tail or little paws around while fast asleep are all signs of REM sleep state. So is making unusual—enter: adorable—squeaking noises. But finding out what they're dreaming about is a whole different conversation. Cats don't usually keep a dream journal so pet parents will never know for sure what kinds of images, thoughts, sensations, or contemplations are running through their fur babies' minds during slumber. Right? Wrong! In Wong's multi-media piece a cat, a dog, three hamsters, and two rabbits offered up their dream journals for analysis. Yes, you read that correctly. By taking animals themselves as the subject of dream analysis, Dream Cosmography provides unique insights into the animal world. MDF, Teflon, steel, magnets, mechanical components are all part of the mix, and so is the coziest corner ever found within a gallery space: A makeshift living room complete with bright pink bean bag chairs sitting on a multi-colored area rug. One thing left to do: sink back and take it all in.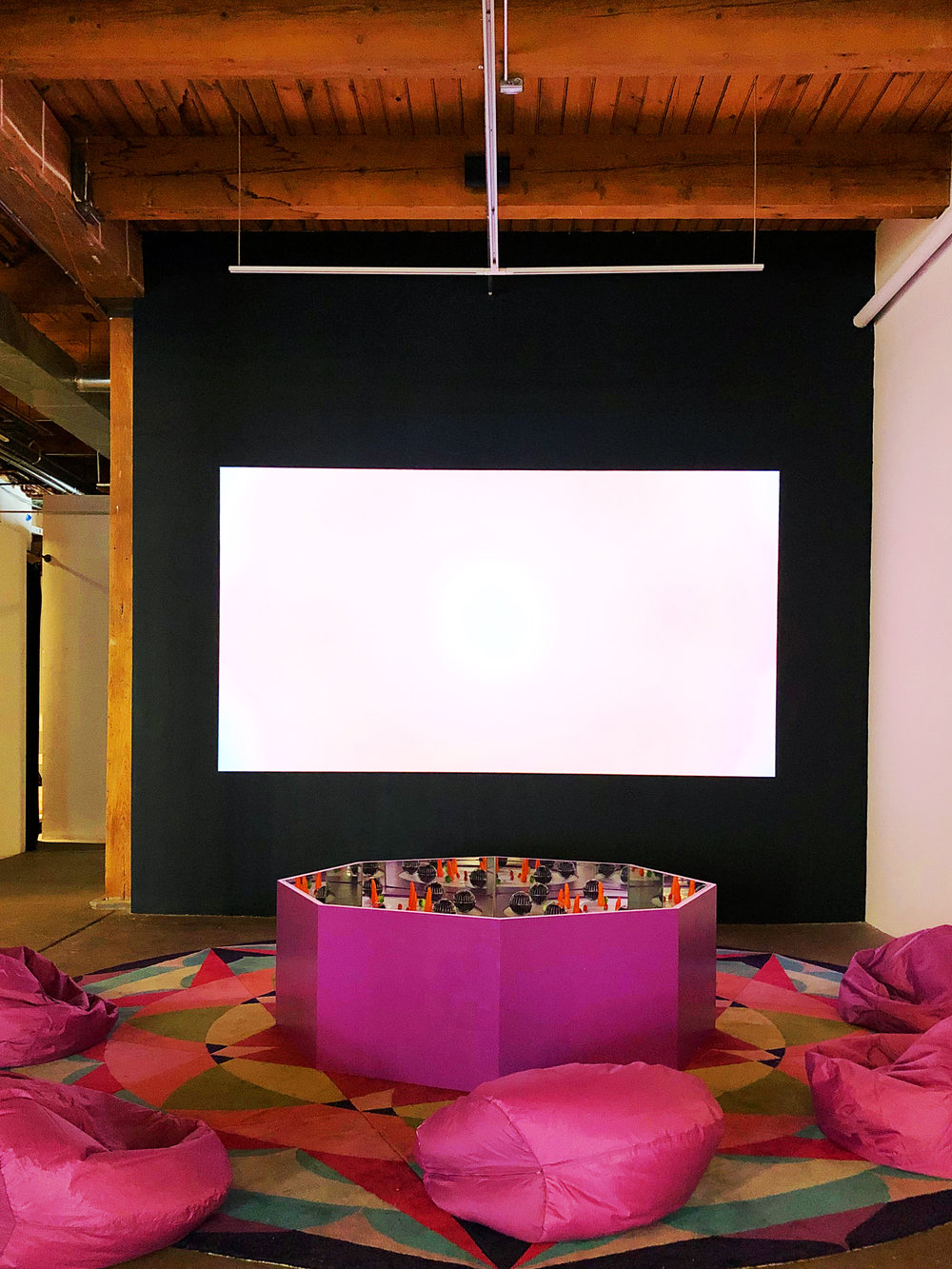 Adrian Wong: Crossing the Rainbow Bridge, Carrie Secrist Gallery by Vasia Rigou
When Wong's pet rabbit, Omar, died, the family was devastated. Seeking for comfort, the artist visited a Telepathic Animal Communicator in an effort to communicate with the rabbit and ensure that the transition (cross over) was peaceful. Those mediated conversations (some describe the process as receiving messages from beyond oneself in ways similar to how radio waves, wifi or satellite frequencies work), revealed that not only this had been the case, but that provided a vision of his current state: his soul in the form of a silky smooth white pillow. Embroidered with intricate designs, the small fluffy representation of the rabbit sits on a pillar display under a ray of violet light. The light and sound installation radiates serenity, tranquility and stillness—a proper tribute in memory of a loved one.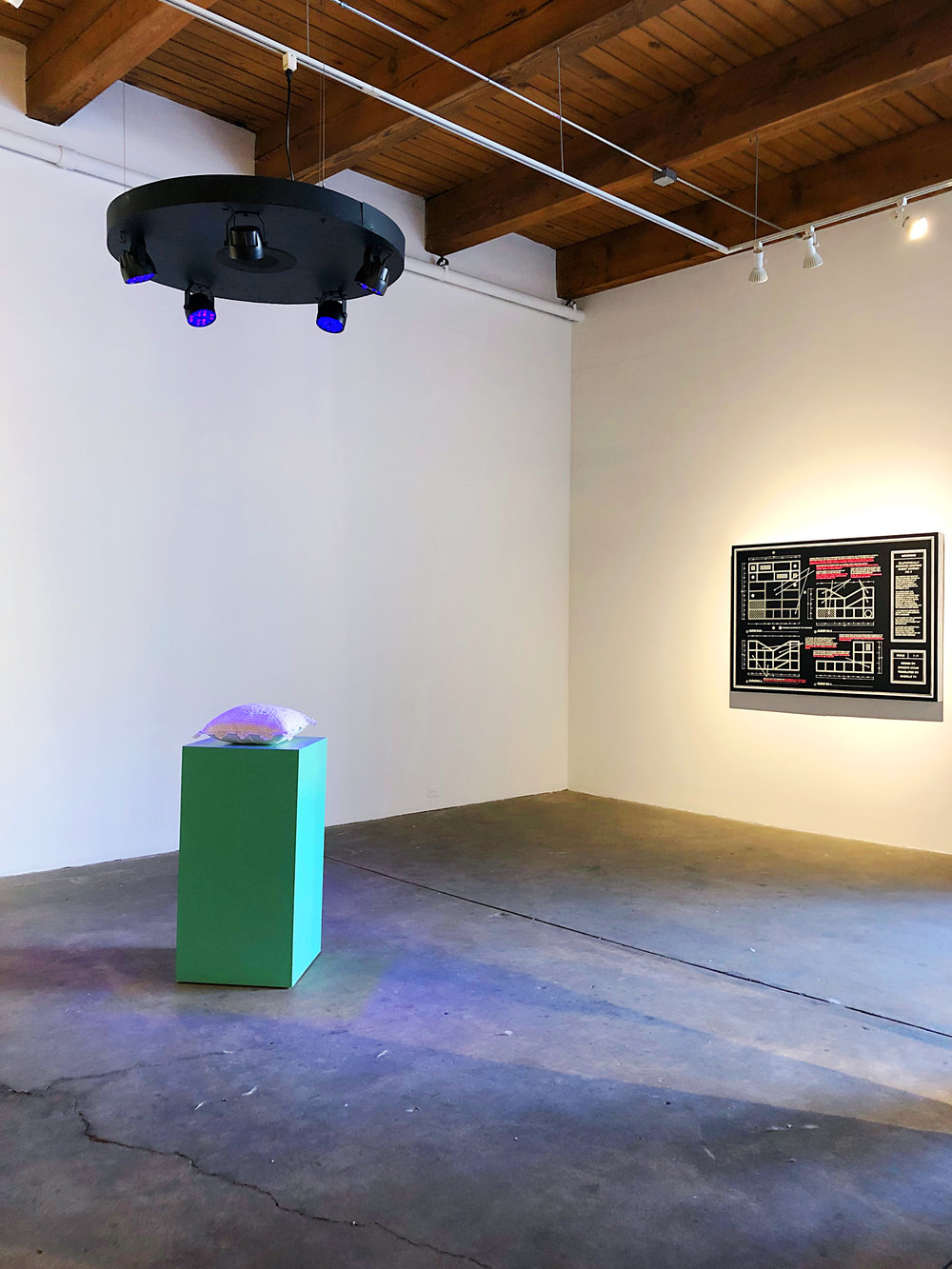 Adrian Wong: Crossing the Rainbow Bridge, Carrie Secrist Gallery by Vasia Rigou
THE HOUSE THAT SNOOPY BUILT
Allow us to explain two things first: the house is a kitty condo (also known as a kitty tree) and Snoopy is a piebald cat (also known a tuxedo cat). Now that you're all caught up, let's take a step back. Remember Omar, the artist's recently deceased Holland Lop rabbit? Well, as per those long mediated conversations facilitated by the Telepathic Animal Communicator, it turns out that in a previous life, Omar, was actually a piebald cat. You guessed it: Snoopy! The cat then proceeded to describe his ideal kitty condo—a design that Wong would later execute in a larger-than-life version. The  process was very hands-on, detail orientated, and driven by Snoopy's exact specifications: a room for exercise and play, a space for socializing, where cat friends would gather, a space for food and water (but no litter  box, because who needs their brand new home dirtied up when they can take their business elsewhere?!) and of course the private chambers—a space for private contemplation and napping. The three-story-tall structure also features high ceilings, several windows, built-in toys and ramps. Talk about kitty heaven.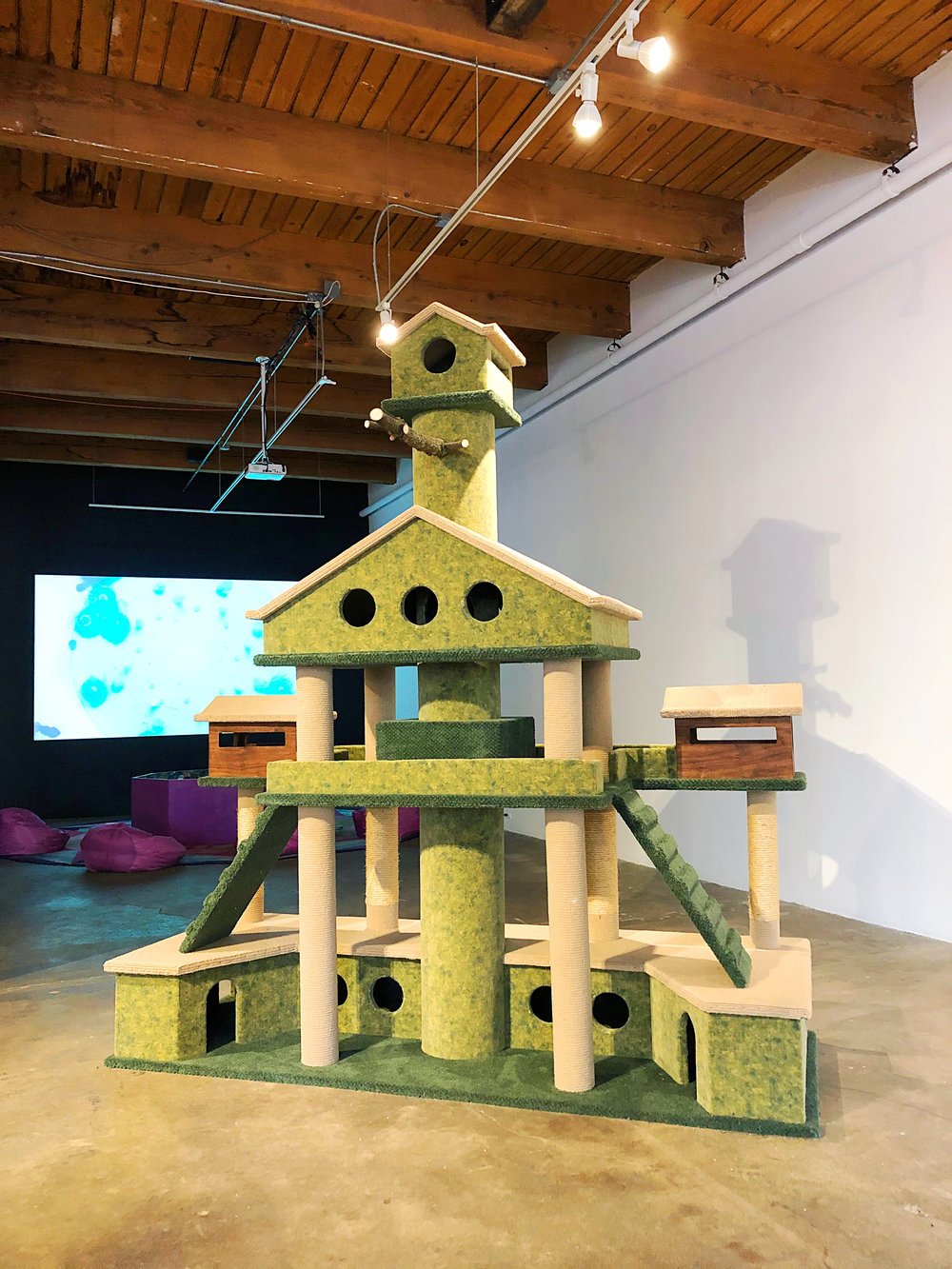 Adrian Wong: Crossing the Rainbow Bridge, Carrie Secrist Gallery by Vasia Rigou
Adrian Wong: Crossing The Rainbow Bridge