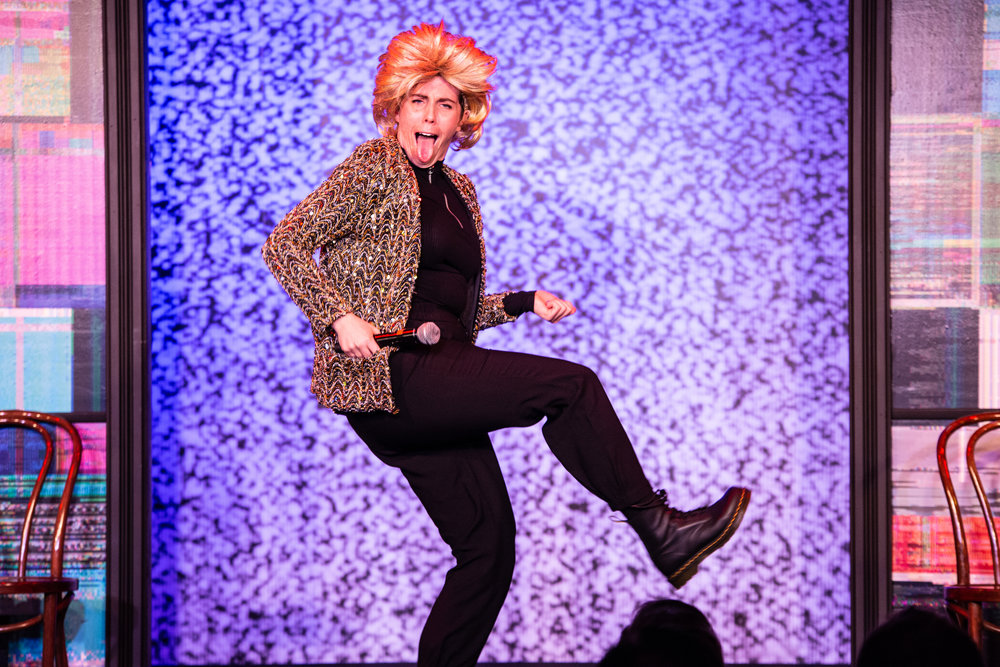 Chicago Theater: The Design Museum Takes Us Backstage
"Chicago's theatre scene is broad and deep, which is demonstrated through the dramatic detailed props and opulent costumes on display," says museum Founder and Executive Director Tanner Woodford. "From the first interaction with a show advertisement to the moment the stage dims to black, every experience in a theatre is impacted by design," he adds. "If successful, design establishes an exceptional experience for the audience, transporting us for a moment into someone else's story." To get a better idea of what's what, here are six of the 56 props most of which can be seen up close, touched, felt, even played with. You have till January 2020 to check out the remaining 50 IRL.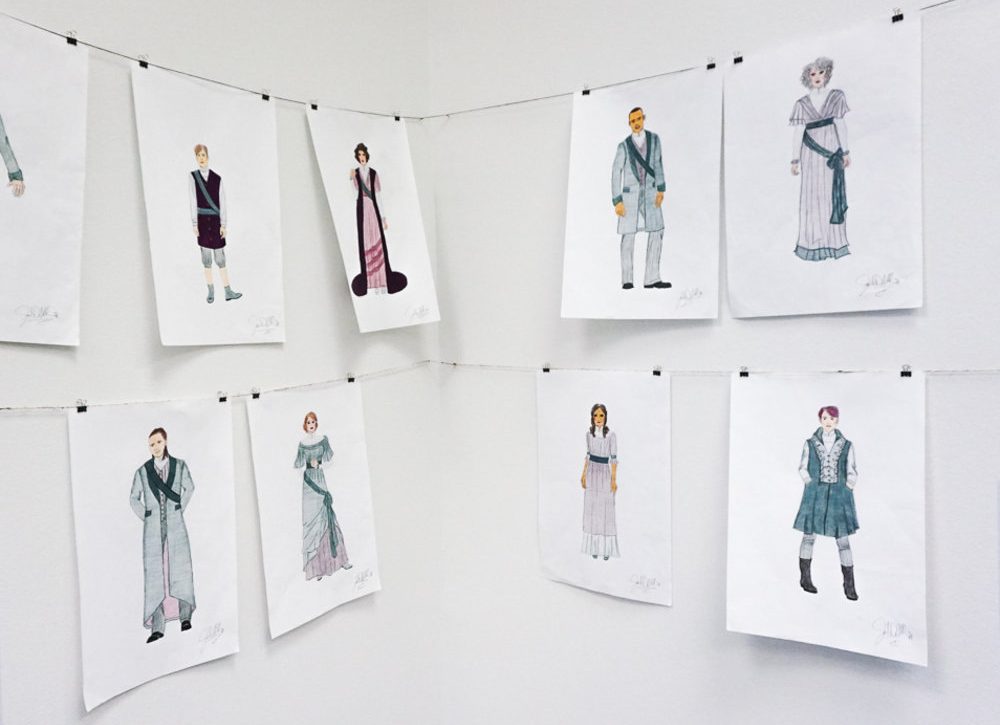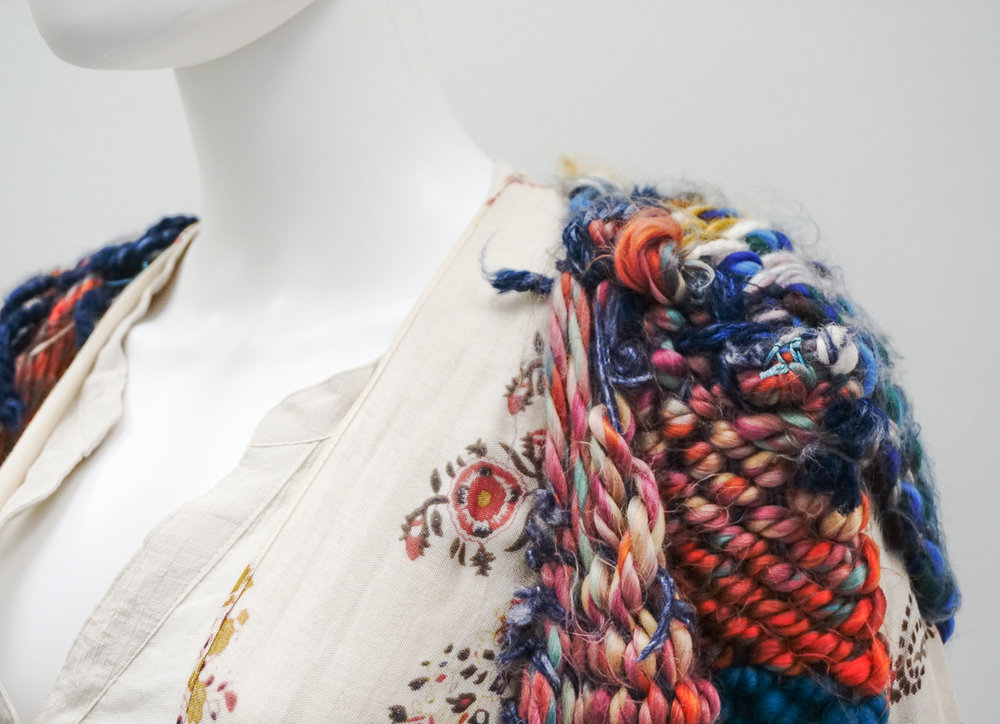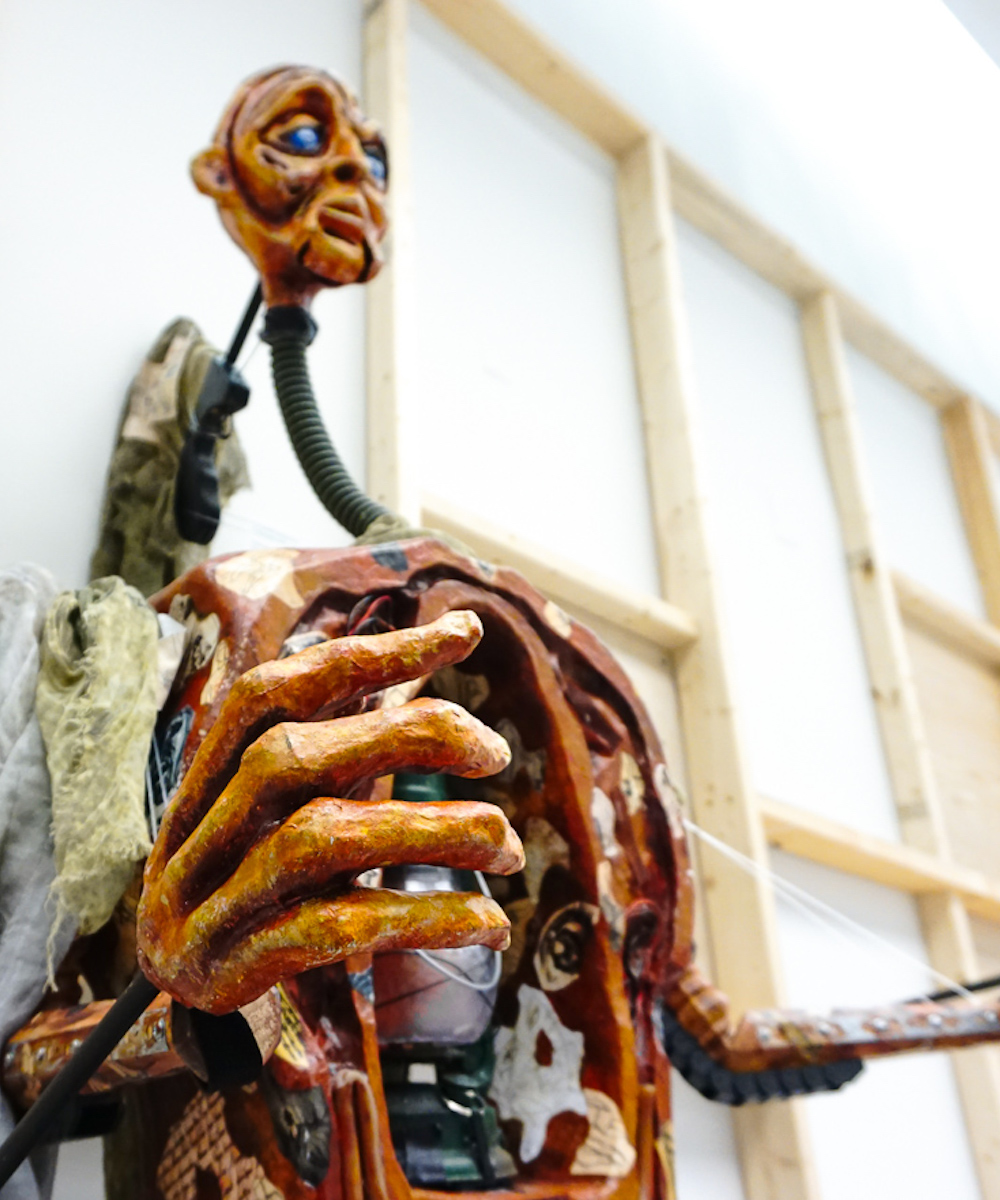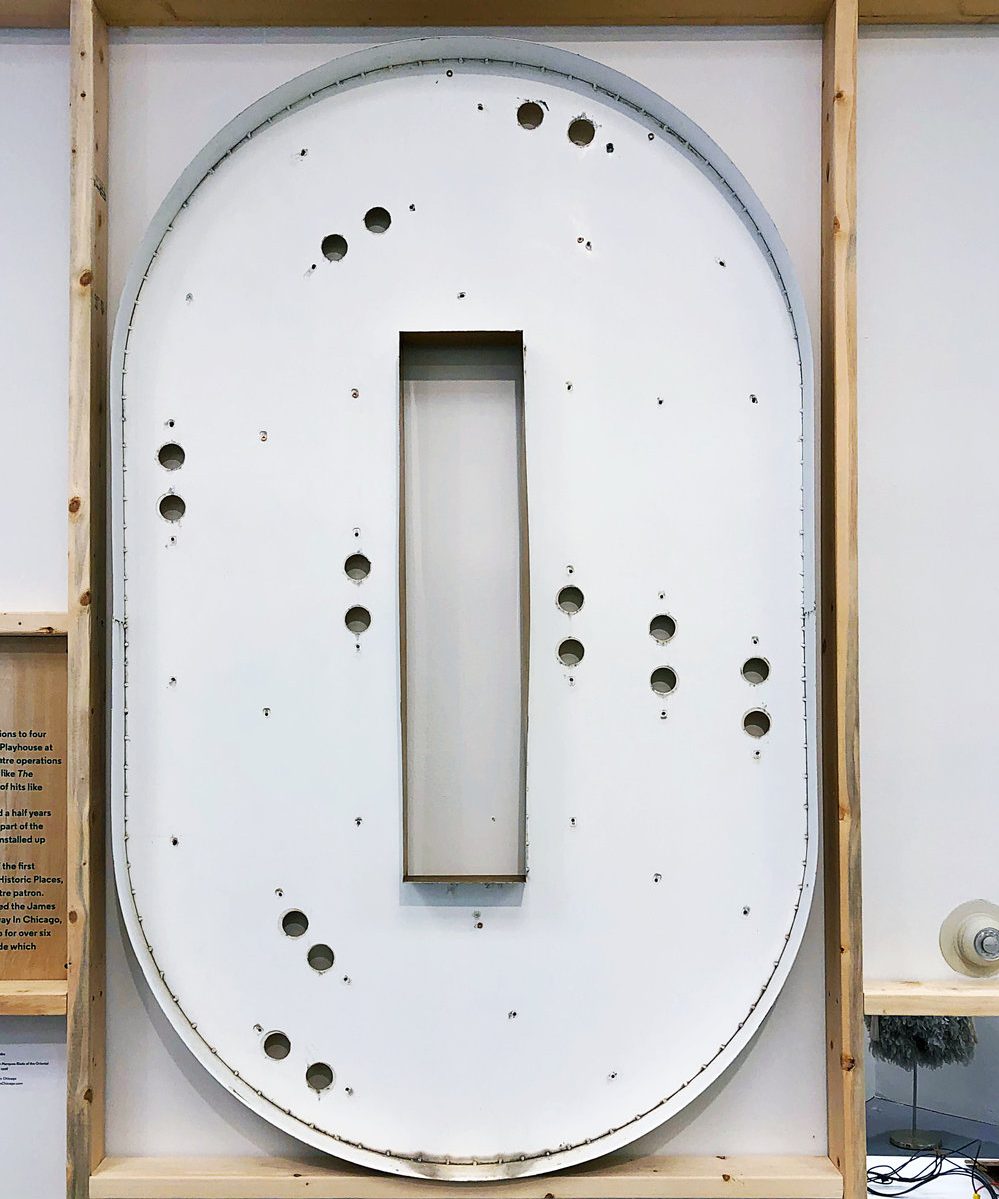 Setting the Stage: Objects of Chicago Theater, Design Museum of Chicago
THE O FROM THE ORIENTAL THEATER MARQUEE
It's the O. From Oriental—get it? Opened as a deluxe movie palace and vaudeville venue in 1926, The Oriental has been around for nearly a century catering to the city's live Broadway theater needs. Its name may have been changed—you can now call it The Nederlander—but we can all agree that the historic blade sign is a piece of Chicago history.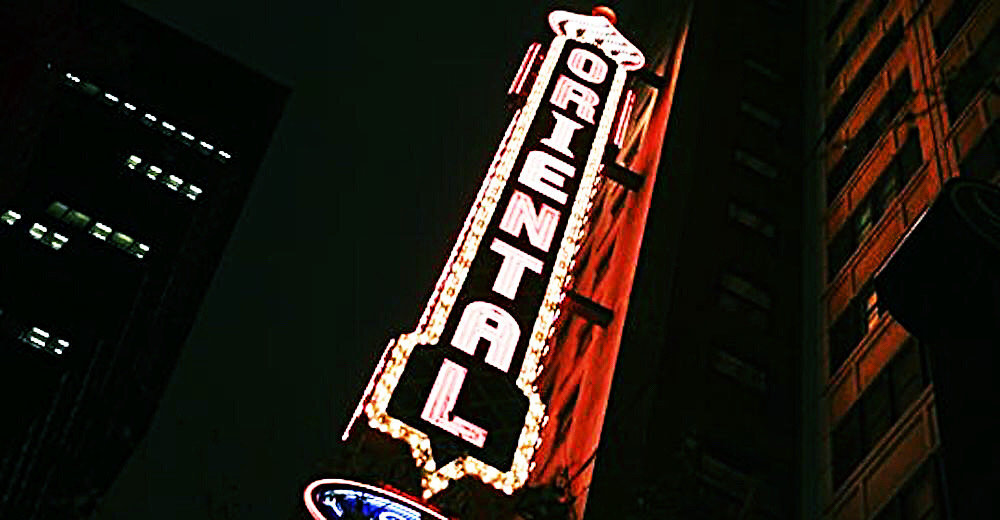 Oriental Theater
SECOND CITY'S LEGENDARY BLACK CHAIR
What do Bill Murray, Tina Fey, Stephen Colbert and Nia Vardalos have in common? Chicago's sketch and improv comedy theater company, Second City, of course. Known for its many famous alums—award-winning actors, comedians, producers, directors, and others in this business we call show—Second City has been around for 60 years. During this time, a lot has changed. But not their signature bentwood chairs. Rumor has it that the theater's founders bought the first 150 of them at auction for $1 a piece. Six of them served as the scenery on opening night in 1959. One of them is on view at this Design Museum exhibition.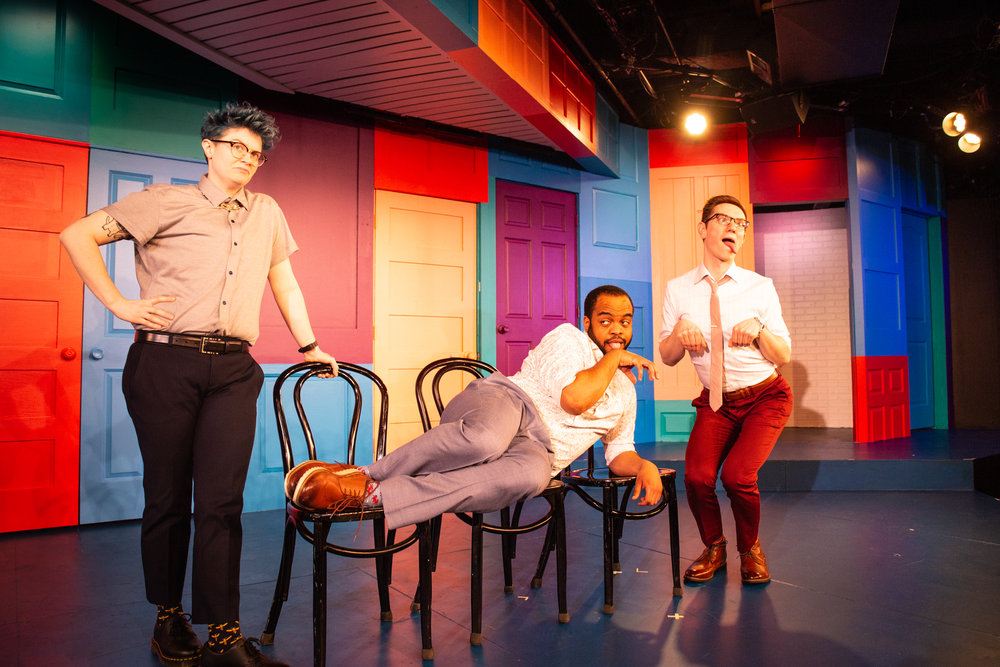 Second City, Grinning from Fear to Fear by Dawn Kusinski
THE JOFFREY BALLET NUTCRACKER DRESS
Part of the magic of the Joffrey Ballet of Chicago's holiday production of The Nutcracker, are the costumes. One of them is the ice blue princess gown that brings to life the Hans Christian Andersen original Snow Queen of our childhood—for the younger generation think Elsa from Frozen—only sparklier.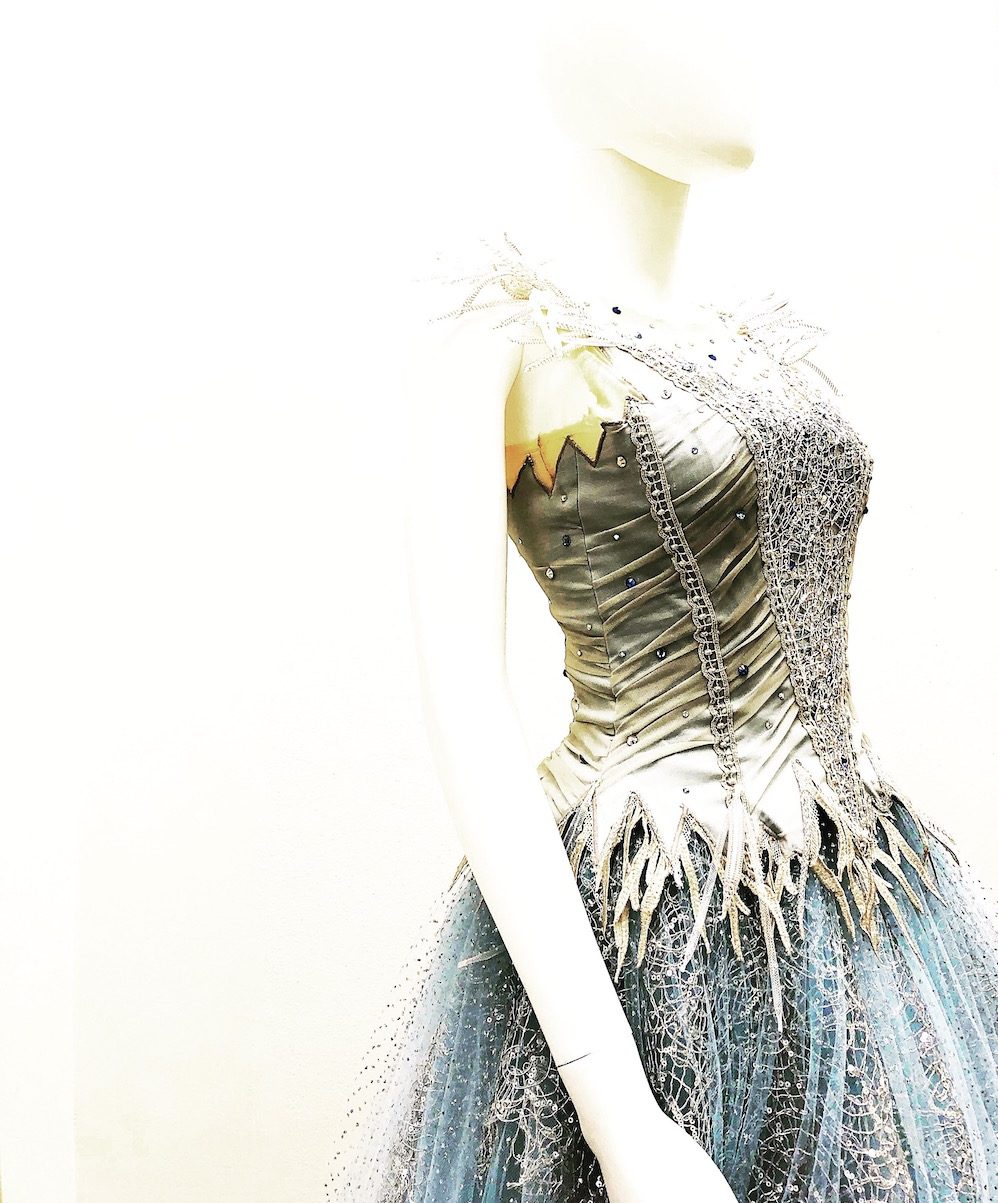 Setting the Stage: Objects of Chicago Theater, Design Museum of Chicago by Vasia Rigou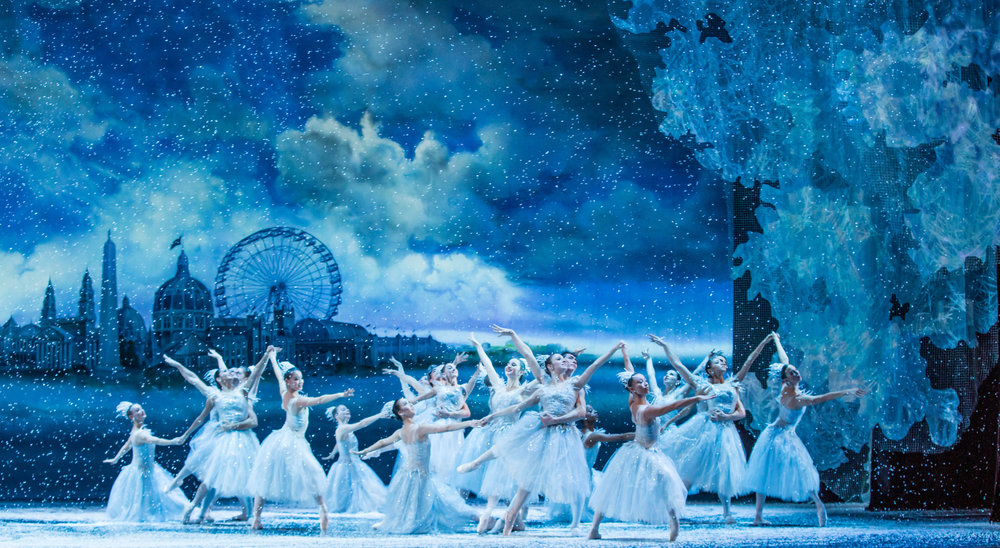 The Nutcracker, Joffrey Ballet by Cheryl Mann
A FRANKENSTEIN MONSTER COSTUME
To celebrate the 200th anniversary of the publication of Frankenstein, Lifeline Theater brought us an adaptation of the 1818 Mary Shelley novel featuring a human-sized puppet designed by Cynthia Von Orthal that will awaken your inner goth. It's alive!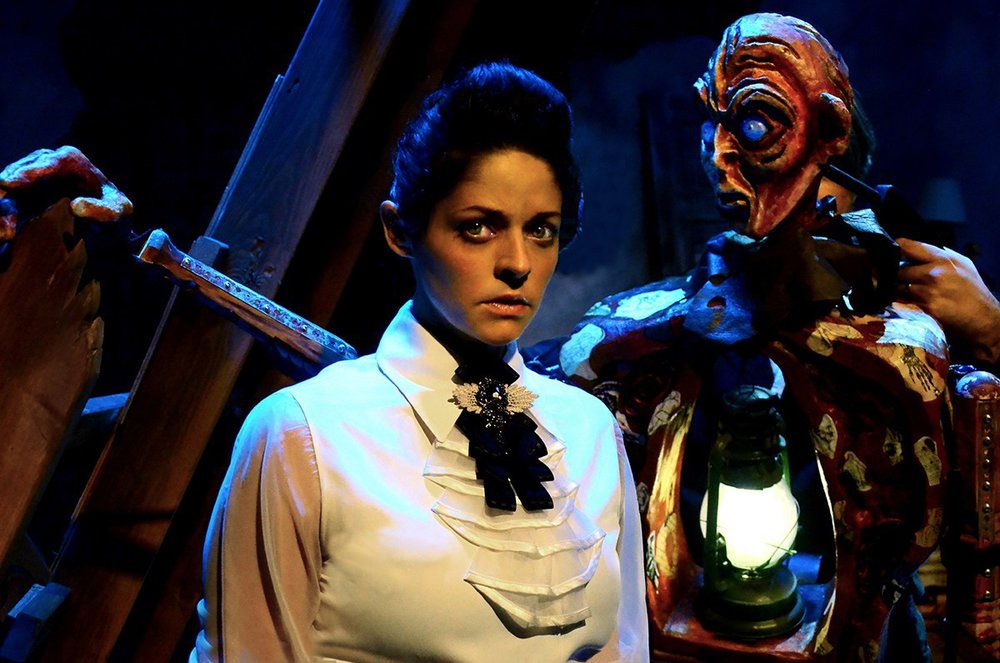 Frankenstein at Lifeline Theater, Ann Sonneville and Chris Hainsworth by Suzanne Plunkett
This larger-than-life head piece was meant to be worn over the actor's head—an intricately carved casque of sorts complete with a bright yellow cuckoo bird hanging out of it. The place where the clock should be is intentionally left hollow with a mesh wired screen to reveal the actor's face. It was one of  three created for Failure: A Love Story produced by the Loyola University Department of Fine and Performing Arts theater team.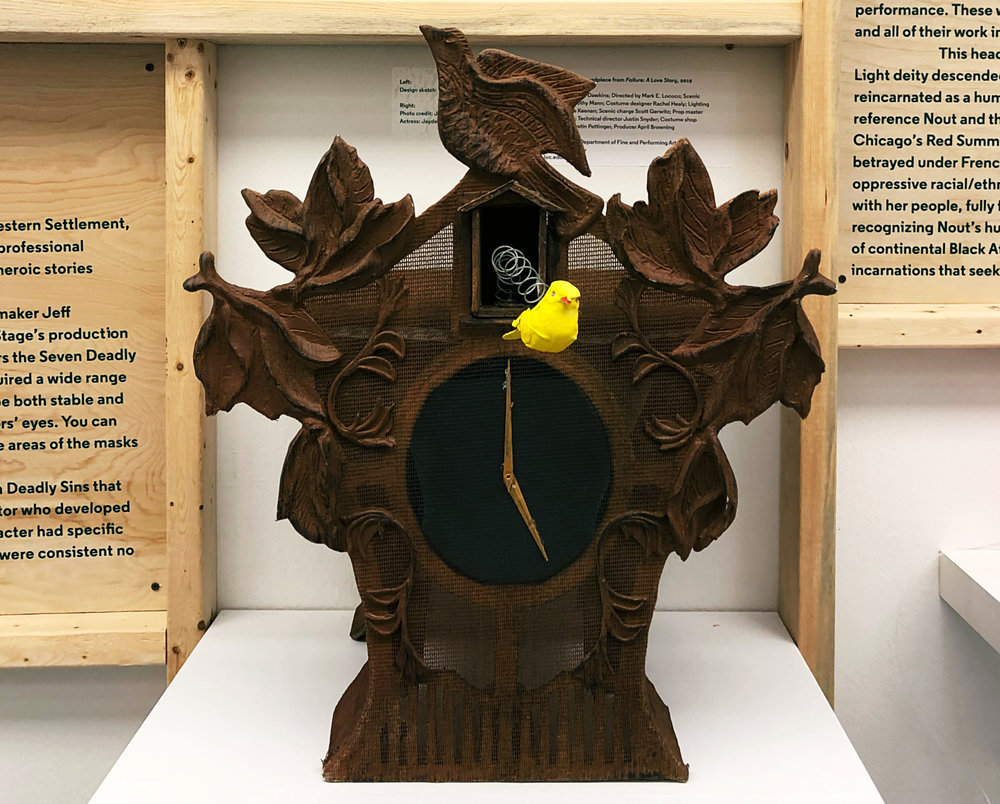 Setting the Stage: Objects of Chicago Theater, Design Museum of Chicago by Vasia Rigou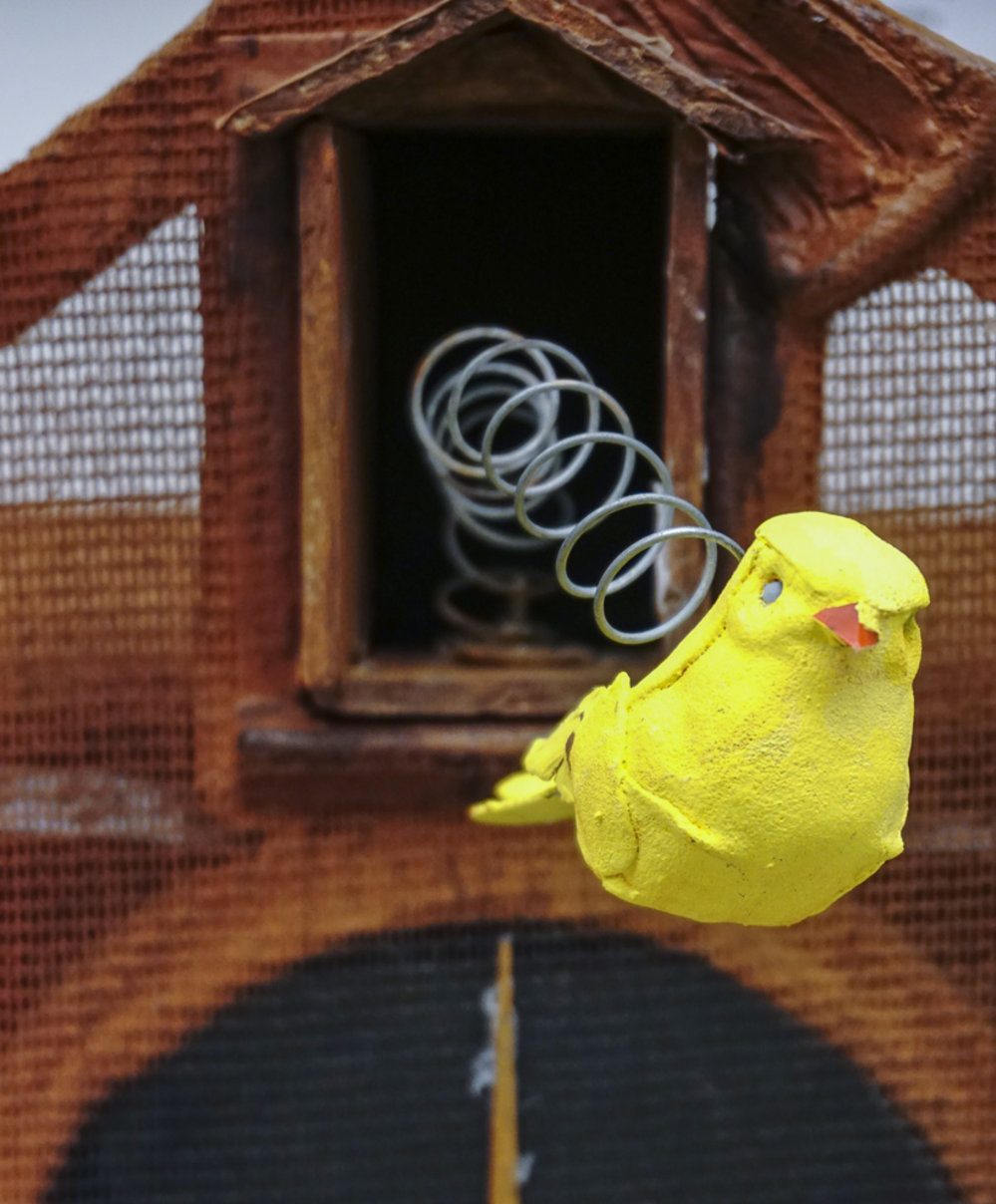 Setting the Stage: Objects of Chicago Theater, Design Museum of Chicago
AN ACTUAL HUMAN HEAD—SORT OF
Trap Door Theater is in reality a 45-seat converted garage. The inspiration behind it is Polish avant-garde, and its resident makeup artists embrace the same DIY vibe. So did Zsófia Ötvös for her first ever life casting—actor Mike Steele's head that was supposed to roll off during the decapitation scene of the play Vatzslav. Using silicone to make the outer layer of Steele's head and neck mold appear skin-like and a mix of artificial and natural hair, the result—staring right at you through the museum's glass display—gives a whole different meaning to "off with their heads."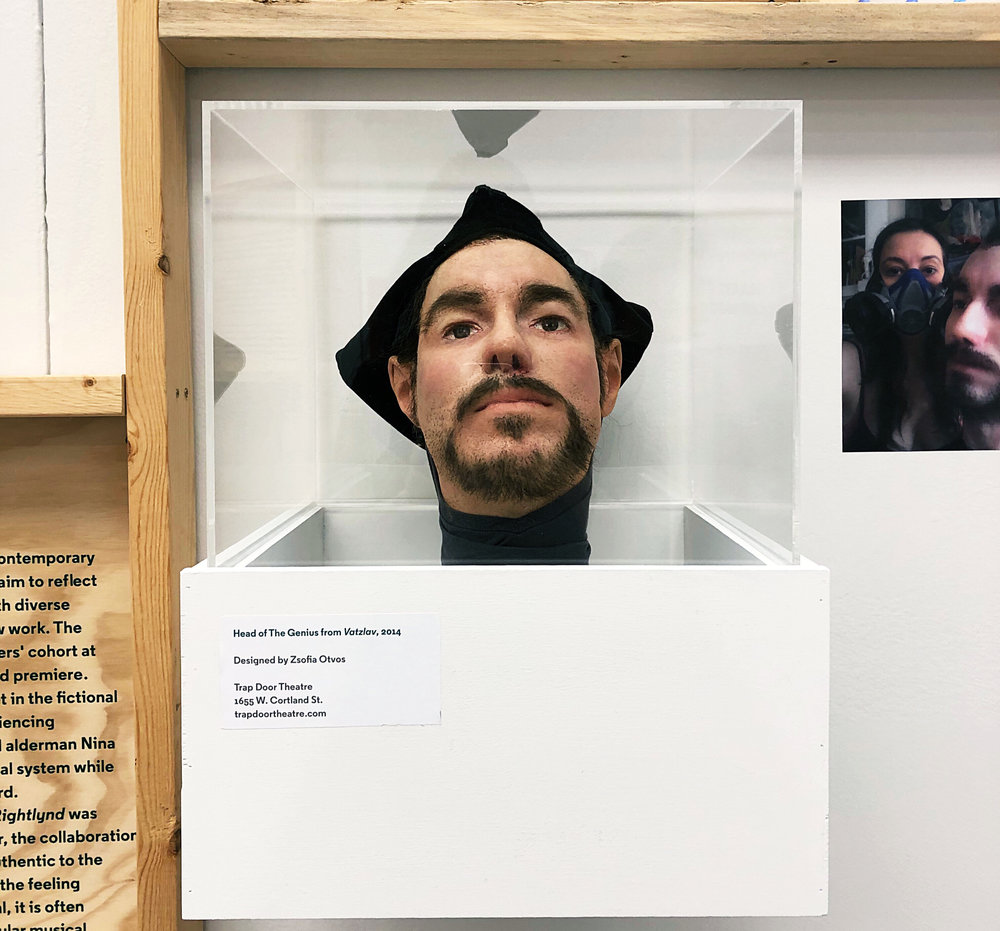 Setting the Stage: Objects of Chicago Theater, Design Museum of Chicago by Vasia Rigou
Setting the Stage: Objects of Chicago Theater