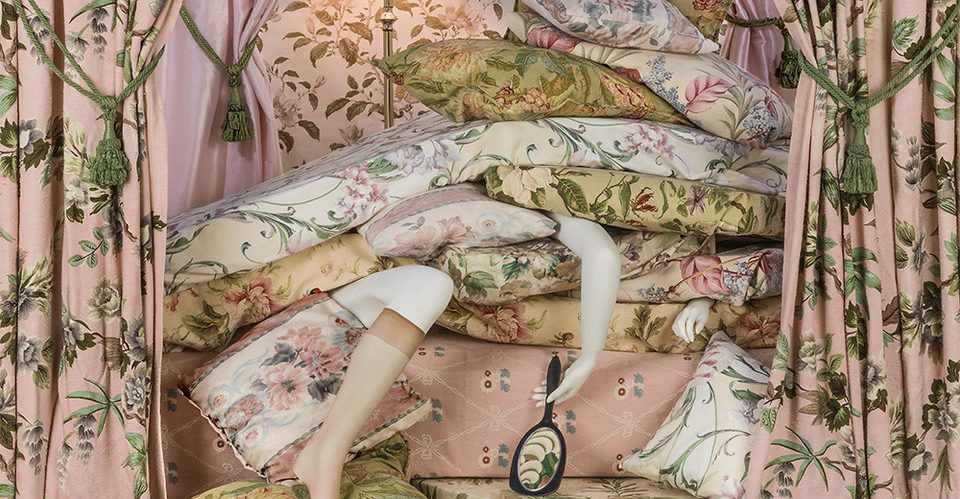 Hiding in Plain Sight: Meet Patty Carroll's Anonymous Women
Remember those years, back in the 1960s, when everyone's drapes and sofa perfectly matched? When the occasional chairs would duplicate the pattern, and throw pillows would look like cut-outs of the exact fabric the curtains were made of? Now add real, flesh and blood women into the mix.
Skillfully camouflaged in domestic decor —underneath layers of draped fabrics, behind curtains, under piles of pillows or twisted and tangled around telephone cords— are Patty Carroll's Anonymous Women, posing, yet concealing their face and identity, for a photographic series that critiques and satirizes those myths of claustrophobic perfection.
Blending into a surrounding chaos of elaborate patterned fabrics and domestic objects —books, teapots, toasters, lampshades, pillows, flowers, even fused into walls— female bodies create bizarre yet intriguing scenes, where playful humor meets serious social commentary. Domesticity, gender, identity, and the female psychosynthesis, are all at play at this colorful ensemble, where bright colored palettes, that vary from image to image, add yet another layer of highly saturated camouflage.
Exploring the complex relationships —both personal and cultural— existing between women, the home, and contemporary society, the artist forces the viewer to look harder and think deeper. Reconstructing space and notions of home at-large, Carroll's women make one wonder: Is home a place of serenity and harmony —a safe haven from the outside world— or a place of severe stress and agony existing within carefully designed furniture and perfectly matched fabrics? Are the women's projections a part of the decor because they are trapped in psychological obsessions and physical things, or simply a suggestion that one is merely defined by the environment within they exist? And is that  yet another glass ceiling to push up against?
Infused with a bizarre sense of humor, irony, and melancholic tones, Carroll's not-so-still lives not only make one rethink the place of women inside and outside domestic environments, but take it a step further, as some kind of psychotherapy that proves the loss of self is an essential step to its rediscovery.