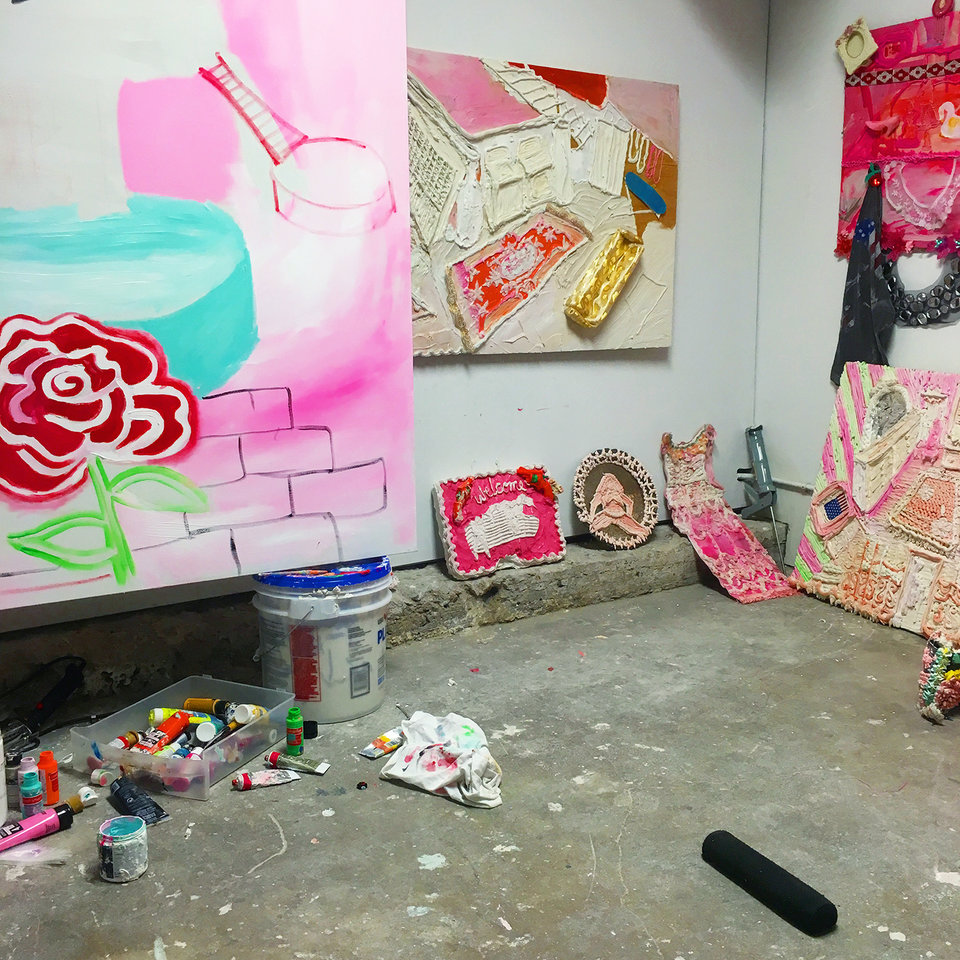 Politics, Race and Identity Inside Yvette Mayorga's Frosted Candyland
With exhibitions around the city, from the Chicago Artists Coalition (where she's currently holding a BOLT Residency,) to Roots & Culture Contemporary Art Center, the National Museum of Mexican Art, the upcoming "The Petty Biennial" at The Arts Incubator, and later this year, EXPO Chicago, Yvette Mayorga seems to be everywhere and it's hard not to notice. Her bold, in-your-face pink candy sculptures and mixed media installations negotiate issues of politics, race, identity, gender, violence, and Latin stereotypes observing the realities along the U.S.-Mexico borderlands—gates to an American Dream gone wrong. Here, she talks about life in the studio, inspiration wrought from large of amounts of caffeine and Latin, electro-pop sounds, and "Candy Lands" behind the scenes.
ON LIFE IN THE STUDIO
My studio is currently inhabited by six months of work living beautifully together. It's really full of work right now —my cake monuments are living in my studio next to new 2D work— and since deinstalling my solo show, "The Politics of Desire," the space feels alive again. As a BOLT resident at The Chicago Artists Coalition, I have been lucky to share my studio space with the other residents—a new community of artists to make work and share ideas with, and get feedback from. But after having five shows this March—and I'm really grateful that I've been able to show work in so many spaces this year— I have reached a point when I want to sit with the work and admire it for a while before I dive into making again —it's a really fruitful moment.
To me, the studio is a place of resilience —a safe space where I can coax out ideas, try new things, fail at something, and gloriously discover new work. I have to be extra caffeinated and be listening to music (Chicano Batman, Helado Negro, Bomba Estereo) in order to process ideas, and material. I'm not really a quiet person in the studio —my work materially demonstrates that— and my process is very similar.
The beginning of making work is an energetic process for me. Once I have finalized and sketched an idea, I begin stacking and piping. This has become a very therapeutic and ritualistic process. Piping intricate designs is very laborious, but over time it has become something very personal where I can be one with the material —it's so satisfying to see how it develops the idea visually and it always lends to new avenues.
My favorite part of making work is getting to the point when the decorative aspect begins —transforming materials through ornate embellishment. Weirdly enough, my other favorite days are the days where I begin to test out a new idea and it falls apart —literally! I stumble on a jar of glitter and spill the entire thing, and then maybe spill a little paint. I begin to feel like giving up, but I push through and eventually the idea becomes grander and executed in a manner I could not have imagined —that to me is a successful studio day. But I definitely I have equally exemplary days outside of the studio, like when I scavenge for materials. Looking for objects that are reminiscent of my childhood and culture are like looking for the missing puzzle pieces. That's exciting: Going to thrift stores or the textile discount outlets and becoming amazed with a material or object that really speaks to me.
ON INSPIRATION BEYOND BORDERS
I have always been exploring the idea of immigration and conflict at the border in my work, but I think it took time, realization, and research to get to the place I am now. I remember looking through family archive polaroids in high school and recreating images of birthday parties of my family in Chicago and Mexico from the 1970s. I think back to then when I wasn't inherently sure why I was captivated by my personal history, something I can speak of now.
Growing up, I always heard my father's stories of immigrating to the U.S. from Mexico almost 50 years ago, or what life was like for him when he first arrived in America. He held many labor-intensive jobs like strawberry picking and washing dishes. These stories painted a picture of a life that I could only relate to through story telling. They also gave me a strong sense of urgency to further my education in order to eventually be able to tell my family's story through art making. That's how it all began: As a means to grasp the narrative and experience of my parents history, through art and the materials I use.
I never had to cross the border. I was privileged enough to be born in America. But the histories of having ties to Mexico, the border, and now America, have become intertwined in my work as a framework to continue to research what the American Dream is to my family and me. My current projects have begun to dip deeper into the idea of the political home. As the earlier work talked about the site of the border as a reference point, my current work is depicting life after crossing. Asking questions such as: What do immigrants homes look like? What does state invasion feel like? What objects get collected in order to signify wealth and the attainment of the American Dream? I am interested in how the home I grew up in can be a site where the border lives within the objects and fragments that get collected.
The current political climate in America has given me the urgency to create political work, but what's particularly interesting, is that this work began in 2013 and has continued since. I think with or without the current president I would still make the work I do — issues of immigration and marginalization of the body have long existed before this [Trump] presidency. It may look like the shift in attention has created a feeling of "timeliness" in my work, but we have to remember that America's history has long stemmed violence pre-Trump.
ON WHAT'S COMING UP
I'm thinking of ways of transforming the everyday objects that get collected in the home. Objects from the Dollar Store that excessively pervade the home as a signifier of wealth has been something I'm heavily experimenting with in my new work. How can the objects be transformed in order to critique the way American consumerism creates a trap of excessive labor in order to attain the American Dream?
Currently, I have work at the National Museum of Mexican Art for the group show, "Memoria Presente." I will be showing in May at The Arts Incubator's "The Petty Biennial," and I'll be participating in an artist-in-residency program at The Fountainhead Residency in Miami this June. Lastly, I have been invited by the Chicago Artists Coalition to show work at EXPO Chicago curated by Janine Mileaf, in September.