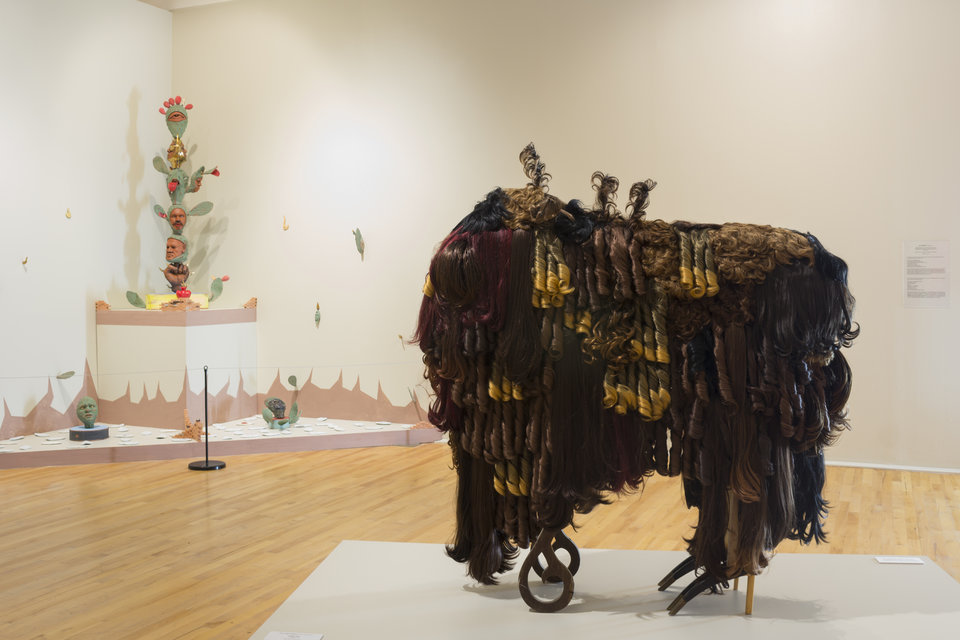 Celebrating the Past, Present and Future Chicago and Mexico
For its 30th anniversary, the National Museum of Mexican Art (NMMA) brings together works of thirty established and emerging artists to celebrate their past, present, and future Chicago and Mexico, old and new. In a collaborative environment of diversity —creative and otherwise— "Memoria Presente" is a multicultural showcase of communication and creativity, illuminating the museum's philosophy of a Mexican culture "sin fronteras" ("without borders".)
The exhibition includes Yvette Mayorga's frosted candylands ("Make America Sweet Again",) Rodrigo Lara Zendejas' human-shaped, hanging clay sculptures ("Danza de los Voladores of Papantla",) and William Estrada's "Mobile Street Art Cart" ("El Carrito,) used to physically bring art directly to Chicago's South Side streets and neighborhoods. Elsewhere, Jorge Lucero provides documentation to whomever might need it simply by inviting them to rip a blank page out of  the books he provides, and Sam Kirk puts together Frida Kahlo and Chavela Vargas to create "Lesbian Gothic." Miguel "Kane One" Aguilar brings graffiti onto the gallery walls, and Salvador Jiménez-Flores critiques issues of immigration and identity by occupying a gallery corner with human-like cacti installations ("The Resistance of the Hybrid Cacti".) It is a futuristic take on Mexican culture indicating persistence and survival under extreme circumstances inspired by the plant's distinct qualities..
The colorful ensemble of Mexican, Latino, and Chicano culture from both sides of the U.S.-Mexico border spans across media (graffiti, installation, painting, and sculpture among others,) and across generations providing a great sense of community, awareness, and understanding—a socio-cultural mission of the museum since its opening in 1987. An integral part of the Pilsen neighborhood and the city of Chicago at-large, the NMMA provides an extensive series of programming, community-oriented events, and hands-on activities. Think carving and printing your own hybrid, cactus-head print inspired and guided by Salvador Jiménez-Flores, or joining artist Eric J. Garcia as he presents 60 of his relevant political cartoons in 60 minutes ("60 in 60",) to raise awareness on socio-political issues of contemporary life.
"Memoria Presente" is distinguished by well-balanced social, political, and aesthetic sensibilities. Keeping one foot in the past by remembering and respecting cultural heritage, and one in the future, by allowing younger, emerging artists the freedom of experimentation and ability to push creative boundaries, it remains true to its nature (it is An Artistic Journey) and to the museum's initial aspiration to create a Mexican culture "sin fronteras" ("without borders".)  Mission accomplished.