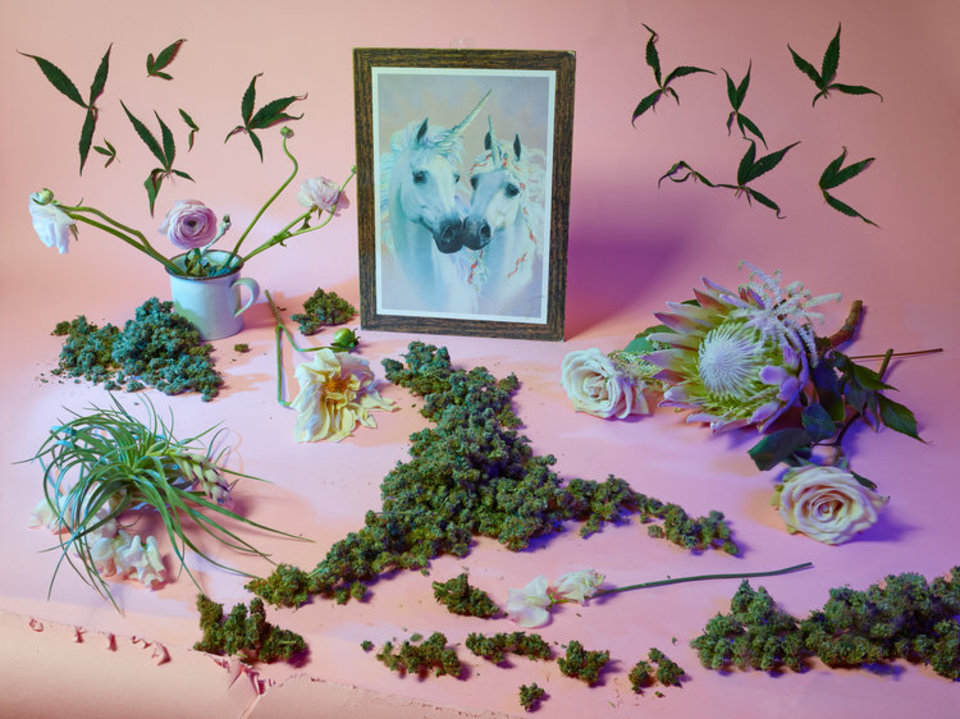 Girl Play: Exploring Photography, Marijuana and Womanhood
In a mixture of portraits, still lifes, and landscapes, topped off with a generous dash of autobiographical elements, Marzena Abrahamik, created the works for "Girl Play," which seeks to capture glimpses of intimacy, femininity, and the human condition. The Poland-born, Greece-raised photographic artist, places emphasis on relationships between women and nature and contemporary society at-large, in an effort to redefine social norms of creativity, female connection, and entrepreneurship.
Her practice focuses on both observation and presence. Portraying female friendship —sisterhood— through her camera lens, Abrahamik, provides an in-depth view of women and the Home—a reflection of their inner Selves. Women and the domestic sphere are the  prominent subject matter —a private, feminine domestic world of hazy atmosphere and seminude women relaxing in bathtubs or lounging on floral-cushioned couches, surrounded by unicorn framed pictures and closeup shots of marijuana buds and plants.
Exploring the power dynamics between photographer and subject, she creates highly-staged, behind-the-scenes photographs that elude a dreamlike quality. Meticulous lighting and attention to detail add to the dramatic essence of a work that evokes complex themes such as feminine vulnerability, identity, sexuality, and representation—explorations of which are a source of empowerment for Abrahamik. But she keeps pushing the creative boundaries even further. Challenging the orthodoxy of the traditional genres of portraiture, landscape, still life, and the nude, the artist draws unexpected  connections among photography, marijuana, and womanhood.
Moving beyond the stereotypical portrait of "stoner bros," a cultural representation overflowing the media and pop culture, she's not trying to contextualize the image of the female "pothead," rather, she casts marijuana as another source of female connection, empowerment, and inspiration. At a time when cannabis legalization is slowly becoming a reality that changes the socio-economic landscape, the artist seeks to trigger the next generation of female entrepreneurs —the next generation of cannabis industry leaders. In a market still young, where gender-workplace barriers women traditionally encounter haven't yet been established, comes a new opportunity for them to flourish and define their own destiny, without having to worry about breaking another glass ceiling.
An ethereal, yet multi-layered take on contemporary Americana, femininity, gender stereotypes and the human body, "Girl Play," has almost cinematic qualities —every photograph tells a story of its own. As a result, Abrahamik, does eventually reclaim "girlness" from the control of a male-oriented society with a body of work that takes seriously the presence of girls in contemporary art —both as artists and as subjects.