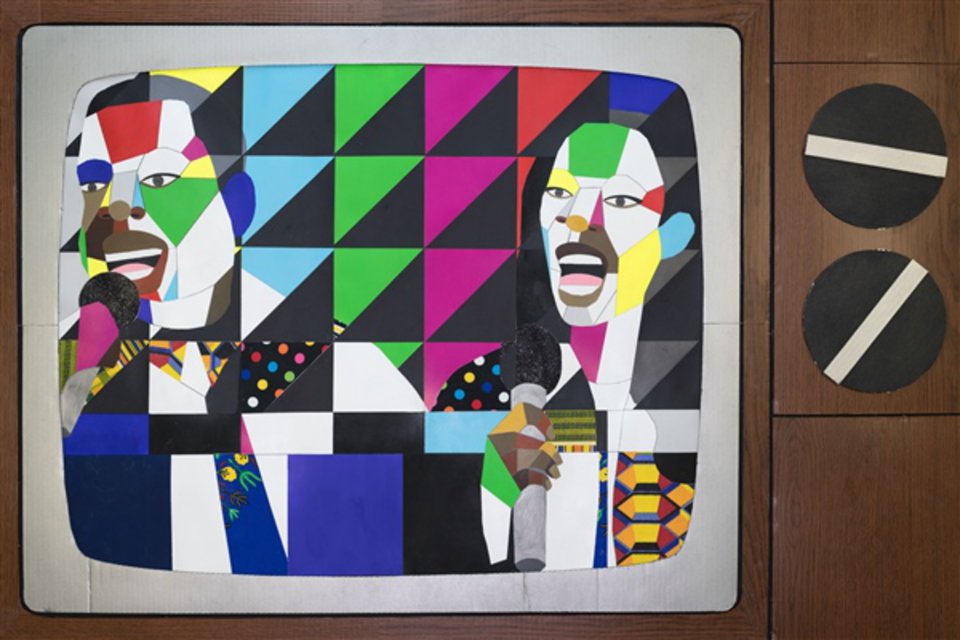 See Derrick Adams Live and in Color
Simulating SMPTE color bars on vintage TV frames made out of cardboard, New York-based artist, Derrick Adams, uses life-sized mixed media installations to examine issues of self-image, urban culture, consumerism, cultural appropriation, and the portrayal of the African-American experience in the media. Sourcing material and inspiration from American TV shows, movies, and commercials of decades past, he gives popular and visual culture a cartoonish spin —think highly animated figures, bold colors, geometric shapes, and elaborate patterns.
Some of his characters are portrayed singing, mic in hand, others wear elaborate clown makeup, and others simply pose—big hair, big smiles— for an imaginary camera. All figures emerge from a trippy, hypnotic rainbow, courtesy of the SMPTE color bars in the background. The cherry on top is the work's ironic and playful titles: Say it Loud, Fight or Flight, We're Still Here, Send In The Clowns, You've Been Served  and Mississippi Goddamn, to name a few —the artist's way to criticize the interplay between mass media and cultural identity and, more specifically, the objectification and misrepresentation of Blackness.
Through experimentation and improvisation within a multidisciplinary practice that spans drawing, sculpture, collage, performance, and video, Adams continues to bring important cultural and socio-political issues to the foreground. In the worlds he creates, colors are sharp, people are vibing but nothing is quite as it seems. Following the same theme, his "Live and In Color" series is bound to explore and celebrate the complexities of American Black life, proving that, in a media-saturated society, caricatures of life as we know it will always have the power to perform serious social commentary.