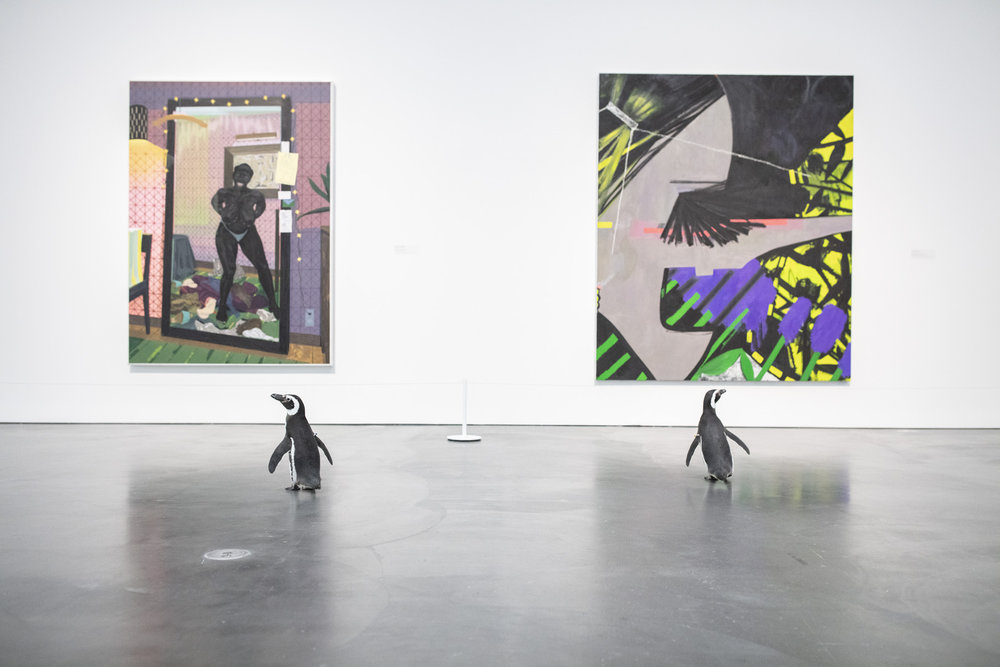 Penguins Go to the Museum and You Should Too
A s we continue to stay at home, two penguins had the time of their lives at the Museum of Contemporary Art (MCA). Escaping their usual habitat, Shedd Aquarium, for a day, Izzy and Darwin went on a culture-filled field trip—complete with a private tour of the MCA's latest exhibition, Just Connect. But this is not the first outing of the sort for the adorable penguin duo. Earlier this year, they became a viral sensation after snapping a picture with Field Museum's resident dinosaur, SUE the T.rex—a 40-foot-long fossil that is the most complete T.rex skeleton ever discovered. "Birds are modern, avian dinosaurs, and that includes penguins like Izzy and Darwin," wrote the Shedd Aquarium in an Instagram post. "They evolved from the theropod dinosaurs like the T. rex."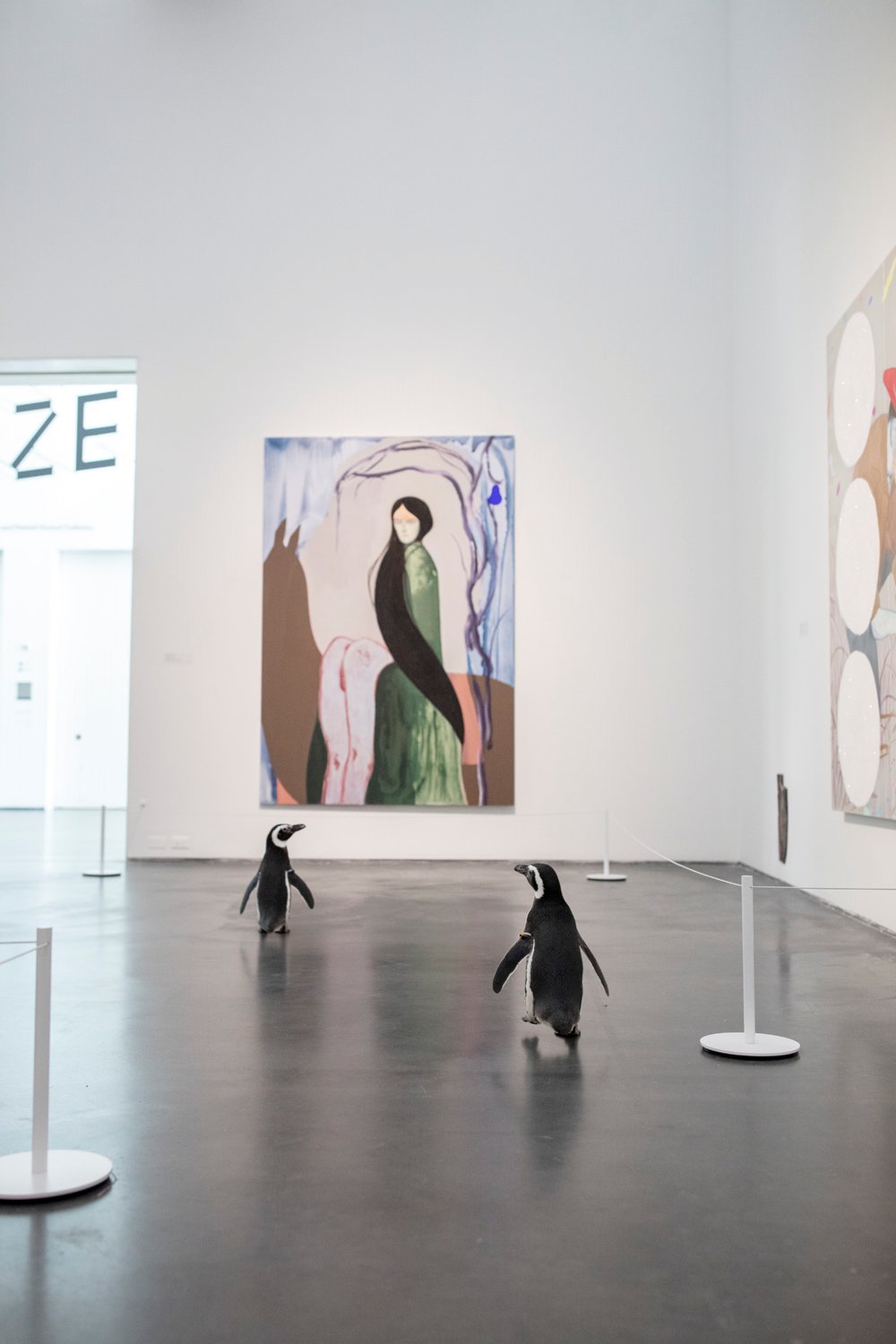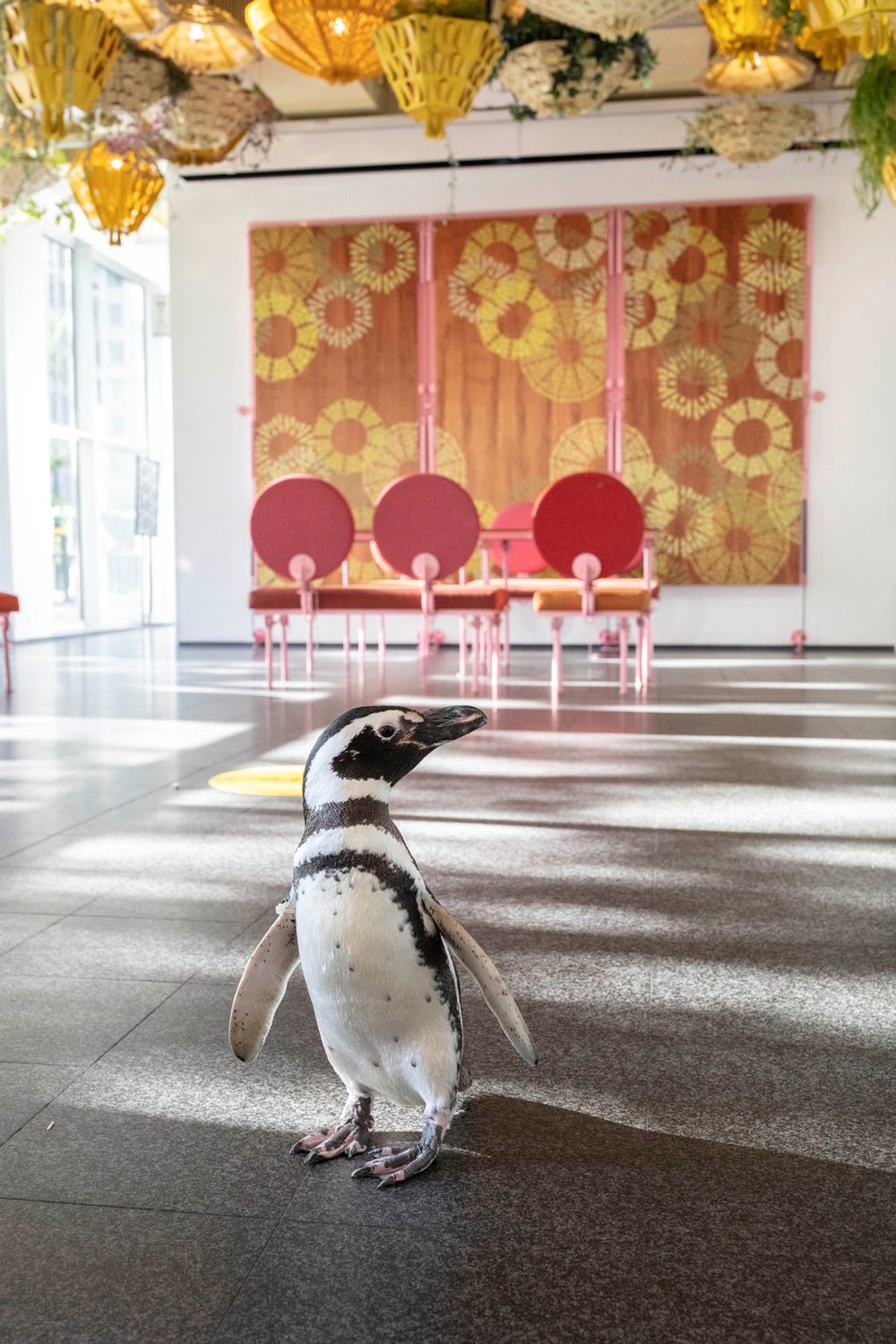 Shedd Aquarium Penguins at the MCA © Shedd Aquarium/Brenna Hernandez
Izzy and Darwin belong to the Magellanic penguin family, a South American species breeding in coastal Patagonia. More specifically, they are found in the waters of the Magellan Strait, which separates mainland South America and Tierra del Fuego, and take their name after the Portuguese explorer who was the first European to discover both. They are known for their black body and white belly that provide a convenient countershading so they can avoid predators and hunt prey while swimming: When seen from above, a penguin's black back blends into the dark ocean. From below, its white stomach is camouflaged by the light from the sky.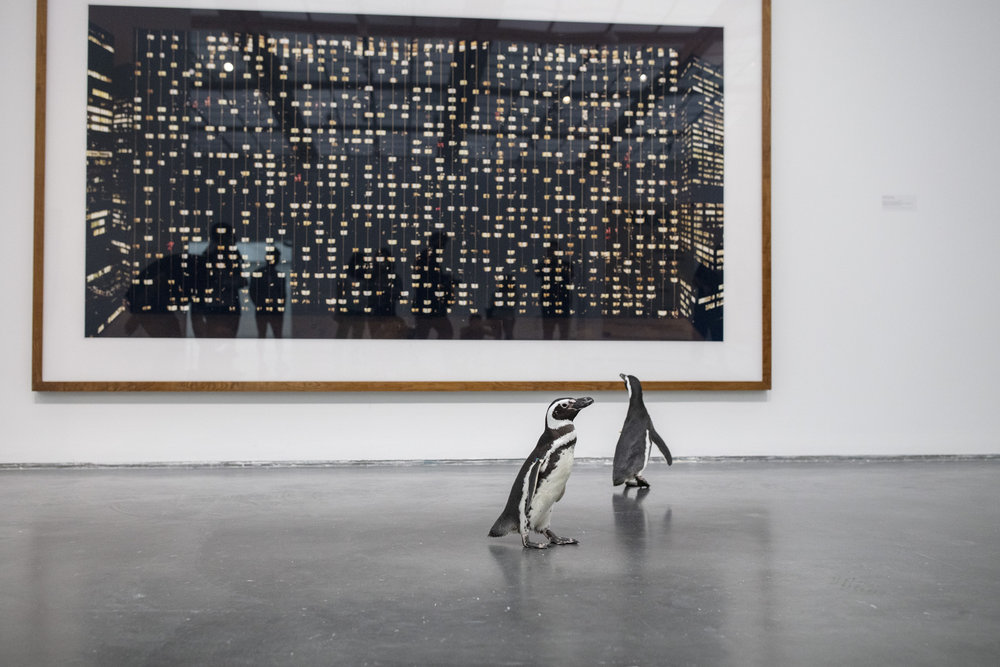 Shedd Aquarium Penguins at the MCA © Shedd Aquarium/Brenna Hernandez
But the Magellanics are not the only penguins residing at Shedd Aquarium. There's also Rockhoppers, found bouncing—or more accurately, hopping, as their name suggests—along the shorelines of the windswept islands north of Antarctica and building nests out of rocks. And the aquarium's Animal Response Team doesn't stop there. Committed to penguin care and rehabilitation, they assist The Southern African Foundation for the Conservation of Coastal Birds (SANCCOB), in their efforts to rescue endangered African penguins—including abandoned chicks—that face major threats such as depleted food sources, pollution, overfishing and warming ocean temperatures due to climate change.
Now that you got to know the Shedd Aquarium penguins a little better it's time to dive in and explore their world firsthand—and support Chicago's arts and culture organizations while you're at it. How, you ask? Let us make things easier for you: Here's three reasons why a trip to the museum is a good idea right now—for penguins and humans.
Shedd Aquarium Penguins at the MCA © Shedd Aquarium
Shedd Aquarium organizes museum field trips to introduce exercise and variety into the penguins' everyday lives. But there's more to it. These sophisticated outings also help strengthen their relationship! Think: date night! Whether you're into contemporary art, ancient artifacts or stimulating science exhibits, Chicago is home to museums of all shapes and sizes. The best part? There's nothing like stopping in front of a piece of art and asking "What does this make you feel?" to spark a conversation. Museums provide the perfect opportunity to get out of the house (and out of your head) and into a different world—if only for a little while. Mask on, of course.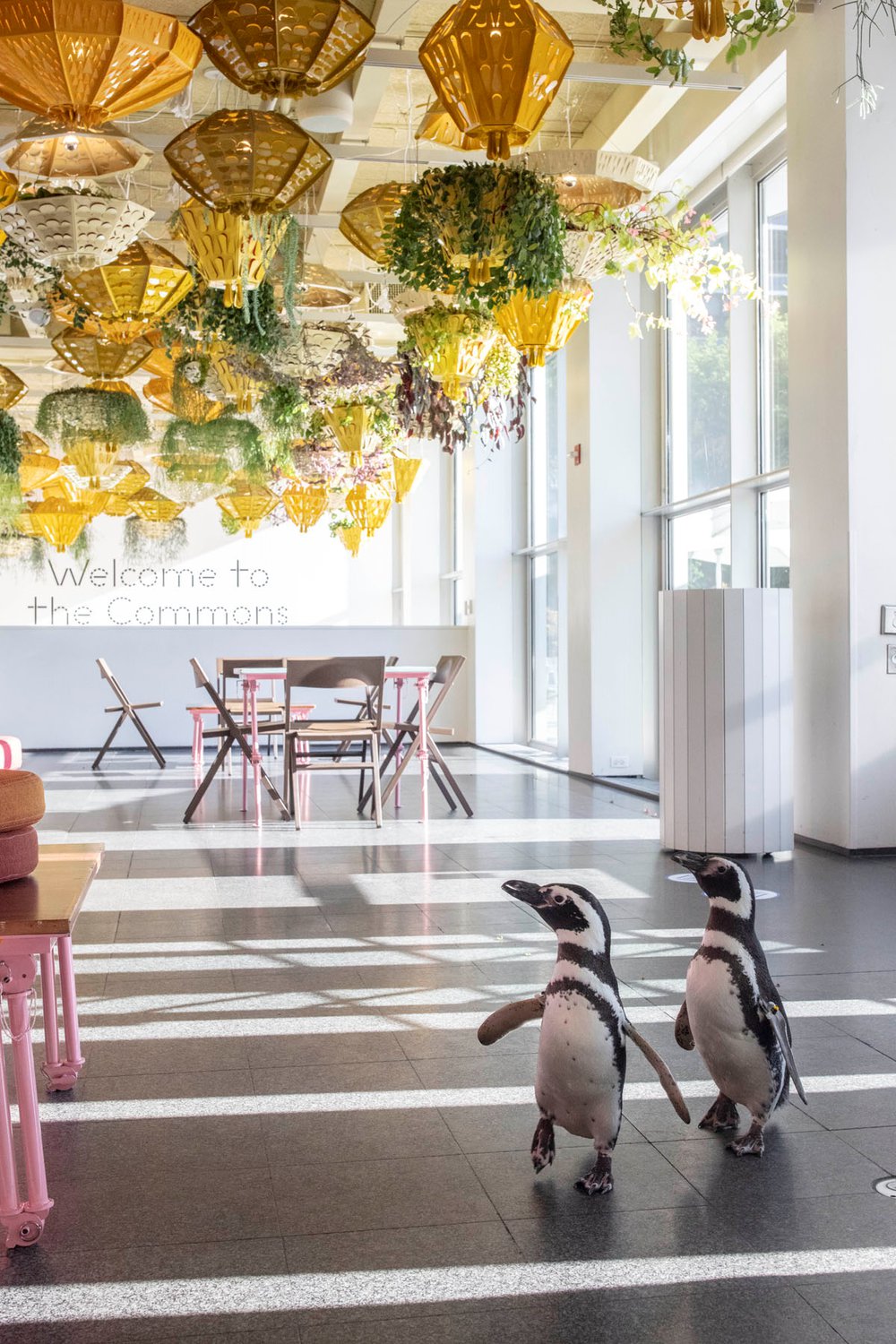 Shedd Aquarium Penguins at the MCA © Shedd Aquarium/Brenna Hernandez
Izzy and Darwin were the very first visitors of the museum and rumor has it they loved it. Now it's your turn to check it out. Appropriately named, Just Connect, the MCA's newly-opened exhibition reflects on the connections we share with others and with the world around us amid a global pandemic. "We know now, more than ever, the healing power and connection we find in art," says museum Director, Madeleine Grynsztejn. "We welcome you". Wander around the museum, get inspired, reclaim your creativity, have fun. Don't forget to look down: there's a dedicated visitor path that traverses the galleries to ensure safe social distancing.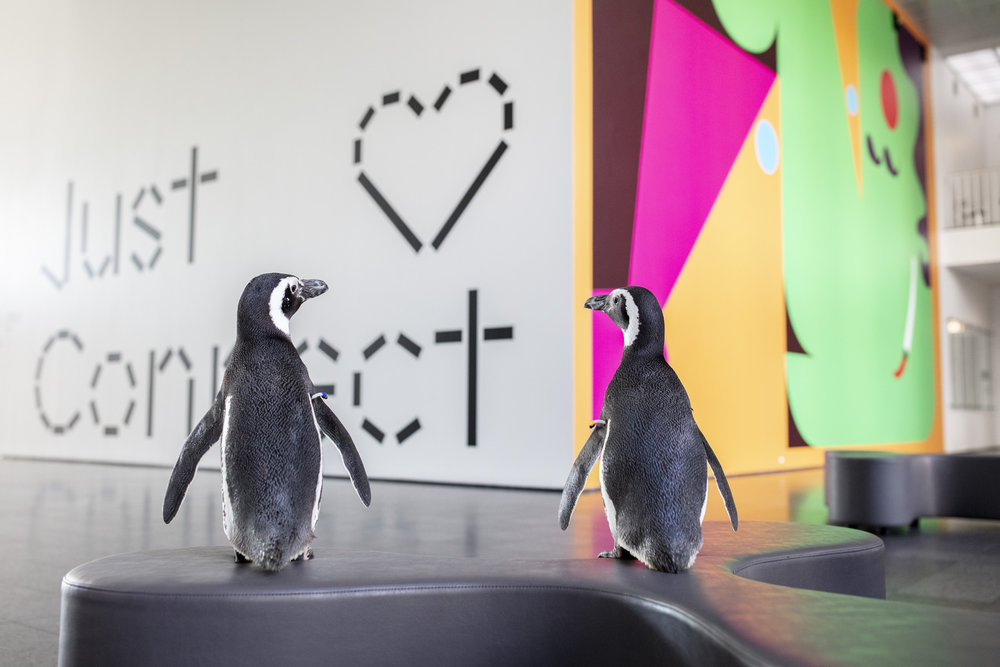 Shedd Aquarium Penguins at the MCA © Shedd Aquarium/Brenna Hernandez
After what feels like forever, Chicago's cultural institutions are finally open to the public. And they need us now more than ever. Visit the MCA exhibitions in person, explore the museum's sculpture garden or attend talks and performances like their annual Tuesdays on the Terrace summer jazz series celebrating Chicago's robust music scene via Facebook Live. Or RSVP in advance to discover the wonder of the aquatic animal world at the Shedd Aquarium. You can even meet the penguins or tune in for a sea otter encounter—virtually! Museums are back—on and offline. Shall we?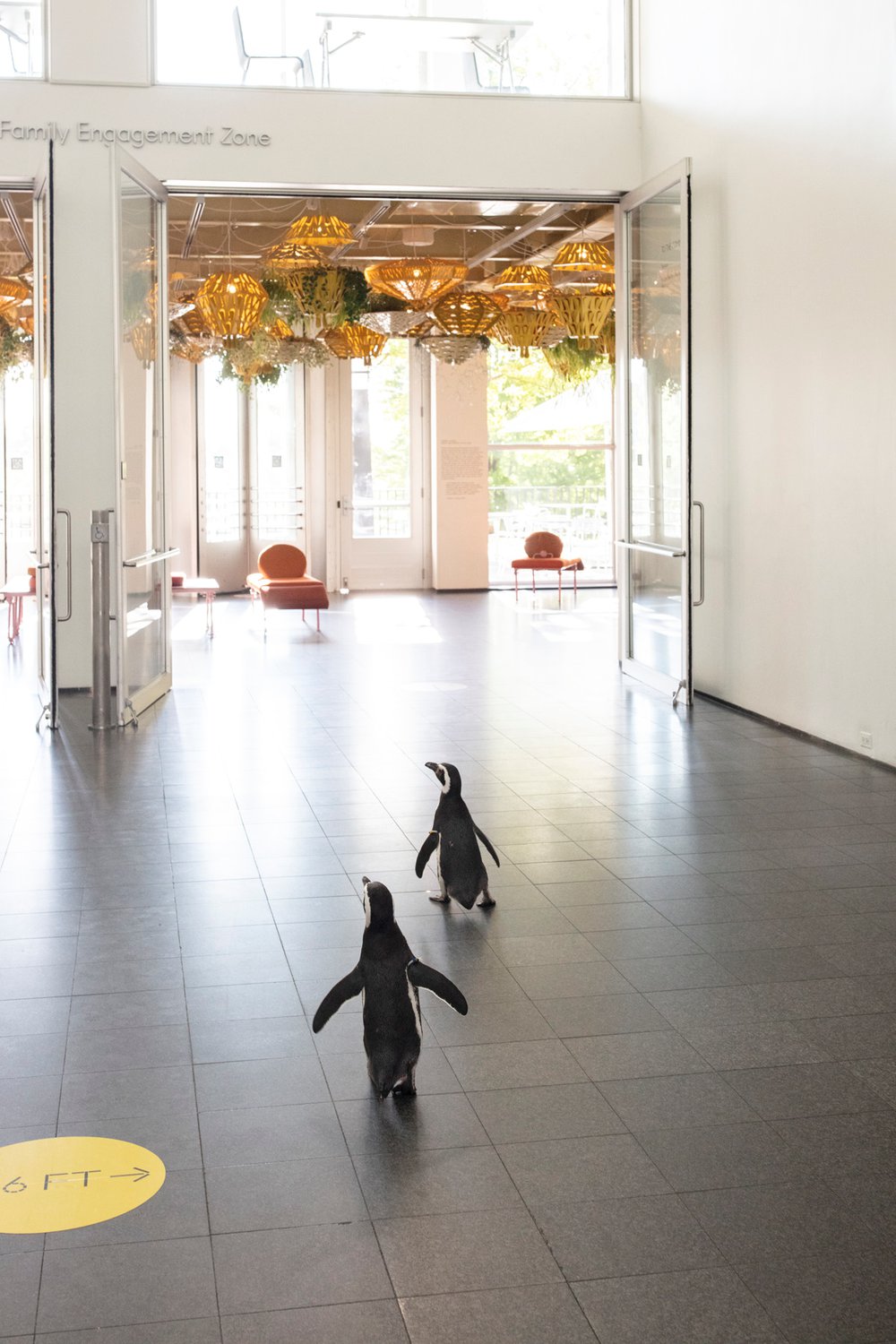 Shedd Aquarium Penguins at the MCA © Shedd Aquarium/Brenna Hernandez